Super Bowl LV Handle Per State Breaks Records Despite Outages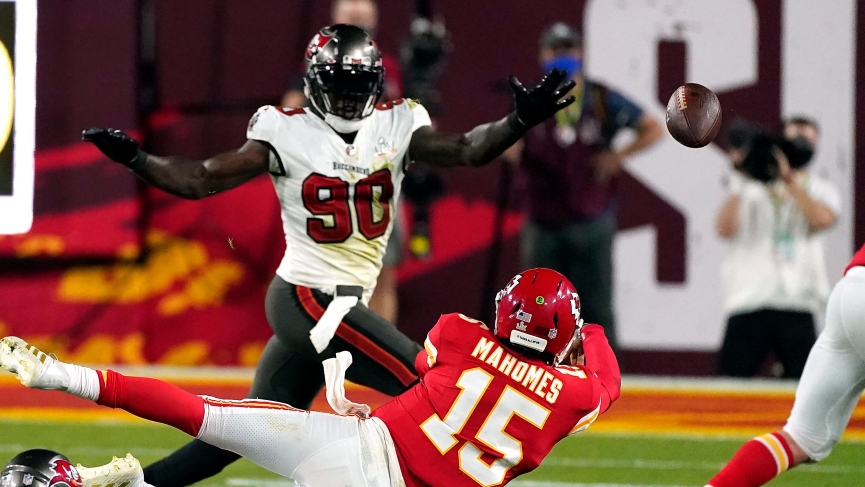 As states start reporting their Super Bowl handles, it's no surprise that Nevada numbers finish up on top.
Some online operators experienced outages that had bettors pretty frustrated an hour before the game.
The Chiefs choked against the GOAT. Underdogs cashed, making it a profitable Super Bowl for operators.
This year's Super Bowl LV handle is the million-dollar question after Sunday's game. With an increased number of states betting legally, expectations are high that we will see figures never seen before the US sports betting industry.
Super Bowl LV Handle Per State Are Starting to Come in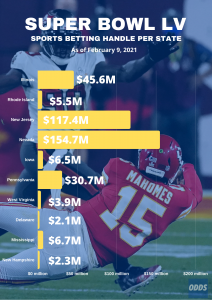 Illinois is the first state to report its Super Bowl handle, and as expected, it broke records. According to the Illinois Gaming Board, $45.6 million in bets came in for Super Bowl LV, which generated $1,148,890 in tax revenue. Online sports betting dominated on Sunday as $42.7 million out of the $45.6 million came in online.
Rhode Island Super Bowl handle comes in at  $5.5 million with taxable revenue almost hitting $805,000.
New Jersey's Super Bowl handled came in at $117.4 million, which is at least double(a 116% increase to be exact) of what 2020 took in. Sportsbooks paid out around $106.1 million of that handle leaving $11.3 million in sports betting revenue. These are preliminary numbers from 21 sports betting mobile apps and 12 retail sportsbooks.
This is a welcomed turnaround from 2020, as New Jersey's handle was reported at $54.3m, with sportsbooks taking a $4.3 million loss on the Chiefs/49ers game.
Oregon reports record-breaking numbers for Super Bowl LV bets taken through their Oregon Lottery Scoreboard sports betting app compared to 2020. One hundred fifty thousand wagers at an average of $23 per bet were reported. This is compared to 2020, as almost 100k bets were received at an average of $21 per bet.
Nevada reported $154.7 million in handle missing their 2018 record by $2.1 million. Taxable revenue came in at $18.8 million. Nevada is the clear leader so far.
Iowa Gaming Association reports $6.5 million in Super Bowl action.
Pennsylvania reports $30.7 million as their Super Bowl Handle. Online sports betting was the majority of that number taking in $24 million in action.
West Virginia comes in at a cool $3.9 million handle.
Delaware casinos report $2.1 million in bets from their retail locations. They do not offer online betting at this time.
Mississippi reports their state handle at $6.7 million.
New Hampshire is just kicking off their sports betting program with only one operator DraftKings Sportsbook. They respectfully come in at a little over $2.3 million in bets for the Super Bowl.
Super Bowl LV Online Betting Broke The Internet
Even the big boys have bad days. Draftkings, Fanduel, and BetMGM all had outages leading up to Super Bowl LV.
All operators and players took to Twitter as their primary platform of communication. Operators kept players informed as players aired out their frustrations.
We are aware customers in MI and IL are having trouble logging in and placing wagers on the Sportsbook platform. Our team is working on resolving this issue as quickly as possible and we will provide any updates here. We apologize for any inconvenience!

— FD Customer Support (@FanDuel_Support) February 7, 2021
@DraftKings app down right before the goddamn Superbowl… pic.twitter.com/z8v2IJlTYF

— chris smith (@chrismith6944) February 7, 2021
— BetMGM 🦁 (@BetMGM) February 8, 2021
All issues reported pointed to a surge in traffic that caused the downtime. It looks like it was a long day for their tech teams to make sure the sites stayed up and apps were working. Kambi, which provides Draftkings, Barstool Sportsbook, and Bet Rivers their betting platform, reported outages stemming from a Super Bowl player bet offer.
BetMGM also had issues leading up to the Super Bowl via their app and kiosks in Nevada. Those issues were worked on throughout the big game and resolved at around 1 am Las Vegas local time.
Even though these issues are all part of doing business online, states did not negatively impact their Super Bowl LV handle numbers so far.
The Underdog Cashed, So Did Some Whales
Today there are a handful of bettors that have that spring in their step. Here's the breakdown of the biggest bets placed on Super Bowl 55.
$3.46 million on Bucs + 3.5 (-127) at DraftKings Sportsbook (Colorado)
$2.5 million on Chiefs ML (-165) at BetMGM
$2.3 million on Bucs + 3.5 (-115) at BetMGM
$1.16 million on Chiefs ML (-155) at William Hill
$1 million on Bucs ML (+ 135) at BetMGM
$1 million teaser on Bucs + 9 and Over 50
It was widely known that the public was on Kansas City, as we reported earlier; sportsbooks were reporting up to 62% of bets were on the Chiefs.
Unfortunately, that was great for sportsbooks and not so great for bettors as the underdog cashed. Bettors did cash on the Bucs Futures bets, which made a dent in operators winnings.
Early numbers show that the US has fully embraced placing their sports betting action locally, and players are all in for generating much-needed tax revenue for their state.
Online sports betting is a driving force as these handles continue to grow for the 25 states where sports betting is legal.
Will these numbers influence the other states that are struggling to get legislation passed? Only time will tell if states will stop the bleeding by instead of letting players place their action elsewhere, give bettors local options that will, in turn, generate tax revenue for their state.