Super Bowl LV Handle Will Make American Sports Betting History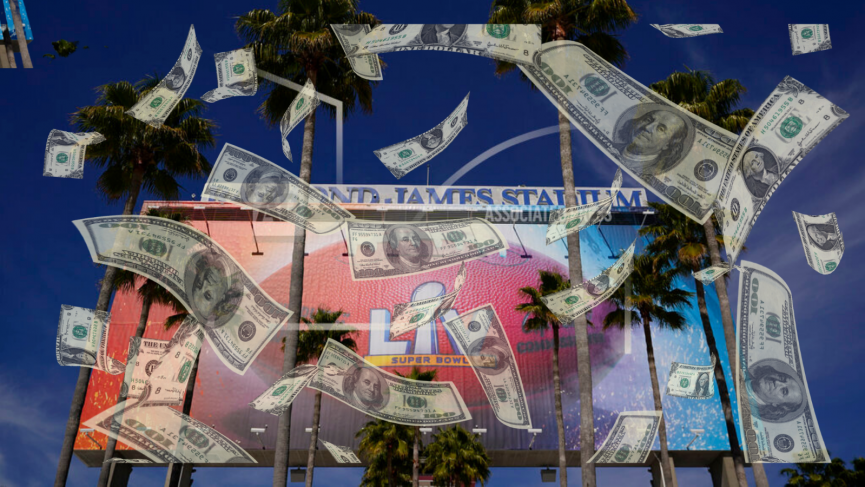 Super Bowl LV handle will be a record-breaker this year, with 21 legal markets operational in the US. In 2020, legal sportsbooks took in a total of $21 billion in bets compared to $13 billion in 2019 and $6.6 billion in 2018. Online betting has fueled the market, and bettors are jumping in and getting in on the action. Let's break down why this betting this Super bowl is a big deal.
23.2 Million Americans will be betting this Sunday
What we really want to know is how much action bettors will lay down on Sunday. The American Gaming Association(AGA) predicts that $4.3 billion will be bet on the Chiefs vs Buccaneers. "This year's Super Bowl is expected to generate the largest single-event legal handle in American sports betting history," said AGA President/CEO Bill Miller.
The expansion of the legal market also continues to drive engagement, with 65% of bettors saying it is important for themselves to wager legally. #SBLV pic.twitter.com/NsOKXdO9yZ

— American Gaming Association (@AmericanGaming) February 2, 2021
"With a robust legal market, Americans are abandoning illegal bookies and taking their action into the regulated marketplace in record numbers." A record 7.6 million will bet with legal online US sportsbooks this year, up 63 percent year-over-year, among Super Bowl bettors.
What are bettors on this Super Bowl?
We are coming into the 3rd Super Bowl since the Supreme Court legalized sports betting in the US, and every year we have seen the handle for this event grow exponentially. What are bettors on this Super Bowl?
Vegas reported earlier this week that 73% of the money is coming in on the Chiefs as the next Super Bowl champs. The totals market had also been getting some action as 77% of bettors were putting their money on the over (currently at 55.5 or 56 depending on which legal sportsbook you use but has been as high as 57.5).
As of Thursday, Vegas has seen a shift as big money bets came in and disrupted the market. Draftkings received a $3.46 million bet on the Bucs at +3.5 at -127. MGM reported receiving a $2.3 million wager on the Buccanneers +3.5 at -115 odds. Following that wager, a $345,000 bet was placed (also at MGM) for the Bucs +3.5 at -115 odds.
Those three bets moved the market towards Tampa Bay. Vegas sportsbooks report that the Chiefs have 62% of the bets now vs. 73% earlier in the week.
The 'Over' also has seen BetMGM received a shift as a $205.000 bet on the under 56.5.  That bet adjusted the market to now 69% of the bets being on the over vs. 77% earlier in the week.
Prop bets are usually 60% of the action, and this year is no exception. The MVP market is a fan favorite as QB's have been named MVP 13 out of the last 21 games (62%). Tom Brady is currently at +200, and Patrick Mahomes is at -120.  The coin toss, Score on or AFTER 5 minutes elapsed among other prop markets, is getting bet on heavily as well.
How much of a handle increase will individual states see this Super Bowl?
With more states betting legally, this year's Super Bowl handle will be like no other. We went back a couple of years to look at what the reported handles were to project what this year's handles will look like.
| Super Bowl Handle By State | 2020 Handle  | 2019 Handle | 2021 Projections |
| --- | --- | --- | --- |
| Nevada | $154.7 million | $145.9 million | $163.9 million |
| New Jersey | $54.2 million | $34.8 million | $85 million |
| Pennsylvania | $30.7 million | N/A | $50.6 million |
| Mississippi | $6.7 million | $4.6 million | $9.758 million |
| Rhode Island | $5.5 million | $6.5 million | $6.5 million |
| West Virginia | $3.9 million | N/A | $6.4 million |
| Delaware | $2.1 million | $2.2 million | $2.5 million |
Draftkings to advertise during the Super Bowl
Draftkings announced that they would be running 2 Super Bowl 15-second spots. The first commercial will air before halftime and the second one within the third quarter. This is a first for the industry and could be a game-changer for DK. The projected exposure for the brand will influence Super Bowl fans to pick up that phone and place a bet online.