Which States Can Pass Sports Betting in 2021?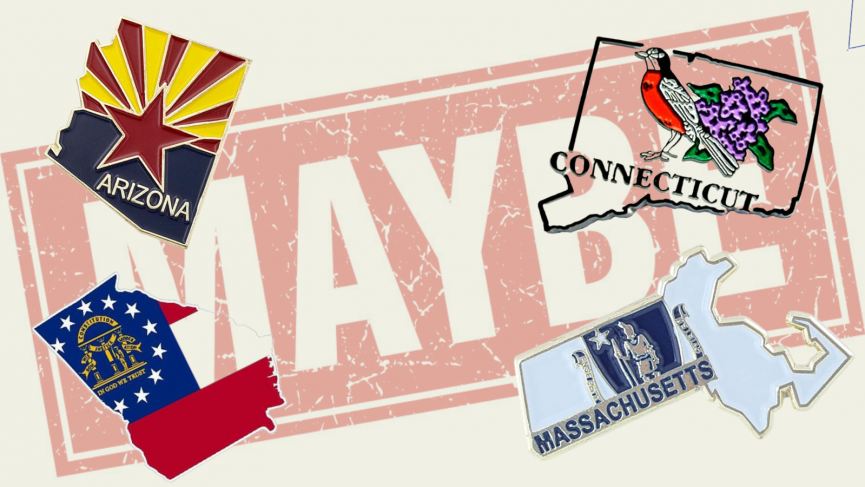 Which States Can Pass Sports Betting in 2021? In 2020, the U.S. saw over half of the states legalize sports betting, and 18 now have sports betting operations. 2021 will be another good year for U.S. sports betting growth, with states launching operations and others legalizing betting. Multiple states have discussed legalizing sports betting in 2021. However, some have a better chance than others to get a bill passed. Here are ten states and the likelihood of legalizing sports betting.
Sports Betting in Arizona? Maybe
Arizona lawmakers have been attempting to pass a sports betting bill in 2020 but have not been successful. Tribes control the gaming industry in the state, making it difficult for Arizona to pass sports betting since tribal casinos are regulated under Federal law. This means that the tribes do not need to follow Arizona laws when trying to pass sports betting.
The Arizona Indian Gaming Association would need to unanimously approve of legal sports betting at its casinos if Arizona would want it passed. However, tribal casinos have no interest in passing sports betting with how well casinos operating. Lawmakers would need to get tribal groups on board one at a time in hopes of getting a bill passed in 2021. 
The Arizona House Rules Committee voted 5-3 today to approve HB 2813, a bill to authorize retail-only sports betting at racetracks and Indian casinos. However, committee chair Anthony Kern expressed that he had major concerns with the bill and would probably vote no on the floor.

— Matthew Kredell (@MatthewKredell) March 9, 2020
HB 2813 was the first attempt at legalizing sports betting in Arizona. Why didn't it pass?
Bill does not allow mobile or online betting which is inconvenient for Arizona bettors The Arizona Indian Gaming Association (AIGA)
The Arizona Indian Gaming Association (AIGA) would financially benefit from the bill at a high price. They would lose their power in setting up betting shops and would have to lean on the state to give them the go-ahead.
SB 1525 is the follow up bill to attempt to get sports betting passed enabling every tribal casino to add sports betting but it still not allowed mobile or online betting. A referendum will need to be put together to correct that shortcoming and pass. This will likely happen this month.
Sports Betting in Connecticut? Likely
DraftKings might be helping put the pressure on Connecticut to pass a sports betting bill in 2021. Late last year, DraftKings partnered with the Mashantucket Pequot Tribal Nation being the first sports betting operator to enter the state. Connecticut has no sports betting legislation up for debate as lawmakers and the tribal group go back and forth on details about a sports betting bill. 
NEW: Connecticut's public safety committee has introduced a 29-page sports betting bill (HB 5168) which would authorize retail and mobile wagering for CT's two tribes and other in-state gaming stakeholders. https://t.co/zwoW3bgiqp. (h/t @SteveBrubaker)

— Daniel Wallach (@WALLACHLEGAL) February 15, 2020
However, the state's tribal groups are looking at precedent with how New Mexico allows sports betting. Although the state does not have legislation, tribal casinos offer sports betting due to the Federal casino laws with tribes. Connecticut and DraftKings could have a similar situation putting pressure on Connecticut lawmakers to get a deal done. 
Sports Betting in Florida? Not Likely
In the last week of 2020, a Florida sports betting bill died in an attempt to pass it through the Florida Lottery. The issue became that the Seminole tribe was not included in the deal,
The Seminole Tribe has been frustrated with the state's attempts to pass sports betting without a referendum. In 2019, the tribal group stopped paying the state to protest the illegal card gaming happening at other casinos. The Seminole Tribe will slow down sports betting if they do not have a share in the pot.
Sports Betting in Georgia? Likely
In November, Georgia lawmakers brought a sports betting bill to the floor, and it continues discussion into 2021. The sports betting bill will be a big talking point among lawmakers to pass the industry. Experts believe the Peach State could pass online sports betting first, with lawmakers agreeing that it is the easiest thing to pass at the moment.
FYI, Georgia goes blue you can bet that #SportsBetting and #HorseRacing will finally become legal. https://t.co/dVlHSCt9Pf

— Steve Crayne 💻 (@StartingGateMkt) May 23, 2020
Atlanta's pro sports teams have been an advocate for passing sports betting create the Georgia Professional Sports Alliance. This is to help people get on board with passing sports betting in the state. 2021 will be significant for Georgia, and the state could have news in a bill in the first quarter of the year.  
Sports Betting in Kentucky? Not Likely
A Kentucky 2021 sports betting bill might already be dead even as the year has just started. Rep. Adam Koenig filed a sports betting bill for 2021 at the end of last year, but it has picked up no steam with other lawmakers and could get thrown out by February or March. 
Gaming is not as popular in the Blue Grass State with the history of horse racing and betting on races. This makes it difficult for lawmakers to bring a sports betting bill in front of lawmakers. Koenig has made multiple attempts already with no traction forward. 2021 will most likely see the same results.
Sports Betting in Massachusetts? Likely
Massachusetts has been working to pass sports betting in the state for close to a year now. The coronavirus pandemic has slowed that process down, but 2021 should be the year the state gets a bill through. 
state house reporter on why sports betting isn't becoming legal in Massachusetts. #gamblingtwitter https://t.co/Y6yjSJNmJ5

— Marc Larocque (@LaRockObama) November 19, 2020
In 2020, Massachusetts passed a coronavirus relief fund for small businesses, and lawmakers attempted to stick a sports betting bill at the end of it. Although lawmakers did throw out the bill's sports betting portion, people agree that sports betting should be passed in the state. However, it should be its own bill. Expect for Massachusetts to pass it in 2021
Sports Betting in Missouri? Likely
In December, three Missouri lawmakers filed three different sports betting bills to the state in an effort of one passing next year. Like most states, Missouri is facing a budget deficit and can use sports betting revenue. 
Based on the bill's details, the state could see up to 39 sports betting operators and would be one of the friendliest states to sportsbooks in the U.S. The Show-Me State should have sports betting up by the end of 2021.
Sports Betting in Ohio? Maybe
Surprisingly, Ohio sports betting continues to stall, and it could happen again in 2021, depending on how things shake out. In the second half of last year, Ohio sports betting had the best chance of passing in the upcoming months before the November Election. Afterward, multiple key backers were either being termed out or lost their respective race deflating the chances of passing a bill. 
Now, Ohio needs to restart and find other lawmakers willing to back the bill and pass it in 2021. Trying to pass sports betting in the state must be similar to being a Cleveland sports fan. Now and then, you get close to tasting a championship only to be heartbroken again.
Sports Betting in Vermont? Likely
A year ago, Vermont filed a sports betting bill to legalize the industry in the state. Over the year, the state created a study group for the industry and has made consistent strides forward with passing sports betting. 
2021 feels like the year Vermont finally gets it done. The state wants to legalize sports betting, keno, and bingo and make sports betting fully mobile across Vermont. The state still needs to get through a few more hurdles but looks more likely than ever for it to pass this year. 
Sports Betting in Wyoming? Maybe
Like Connecticut and New Mexico, Wyoming tribal groups are looking to launch sports betting at their casinos in 2021. The Northern Arapaho Tribe has been looking at launching sports betting despite the state not having legislation.
Due to Federal gaming laws with tribes, Wyoming groups have a chance to have sports betting operations at its casinos as long as the state does not challenge them. If the Northern Arapaho's can successfully launch sports betting, then there is a chance more tribes will do so this year.