Michigan Online Sports Betting Launch: Everything You Need to Know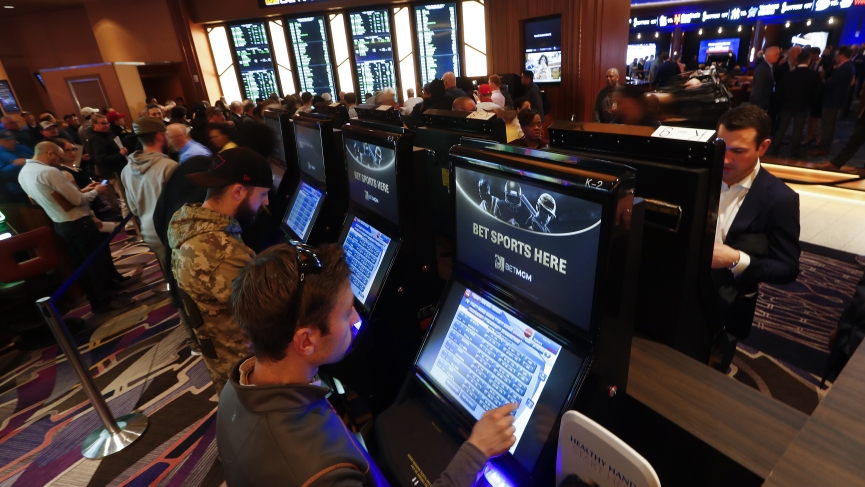 Michigan online sports betting and casino gaming will be going live Friday in the highly anticipated launch! The Great Lake State passed its online gaming law in December 2019 and is now finally rolling out the finished product 14 months later.
BREAKING: Michigan Gaming Control Board authorizes nine operators to begin online sports betting or both online gaming and sports betting at noon on Friday.

— Ryan Zuke (@ryanzuke) January 19, 2021
Sports betting and gaming operators wait on the final green light from the Michigan Gaming Control Board to go live. Under the gaming laws, Michigan online operators must wait for one commercial casino and one tribal casino to earn their sports betting license.
Michigan Sports Betting Timeline
In December 2019, Michigan Gov. Gretchen Whitmer signed the Lawful Sports Betting Act into law legalizing online gambling, sports betting, daily fantasy, and online poker. Whitmer's goal was to use online gaming to expand state revenue and bring other benefits to local economies.
The three Detroit casinos and 23 tribal casinos were encouraged to apply for sports betting licenses in the Great Lake State.
In-person betting is allowed in Michigan and originally launched in March 2020, just days before casinos were required to close due to Covid-19. The state did see a $593,000 bet in the first few days of sports betting before having to close up shop until August.
When in-person betting was allowed again, Michigan saw its betting handle hit as high as $46.1 million in October 2020, showing the demand sports betting could have in the state.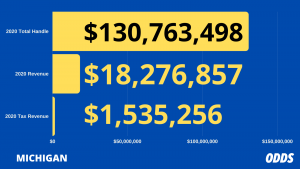 Along with in-person betting, Michigan was hoping for an earlier launch with online wagering. Due to Covid-19 and other regulatory hurdles, the launch was delayed into 2021. Under state law, Michigan was required to create rules, take public comments, submit financial impacts, and receive final approval from the state. The process was not completed until December.
With rules and regulations submitted to the state, the Michigan Gaming Control Board is ready to launch.
Sportsbooks Expected to Launch Early
Barstool Sportsbook
In December, Barstool Sportsbook announced its launch at Greektown Casino in Detroit, becoming one of the nine betting operators in Michigan. Barstool launched its online sports betting platform in Pennsylvania in 2020 and using Michigan as its second state to launch in. From 12 p.m. on Friday to 11:59 p.m. on Jan. 24, For those Michigan residents that want their bets to go beyond winning or losing will have their first-time deposit on the Barstool Sportsbook mobile app matched with a donation to The Barstool Fund. For those not familiar with the fund, it is helping small businesses survive this pandemic. Bettors must wager equal or more than their first-time deposit during the weekend. In addition, visitors to the retail Barstool Sportsbook at Greektown will have their first-time rated wager matched by Greektown Casino with a donation to Fund.
Tomorrow at noon Michigan goes live. There is only 1 place to play. #BARSTOOLSPORTSBOOK
pic.twitter.com/FOPYFIltjr

— Barstool Sportsbook (@BSSportsbook) January 21, 2021
BetMGM
BetMGM is expecting to go live when Michigan gives the ok. BetMGM would offer a $200 pre-registration bonus to Michiganders if they sign-up before the official launch date. MGM has a retail location at MGM Grand in downtown Detroit.
Hey Michigan, It's almost showtime!

Download the app and deposit today so you're ready to place bets with a $200 welcome bonus for Championship Sunday.

📲: https://t.co/aSFdoW2byo pic.twitter.com/CWFuO0tvPu

— BetMGM 🦁 (@BetMGM) January 19, 2021
DraftKings
Another sportsbook that will be going live in Michigan on the first day, DraftKings, is the top sports betting operator in the U.S. DraftKings has mobile betting operations available in nine states and will be able to hit double digits once Michigan is ready to go live.
HEY MICHIGAN! 👋

We'll be live FRIDAY!

If you sign up now, you'll receive $100 in Casino Blackjack Credits and a $100 free sports bet once we're live!

💰 https://t.co/euq5RGKqyK pic.twitter.com/iTOAIyh8FZ

— DraftKings Sportsbook (@DKSportsbook) January 19, 2021
FanDuel
FanDuel has been offering Michiganders a $100 pre-registration bonus for the last few months in anticipation of the Michigan online gaming launch. The U.S. betting operator is partnering with Motor City Casino in Detroit and has had the largest betting handle among the three Detroit sportsbooks when in-person betting began in 2020. FanDuel will have a lot of success around the Detroit area.

FOX Bet
In a recent press release, FOX Bet stated that the betting operator is up for the challenge in competing in what will be a competitive Michigan betting market. FOX Bet partnered with Odawa Casino Resort in Petoskey last January. Although FOX Bet does not have the market reach like DraftKings and FanDuel, it has had a lot of success in Colorado, New Jersey, and Pennsylvania and will continue that success in Michigan.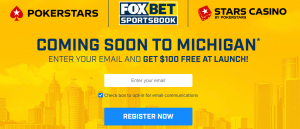 Rules, Regulations, and Expectations
Under Michigan betting laws, applications will cost $50,000, along with purchasing a license at $100,000 and an annual renewal fee of $50,000.
The state will also have some of the most lenient taxes for sportsbooks in the U.S. Michigan's tax rate will sit at 8.4% betting revenue, with Detroit casinos paying an additional 1.25%. However, online casinos will not benefit as the Great Lake State will be collecting 20% to 28%, depending on the total revenue earned.
Casinos are allowed to partner with sports betting operators like DraftKings, FanDuel, and other U.S. sportsbooks. However, they are only allowed to partner with one online betting service.
The Great Lake State will be able to take advantage of online sports betting in January and begin to map out what they will see in the upcoming months and years in the market.
Experts put the Michigan betting market between $4 billion to $6 billion annually once it matures, bringing in an estimated $650 million in annual revenue. Roughly 90% of bets are expected to come in on mobile devices.
On December 10, the Michigan Gaming Control Board granted licenses to 15 operators for launch. The sportsbooks will still have to wait until final approval to go live, but having multiple options at the beginning of launch will help Michigan get off to a great start.
Michigan has the 10th largest U.S. population by state and has over six cities with populations larger than 100,000 residents. Add that with the four professional sports teams in Detroit and seven Division I Universities, Michigan will become one of the top sports betting states in the U.S.