Sports Betting Revenue Report December 2020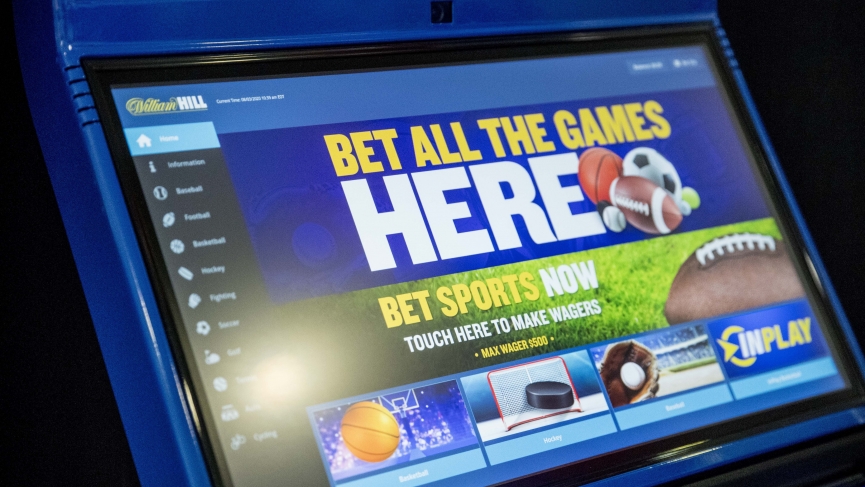 With 2020 sports betting revenue in the books, the industry saw its best year on record. 19 states, including Washington D.C., have legal sports betting operations, and additional six states will be looking to launch sports betting in 2021.
After the novel coronavirus decimated the sports betting industry in the spring, the U.S. rebounded, with major U.S. sports returning in the late summer and into the fall. Multiple states hit record highs during this stretch, and some continued the success heading into December.
December
2020
Handle
Revenue
Tax Revenue
Arkansas
$6,415,446
$1,054,272
$137,055
Colorado
$284,551,472
$17,151,867
$531,490
Delaware
$15,696,681
$3,097,115
$2,341,189
Indiana
$313,112,474
$24,306,695
$2,309,136
Iowa
 $104,815,630
$7,537,004
$508,748
Michigan
$9,720,393
$1,883,240
$158,192
Mississippi
$55,298,807
$7,762,542
$931,505
New Hampshire
$51,649,897
$4,537,653
$2,137,406
New Jersey
$996,300,794
$66,386,516
$8,269,676
Oregon
$26,987,303
$3,050,785
$–
Pennsylvania
$548,590,065
$45,344,348
$12,261,434
Tennessee
$180,900,000
$13,000,000
$3,080,000
Washington DC
$16,696,995
$2,708,652
$190,144*
West Virginia
 $70,134,202
$6,466,132
$646,613
As of writing, the U.S. could see between $3.5 billion to $4 billion wagered in December. States like Illinois and Nevada have not released December reports, among others. However, the states that have reported put up impressive numbers to finish 2020.
New Jersey Dominates Sports Betting in 2020
Multiple states finished off 2020 with a bang, and there are no other states that had a better month than New Jersey. The Garden State was just short of seeing $1 billion wagered in a single month – $4 million short to be exact.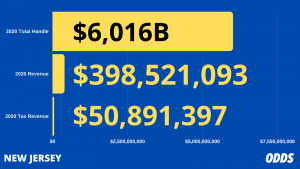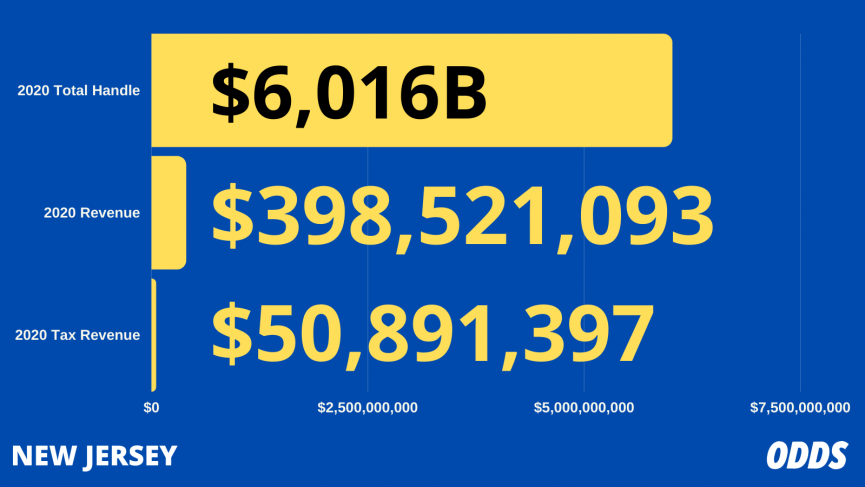 New Jersey saw $99.6 million wagered in December and betting revenue at $66.8 million. The state has become the gold standard in sports betting with another record-breaking month. If New Jersey can see the same growth heading into 2021, there is no doubt it will see $1 billion wagered in January.
Indiana, Iowa, New Hampshire, and Pennsylvania saw record-breaking months in December
Indiana saw over $313 million bets in the month, which also helped propel the state beyond the $2 billion betting handle since the state began taking wagers in September 2019. Even as Illinois continues to put up impressive betting numbers of their own, Indiana is hanging strong.
Iowa also hit a historic milestone surpassing a betting handle of $100 million to end 2020. This won't be the first time Iowa sees over a $100 million bet in a single month. On January 1, the state allowed online sports betting registration to occur, compared to in-person betting. This will help the state grow even more as anyone can sign-up for an account despite where the sportsbook is located.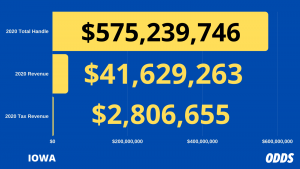 Pennsylvania is benefitting from a great end to the year, and the state can thank Barstool Sportsbook and the launch of BetMGM in December. The Keystone State saw a $548.6 million bet in December, which was the second-highest for a state that has reported its betting revenue.
Online Sports Betting became the game-changer in 2020
States with mobile betting benefitted more than states with in-person only betting. Michigan and Delaware ended the season below expectations thanks to Covid shutting down sportsbooks for a December portion.
Michigan should rebound quickly in early 2021 as online betting went live in mid-January.
Other states are beginning to see themselves lag behind the potential the sports betting industry can bring. Places like Arkansas, Oregon, and Washington D.C. could be slowing down due to the industry set up.
Arkansas currently has in-person only sports betting. For the last three months, the state has reported its sports betting handle between $6 million to $7 million, with no sign of growth coming. It could be time for the state to look into online betting to help boost the industry.
Listen up, New York! Oregon and Washington D.C. are using the lottery system and it's not working
Oregon is reporting numbers lower than Iowa, Rhode Island, West Virginia, and others despite having larger populations. Gov. Kate Brown filed a bill this month to move from the lottery industry, which can be huge news for Oregon bettors.
Washington D.C., however, is seeing commercial sportsbooks outperform its lottery sportsbook GameBet DC. William Hill sees its betting handle three to four times higher than GameBet, which is a serious issue for the industry.
D.C. is soon going to be competing with Virginia and Maryland for market share. Things will have to change in DC if they still want to stay in the game.
Overall, states performed well in December. With a few more big names to report its December earnings, the last month of 2020 could be the best one yet.
Sports Betting Predictions for 2021
2021 could have the biggest leap in U.S. sports betting. Michigan went live with online betting, and Virginia becoming the 20th state to legalize sports betting using an online-only model.
New York Gov. Andrew Cuomo also made a huge announcement to start 2021, stating he is onboard with online sports betting in the Empire State. New York could become a huge betting hub depending on the state's regulations.
Other states like Washington, Maryland, Louisiana, North Dakota, and North Carolina could have legal sports betting available in 2021, contributing to those states' growth.
The beginning of the year brought major news in the betting industry with even more states looking to pass a sports wagering bill in 2021. States like Connecticut, Ohio, Georgia, and Texas are making a huge push to get a bill through this year.
And here is why MN needs sports betting. @PNGamingInc and @BSSportsbook come into Michigan and absolutely drop bank!! MN needs this revenue! @karlabigham @PatGarofalo @SenTinaSmith @amyklobuchar @GovTimWalz @AngieCraigMN @Jonkoznick @ZachDuckworth https://t.co/49Lsm3HFwp

— JRoads ® (@JRoadsreal) January 24, 2021
A number of states are facing budget deficits due to covid-19. Some states even have multi-billion budget deficits that need to be patched this year. With governments looking for money, some are turning to the sports betting industry to help fill the holes these state budgets are seeing.
Even as a pandemic nearly shut the sports world down for a few months in 2020, the rebound was incredible to witness and 2021 should not be any different.