2020 Sports Betting Revenue for Indiana and Iowa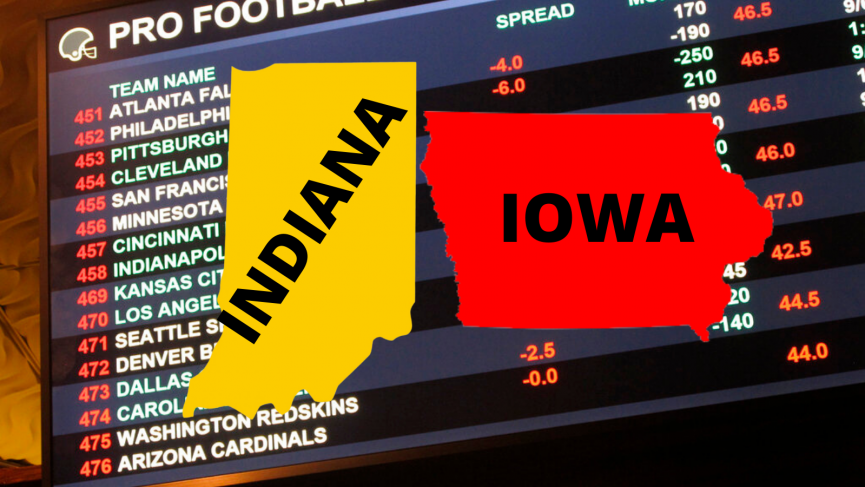 Sports Betting went from being a red-headed stepchild in the United States to the tax revenue darling in 2020. If you Google "sports betting revenue by state", results will include headlines like "State X hit record handle numbers this month", "online sports betting continues to grow".
As US legal sports betting states start reporting their December handle, revenue, and tax figures, trends emerge that position many states to continue growing in 2021. For those states that have dragged their feet in legalizing sports betting, it's a swift kick in the butt to get those bills passed and start earning.
Enough talking and let's get into the numbers.
Iowa Sports Betting Revenue 2020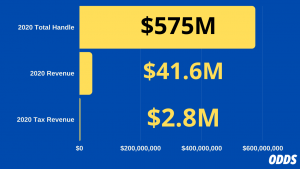 Can I get an AMEN that in-person registration has expired? For those that don't know what I'm talking about, some states legalized sports betting with a requirement that sports bettors have to comply with an in-person registration in order to bet on sports online.
I get why brick and mortars wanted that foot traffic but what no one saw coming was a pandemic that would shut everything down. States quickly adjusted and had that requirement changed to help casinos stay alive. Iowa was slow to adjust but in December that silly requirement went away and online sports betting grew by almost 15%.
Legal Sports Betting numbers for Iowa in December:

Handle: $104.8M (record high)
Sportsbook Revenue: $7.54M
Tax Revenue: $508,748
Mobile Handle: $78.07M (record high)
Mobile % of Total Handle: 74.49% (#1 all time)

WilliamHill: $33.65M
DraftKings: $18.73M
FanDuel: $13.48M

— Rodney (@KnuppelRodney) January 8, 2021
What does that mean exactly? Of the $104.81 million handle, $78.07 million came from online bets. Where in previous months, online bets were between 50 and 60% of the total number, in December, online action made up 74.5%. That percentage is expected to continue to grow in 2021.
Iowa 2020 Sports Betting Takeaways:
December reported the highest handle in their state history to date at $104,815,629.59
December Revenue came in at $7,537,004.21 which is lower than November and October's record-breaking handle of $9,098,995.
Tax Revenue came in at $508,747.77, $104k less than October's record-breaking month.
2019 vs 2020 – Handle has increased by 86.73%, revenue by 70.91%, and tax revenue by 70.78%.
What's next for Iowa in 2021? iGaming is all the buzz as casinos try to increase their online presence. If legislators can get passed the concerns of addiction and casinos can embrace online slots, it could increase revenue substantially.
Indiana Sports Betting Revenue 2020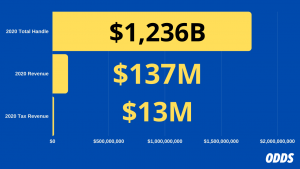 Indiana has become one of the top sports betting emerging markets of 2020. Online operators continue to see record-breaking numbers month over month as more and more bettors become active.
What did Indiana bettors have action on in December? Football(both college and pro) generated $101.8 million in wagers. Basketball(both college and pro) comes in a close second at $89.7 million. Bettors keep on chasing the dream as prop bets and parlays bring in $79.2 million in bets.
#Indiana numbers for #SportsBetting in December:

2020 Notes:

2020 Handle: $1.768B
2020 Mobile Handle: $1.474B
2020 Win Rate 7.84%
2020 Sportsbook Revenue: $138.63M
2020 Tax Revenue: $13.17M

5/x #SportsBiz

— Chris Altruda (@AlTruda73) January 12, 2021
Mobile betting remains a driving force in Indiana accounting for 84% ($263 million) of December's total sports betting handle. Brick and mortar casinos took in $50 million in bets, not quite hitting December 2019 numbers. ($51.2 million)
Indiana Sports Betting Revenue 2020 Takeaways
Indiana's December reported handle was an all-time high at $313,112,474
December Revenue was reported at $24,306,695, missing November's number by -$1,025,425.
Tax Revenue came in at $2,309,136 just under November's $2,406,551
2019 vs 2020 – Handle was increased by 130.02%, revenue by 98.84% and tax revenue by 98.84%($4,014,893).
What's next for bettors in 2021? Indiana will lead the way by joining Iowa in embracing iGaming. As neighboring states like Michigan still do not allow online sports betting, players will continue to make the drive to Indiana to get their action in.