New York Online Sports Betting – Cuomo's Lottery System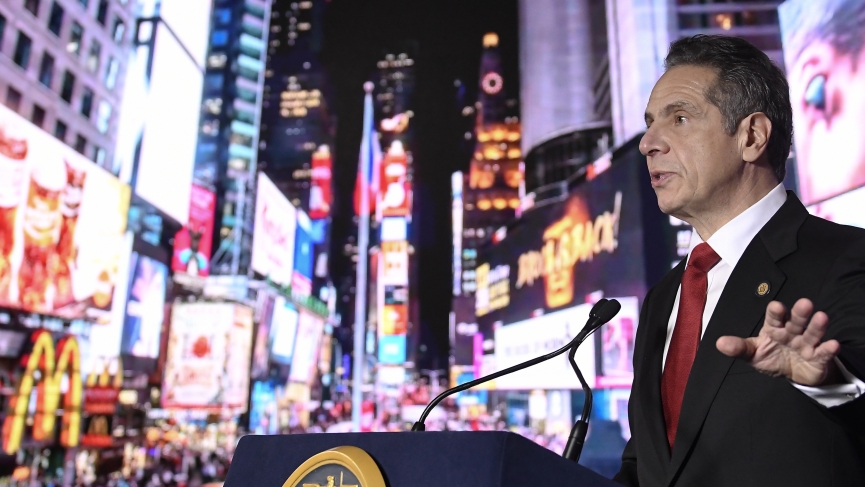 New York Online Sports Betting legalization took another turn as Gov. Andrew Cuomo held a press conference on Tuesday, addressing the multi-billion budget deficit the state is facing. Cuomo and fellow lawmakers are working on creating a budget for the 2021 Fiscal year beginning in April.
How does Cuomo patch up a $50 billion tax deficit?
The New York Governor is looking to add more revenue streams for the state to help patch the estimated $50 billion deficit, with online sports betting being one of them.
Two weeks ago, Cuomo shocked the sports betting world by being in favor of launching an online betting industry in the Empire State, and on Tuesday, he briefly doubled down on that statement.
The disappointment some industry leaders are feeling is that Cuomo wants to use a lottery-based system for online wagering instead of a casino-based system.
The state-run model that Governor A. Cuomo is proposing for mobile sports betting bears a striking resemblance the state-run model that Mario Cuomo sought in the early 1980's before AG Robert Abrams opined that it would violate the New York Constitution. https://t.co/4rcDxh3zut

— Daniel Wallach (@WALLACHLEGAL) January 19, 2021
In his press conference, Cuomo said he wants more money going to the people of New York instead of casinos and other private institutions that would benefit from a casino-based betting system.
"The second alternative is to have the people of the state of New York actually get the profits from a mobile sports betting and run it the way we run the state lottery, which is its state-run, and the state gets all the revenue. I'm with the people. And I believe the people of the state should get the revenues. This is not a moneymaker for private interests to collect just more tax revenue. We want the actual revenue from the sports betting."
Cuomo comes out with something like this: "OK jagoffs. You want mobile sports betting? Here's my terms." Addabbo will likely get his bill to the floor as will Pretlow, but that's as far as they get. Nobody is going to war with the Governor over this issue.

— Steve Brubaker (@SteveBrubaker) January 19, 2021
Cuomo briefly touched on sports betting in his press conference but pointed to Tennessee and Virginia as two states with multiple betting operators through a lottery system. Two weeks ago, when Cuomo originally mentioned a lottery system, he wanted to use one operator. He has opened up to the idea of using two or more operators in New York.
Shortly before Cuomo's press conference on Tuesday, Sen. Joseph Addabbo moved his sports betting bill, S1183, out of the Senate committee he chairs into the Senate Finance Committee.
Addabbo has been pushing for mobile sports betting in New York since the state legalized in-person betting in July 2019. S1183 includes details about each casino allowing two operators in each location.
Is the Lottery System right for New York?
Cuomo mentioned the success Tennessee has had with using the lottery system in the first month. He's not wrong. In November, Tennessee reported a $131.4 million betting handle and $13.2 million in revenue.
New York would see much higher numbers than that in Tennessee, but there is one catch. The Tennessee Education Lottery allows for multiple betting operators in the state, which has made it successful in the first month.
Cuomo wants New York to have one operator, maybe two, to run online wagering, which has been a much different story for states that have done so.
There is a lack of competition for starters when using the lottery system because there is only one sportsbook to go to. Since there is only one, and lottery taxes are generally higher than other gaming taxes, it causes juiced lines compared to the industry standard of -110. This becomes a big deal when the margin for error between winning and losing on sports betting is slim.
Look at places like Oregon and Washington D.C. that have used the single operator lottery method.
Last week, a report came out of Oregon stating that Gov. Kate Brown was backing a bill to move the sports betting industry away from the lottery system. The Beaver State launched sports betting in October 2019 and has done well overall.
However, it is beginning to show that a single operator lottery system is stunting the growth of Oregon's sports betting industry. The state has the 27th largest population as of 2019 and larger populations than Iowa, Mississippi, Rhode Island, and West Virginia. However, all four states have consistently outperformed Oregon in 2020 betting numbers.
A similar issue in Washington D.C. GameBet DC is the Districts mobile betting platform and run by the D.C. Lottery. In 2020, GameBet saw its betting handle hit $18.7 million and generated $3.4 million since launching on May 29.
William Hill was the first retail sportsbook to operate in Washington D.C. and has seen a lot more success in 2020 than GameBet has despite GameBet having a two-month head start. William Hill saw its betting handle hit $61.7 million and brought in $10 million in revenue.
This also comes during the middle of a pandemic when sportsbooks are operating at limited capacity, and bettors find it more convenient to bet at home compared to going to a sportsbook.
New York's path to online sports betting
Gov. Cuomo should look at states like Oregon and Washington D.C. before deciding on a one or two operator lottery system for New York. It creates a monopoly for the industry and hurts the state from growing in the long-term.
Cuomo is looking at the direct impact it would make on the New York budget instead of viewing the long-term growth using a casino-based system.
Tennessee's lottery system works because it allows for multiple sports betting operators to run. When the state launched in November, it had four sportsbooks taking bets on day one.
If New York follows the view of Oregon and Washington D.C., it will severely hurt the betting industry in the long-term and not come close to the potential New York online wagering has.