Super Bowl Betting is Up, Ratings are Down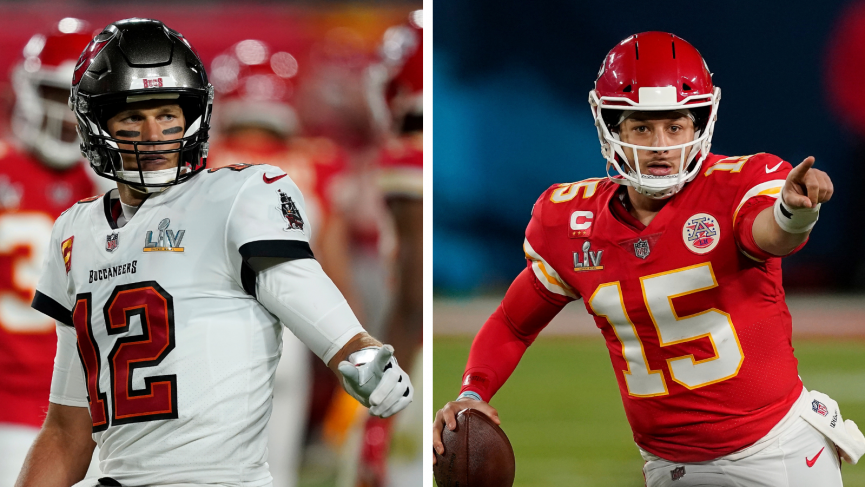 Super Bowl LV Betting was at an all-time high with 25 legal markets in the US
Super Bowl 55 was the lowest-rated championship game since 2007
Nevada reported the highest sports betting handle among all the active legal states
Super Bowl betting is up as ratings are down despite the GOAT vs. Baby GOAT narrative; It was not enough for viewers to tune in to Super Bowl LV on Sunday. Nielsen Ratings reported that 91.63 million Americans watched Tom Brady take on Patrick Mahomes for the Lombardi Trophy.
This was the lowest-rated Super Bowl since Super Bowl XLI between the Indianapolis Colts and Chicago Bears in 2007.
However, despite ratings being down, this was the most bet Super Bowl in history thanks to legalized sports betting. New Jersey saw its sports betting handle hit $117.4 million, compared to the $54.3 million wagered on Super Bowl LIV.
New Jersey was only $21.7 million behind Nevada, which has been the sports betting hub in the U.S. Nevada saw $136.1 million wagered on Sunday's game, which is down from $154.7 million wagered on last year's Super Bowl.
Despite Nevada being down 12% from the 2020 Super Bowl, states across the U.S. saw increases in sports betting. Even as ratings were down for this year, sports bettors got more action in on the Super Bowl due to expansion in U.S. sports betting.
Super Bowl Betting by the Numbers
Multiple states reported an increase in betting numbers from the Super Bowl. New Jersey saw the largest jump from $54.3 million to $117.4 million wagered. Iowa was another state that doubled its Super Bowl betting handle from last year. The Hawkeye State went from $6.5 million to $16.3 million in Super Bowl bets.
Pennsylvania was another state that saw an incredible jump from last year's Super Bowl. The state reported it went from $30.6 million wagered in 2020 to $53.6 million for Sunday's game.
Across the board, states reported increases. Oregon ($3.46 million), Mississippi ($6.7 million), West Virginia ($4.3 million), and others increased their betting handle from last year.
This was the first Super Bowl Colorado and Illinois could take bets on the Super Bowl and saw huge numbers in its first year. Colorado saw $31.2 million in bets on Sunday, while Illinoisans wagered $45.6 million.
States like Tennessee, Michigan, and Virginia also took in Super Bowl bets for the first time but will not have numbers from the game until later this month or in March.
Nevada has held crown to U.S. sports betting for decades and was the only state to report a decrease in its Super Bowl betting handle. The Silver State saw $136.1 million wagered on the Super Bowl, which was still the highest of any state. However, it saw a 12% decrease from Super Bowl LIV, when $154.7 million was wagered.
Nevada most likely took the hit with a lack of mobile betting in the state and sportsbooks seeing a limited number of people due to the virus.
Overall, the U.S. sports betting industry should be very impressed with the numbers coming in on the most bet sports event of the year.
Super Bowl Ratings Down
There hasn't been a lower-rated Super Bowl in over a decade after Nielsen released its ratings for Super Bowl LV. Despite only 91.63 million people tuning into the Super Bowl, CBS reported that it was the most-streamed Super Bowl in history, with an average of 5.7 million viewers streaming the game. Nielsen does not include streaming into its ratings.
The 9.56% decrease from last year's Super Bowl could be discouraging for the NFL to see, but the decline was standard with other American championships in 2020. The global pandemic shifted professional seasons in the four major sports, which also shifted viewership watching the best teams go head-to-head for a championship this season.
Overall ratings were down for the super bowl but the huge jump in streaming growth continues my belief that traditional cable's days are numbers #ISYS8621 #C https://t.co/auUshB8e4v

— prendevilleBC (@prendevilleBC) February 10, 2021
The World Series (9.79 million) and NBA Finals (7.45 million) were the lowest-rated championships in their sports history since ratings began being reported in the 1970s. The Stanly Cup Finals (2.03 million) saw the second-lowest rated finals in its sports history.
All three championship series were held on a neutral site, which potentially affected ratings. Only the World Series had limited fans in attendance. Casual fans might not have been interested in the Stanley Cup and NBA Finals this year, with it being held in the fall instead of June when the leagues conclude its championship series.
With viewership down across the board in U.S. sports, it only makes sense for the NFL to see a dip in Super Bowl ratings in the Covid-era. The Super Bowl is the most-watched event in the U.S. every year, and casual fans might have been uninterested given the times. Also, with a limited number of Super Bowl parties, casual fans normally tune-in, which most likely played a part in decreased viewership.
2020-21 championships could be an outlier for viewership given the circumstances. Seeing how viewership and fans respond to titles in the coming year and beyond will show a better sense of where sports viewership is.
As long as sports betting continues to grow in the U.S., there should be no bounce-back issue for years to come.