DraftKings Sportsbook Review
DraftKings Sportsbook is one of the most well known US sports betting brands because it had a toe, or two, in sports betting before it was legal in the USA. We all remember seeing DraftKings Daily Fantasy Sports commercials at literally EVERY break in the action, whether it was NBA Basketball or college football. DraftKings was in your face so much that the advertising campaigns seemed less about making you aware of a cool DFS product and more about wearing you down. DraftKings was like Grandma asking you, "Have you tried a cookie? Have a cookie! Have you tried a cookie?" It was always a matter of when, not IF, you were going to have the damn cookie. And DraftKings, to their credit, dangled a pretty good cookie.
DraftKings, along with its biggest competition Fanduel, were able to get millions of contest player signups before the sportsbook ever opened. DraftKings Daily Fantasy had advertising deals with the MLB and NHL a good five years before they took their first bet on the spread. Today, that kind of forward thinking has DraftKings Sportsbook as one of the leaders in US licensed sports betting.
---
DraftKings Sportsbook Signup Bonus
| | |
| --- | --- |
| Bonus Type: | Free Bet |
| Bonus Amount: | 20% Free Bet & 100% Match Bet |
| Bonus Maximum: | Up to $1,000 |
| How it works: | 20% Free Bet based on deposit & Free Bet matching first wager |
DraftKings Sportsbook's first time deposit bonus is currently the largest available anywhere in the United States. It's a legit offering of $1,000 in free bets.  This isn't one of those looks-good-but-is-worth-much-less-offers, which unfortunately is very popular right now (You make a bet and IF you lose, sportsbook XYZ gives you the money back… in the form of ANOTHER free bet!). This is a regular free bet bonus where your winnings will be placed in your account. $1,000 in free bets is valued at roughly $500 in real money depending on how you use the bonuses.
Both bonuses have their own terms.  If you don't wear reading glasses, you might after reading all of the fine print. But don't worry, we're here to break it down for you.
Deposit Free Bet Bonus Requirement
| Bonus Fine Print | Details |
| --- | --- |
| Amount: | 20% |
| Type: | Free Bet |
| Maximum: | $500 |
| Based On: | Deposit Amount |
| Play Through: | 5 Times (5X) |
| Wager Restrictions: | -300 or longer |
| When do I get it? | $1 for each $25 bet |
| Expiration: | 45 Days |
What do these Bonus Terms mean?
The fine print that can really trip a player up is the "-300 or longer" requirement. This means that during your play-through requirement (deposit+bonus x play-through) betting on heavy favorites won't count. For example, the 1992 Olympic Dream Team is -1000000 playing Angola. You can't bet on the USA as a means of quickly rolling over these funds at virtually no risk. However, if the Houston  Cheaters Astros are playing the Mets as -295 favorites, that is fine. Any team favored less than -300 is fine. That means your typical -110 standard straight bet… is fine.
The play-through, AKA rollover, is a standard requirement for bonuses based on deposit amounts. It is what it sounds like. You have to bet your initial deposit + bonus amount X amount of times. In this case it is a five time roll-over. If you deposited $100 and received a $20 free bet, your rollover would be $120 x 5 = $600. $600 is the total required to be risked before any payouts can be sent.
Players might initially be confused about how their free bet becomes available. Rather than give you the bonus up front and let you bet it as part of the required amount, DK drips it out as you meet said requirement. We aren't a fan of getting $1 dollar for every $25 wagered. You feel more like a winner when you see those gains in your bankroll from the beginning! But hey, if the sportsbook puts free money in our dog's food we'll all follow Bingo around the yard with a glove on.
Matching Free Bet Bonus Requirement
| Bonus Fine Print | Details |
| --- | --- |
| Amount: | 100% |
| Type: | Matching Free Bet |
| Maximum: | $500 |
| Based On: | First Wager |
| Play Through: | None |
| Wager Restrictions: | N/A |
| When do I get it? | Immediately |
| Expiration: | 30 Days |
What do these Match Bet Bonus Terms mean?
The biggest mistake players can make here is misunderstanding how this matching first bet bonus works. If you jump in, forget that you have this bonus, and fire off some $5 wagers before betting $500 on a single bet… You have essentially flushed a $495 free bet down the drain! The best way to take advantage of this individual DraftKings matching free bet is to immediately bet $500 on a big favorite. If the Dream Team beats Angola, you get a free $500 bet.
Also, take note of the 30 day expiration. If you have that $500 bet in your back pocket and another pandemic hits, you may be out of luck… or have to bet on virtual NASCAR races.
---
Perks at DraftKings Sportsbook
DraftKings has what they call "Odds Boosts" where they inflate payout odds by 10 to 20%. These can be worth as much as a bonus in some situations. For example, if your other sportsbooks are Fanduel or BetMGM, you would find that Tua Tagovailoa is listed with payout odds of only 7.5 to 1 and 9 to 1. Here, you have 11 to 1, created by a 10% boost on an already excellent line of +1000.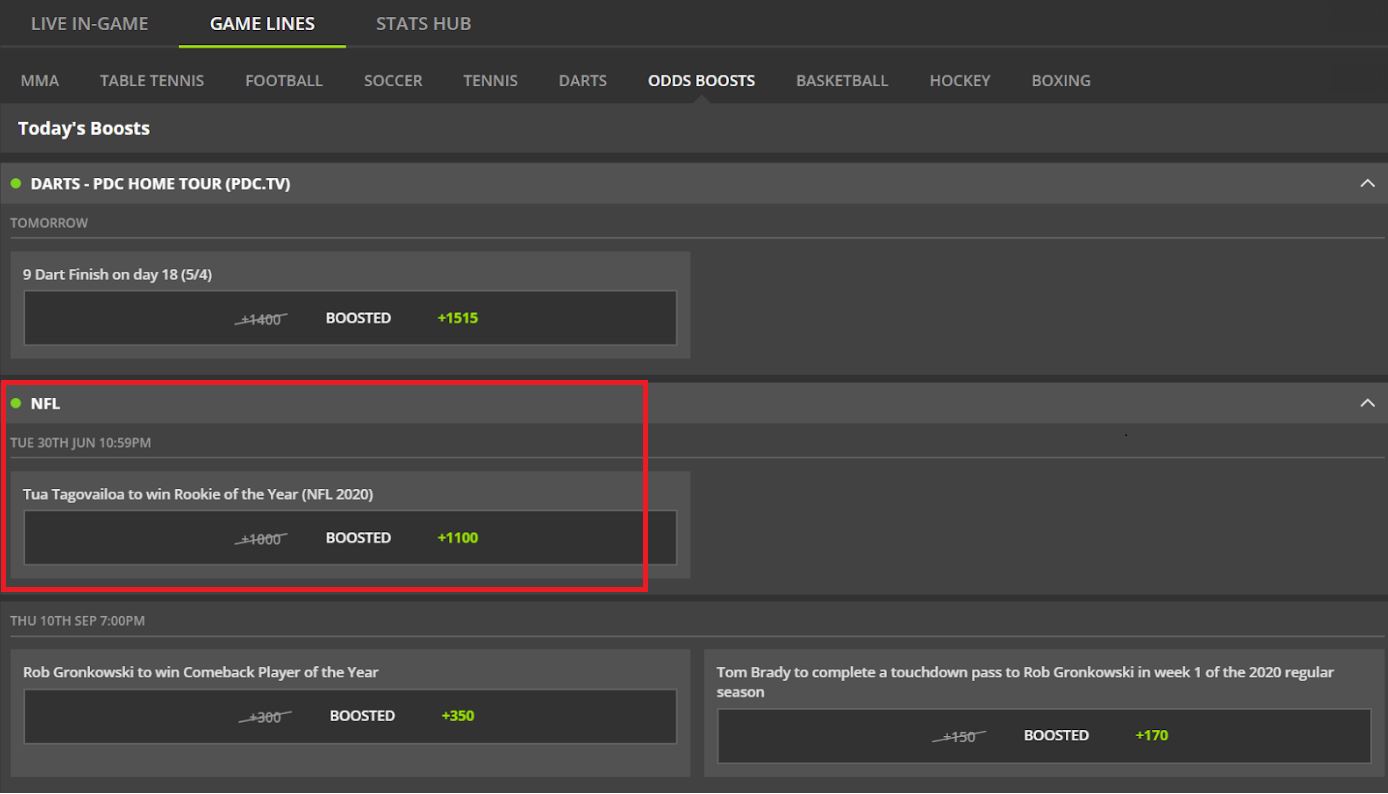 ---
DraftKings Website Experience
The DraftKings sportsbook is cutting edge. It's fast and the bet cart interface is what experienced bettors have come to expect from bookmakers using the Kambi Sportsbook platform. Our one gripe about how the website looks is that you can't change the theme in your user settings. For those that don't like black website backgrounds, it can feel like you are forever stuck in Iphone dark mode.
The betting menu is robust and relatively easy to navigate. At the same time, the menus can feel redundant. Below you can see three different routes to the same Chinese baseball live wagers.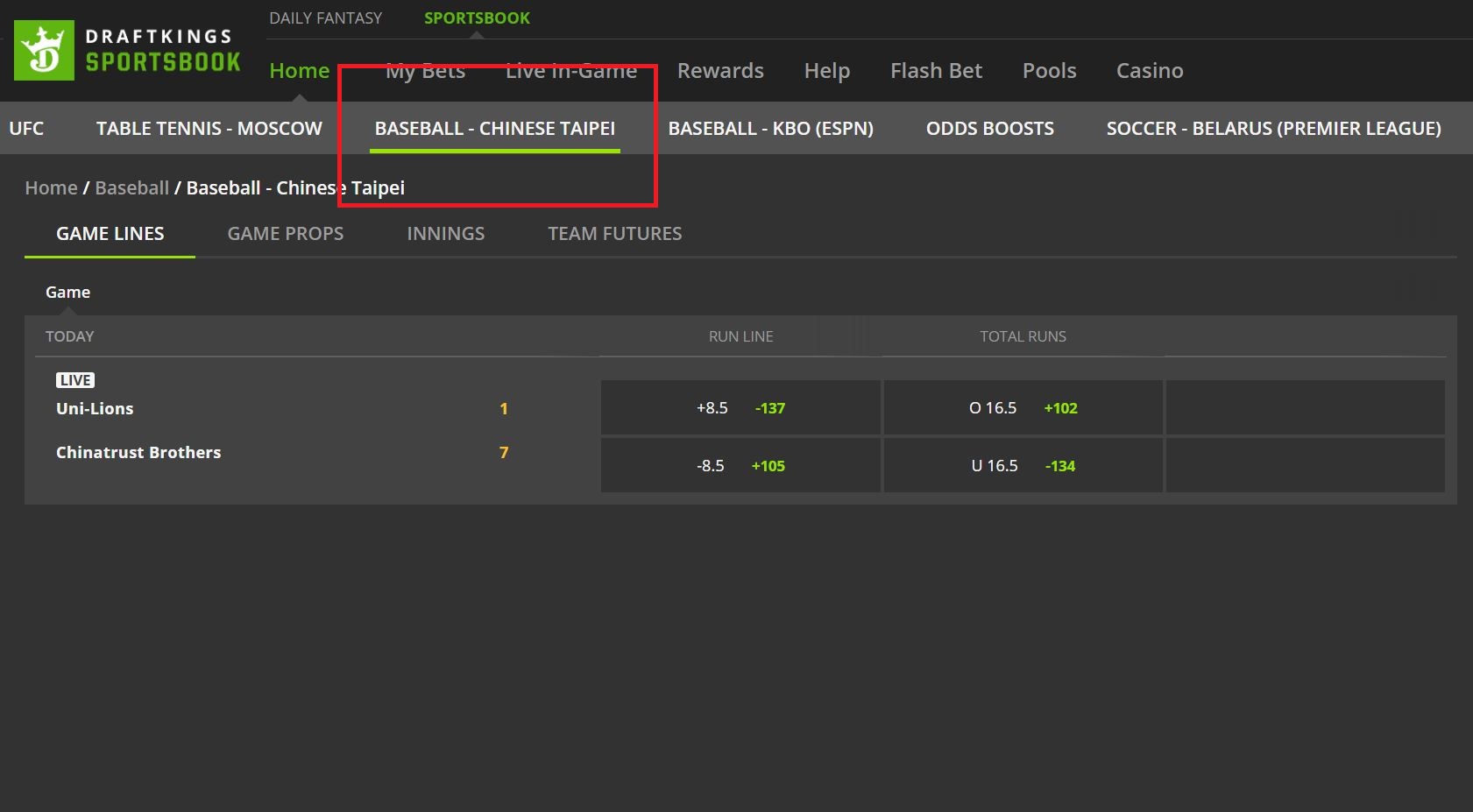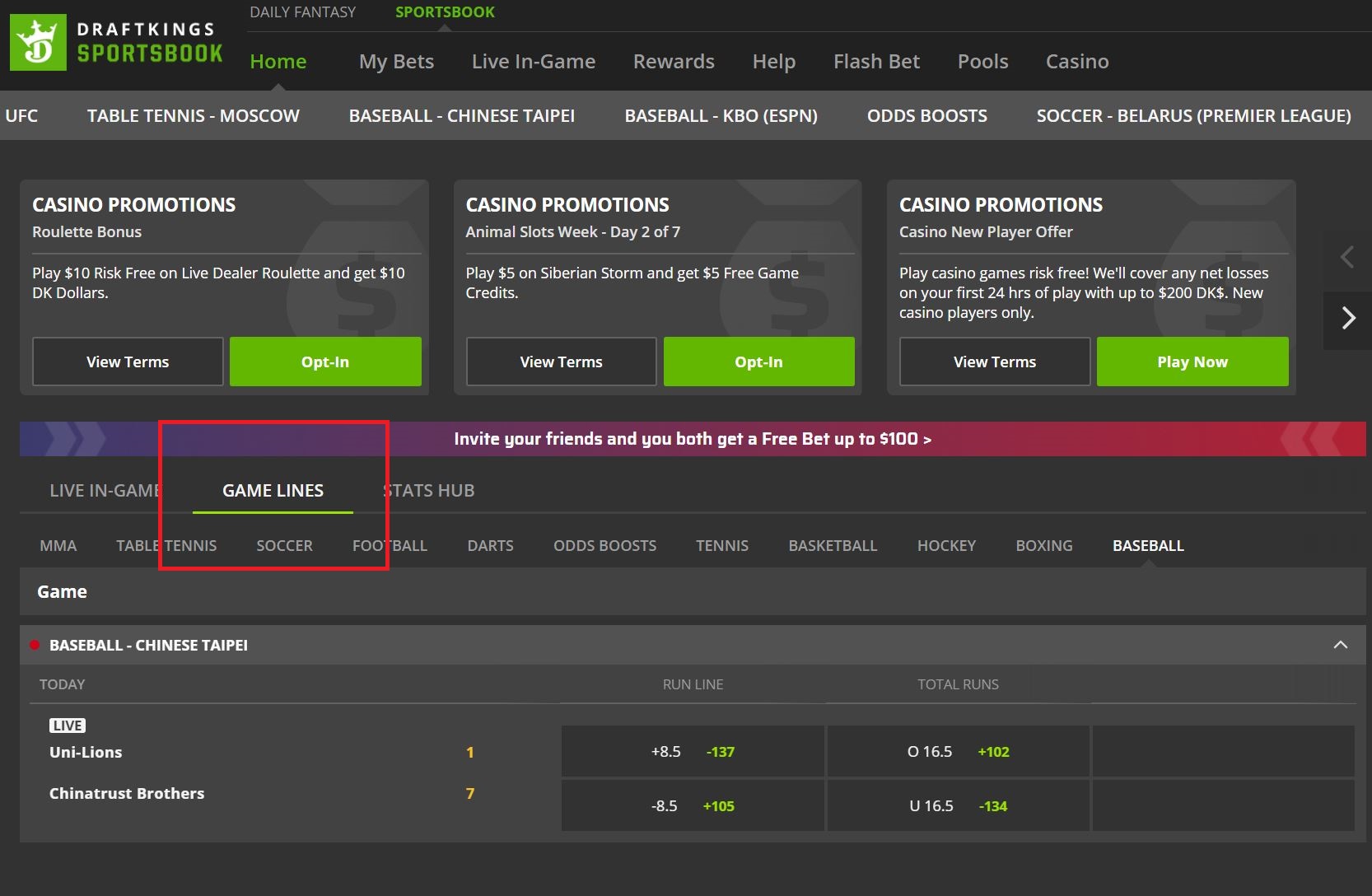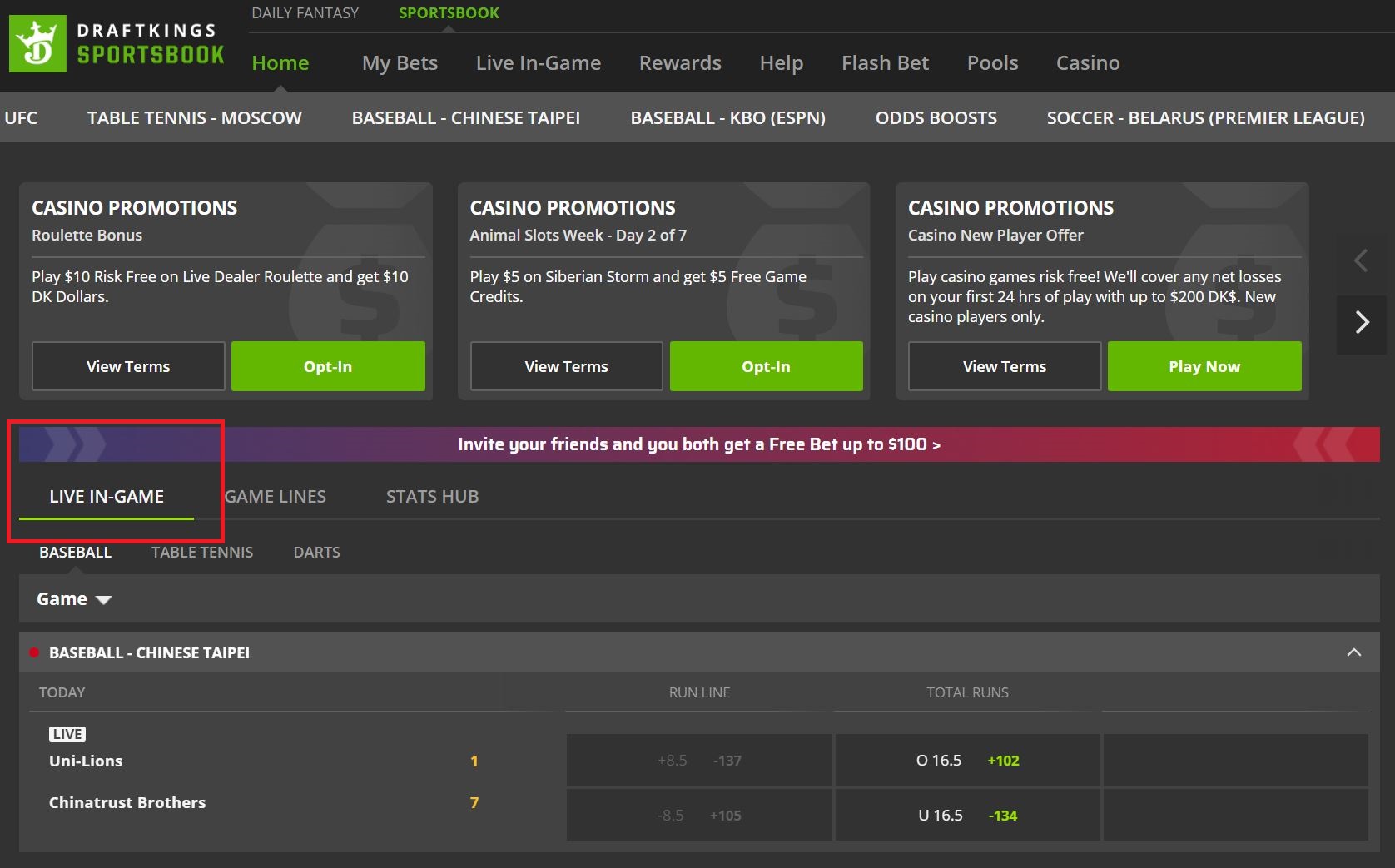 DraftKings Sportsbook App
DraftKings has both IOS and Android sportsbook apps. These apps are very similar to the mobile website in terms of look and feel but they do streamline the betting process with cleaner navigation. Players obviously appreciate the iphone sportsbook app with a rating of 4.8/5 from 65,000 reviews. Benefits of using the sportsbook apps are:
Passcode log in – No need to use your email and password to feel secure.
Expanded side-scrollable navigation.
On-screen betting cart. You don't have to navigate away from the betting board to complete your wager.
---
DraftKings Deposit Methods
PayPal
Credit Card
Wire Transfer
Bank Transfer
Online Banking (PayWithMyBank)
Cash at CVS & 7eleven
DraftKings Withdrawal Methods
PayPal
Check
Online Banking
DraftKings Withdrawal Options
| Withdrawal Options: | Minimum: | Wait Time: |
| --- | --- | --- |
| PayPal | $1 | 3-5 Days |
| Check | $15 | 7-14 Days |
| Online Banking | No Minimum | 3-5 Days |
For most bettors, depositing via the Online banking option is the only method they will need. It's instant and as  easy as signing in to your bank through the secure embedded window as shown below.  (We suggest those who earn rewards points on their  credit cards to use them.) Funds can be transferred back to your checking account in 3-5 business days.

Can I move Funds between My DFS Account?
Yes. The accounts are one in the same but have different wallets to move between. It's similar to how players might have moved their sportsbook balances to and from a connected poker room.
---
Sportsbook FAQ
What Software Does DraftKings Use?
The DraftKings Sportsbook is powered by Kambi Software which is a platform that has been a player favorite in Europe since 2011. However, DraftKings has recently merged with betting software company SBTtech and will be integrating that gaming platform. Players should expect a slightly different user experience, but one that will still be top shelf.
Is DraftKings Sportsbook Safe?
Yes. DraftKings Sportsbook is a legal sportsbook and casino that is licensed in each state of which it operates. DraftKings is publicly traded on the NASDAQ stock market under the symbol DKNG.
ODDS.com has not received or observed DraftKings payout complaints.
Does DraftKings Sportsbook Accept Players from my State?
DraftKings Accepts players in:
New Jersey
West Virginia
Indiana
Pennsylvania
New Hampshire
Iowa
Colorado
DraftKings opened their online sportsbook to Colorado residents at the start of May 2020.
---
DraftKings Sportsbook Pros & Cons
Pros:
DraftKings is a safe sportsbook that is publicly traded and very sensitive to user feedback. Signup bonuses are usually the most aggressive of all the licensed sportsbooks. Players feel comfortable and enjoy easy processes of depositing and withdrawing. Promotions such as Bet Boost give the user perks long after the signup bonus is forgotten. The website is clean and the app is highly rated.
Cons:
DraftKings is not a sportsbook for bettors who, win or lose, get a consistent edge. Players will be limited if they are the type to aggressively price shop. Winning gamblers are welcome but market traders are not.
No phone number to call support. Players are best served to use live chat.
High pricing on smaller markets – While pricing for NFL spreads will be in line with all other books based at -110, smaller markets such as NBA halftimes will be dealt on a 25 cent spread instead of 20 cents (-110).