Texas Sports Betting – What in Tarnation is Going On?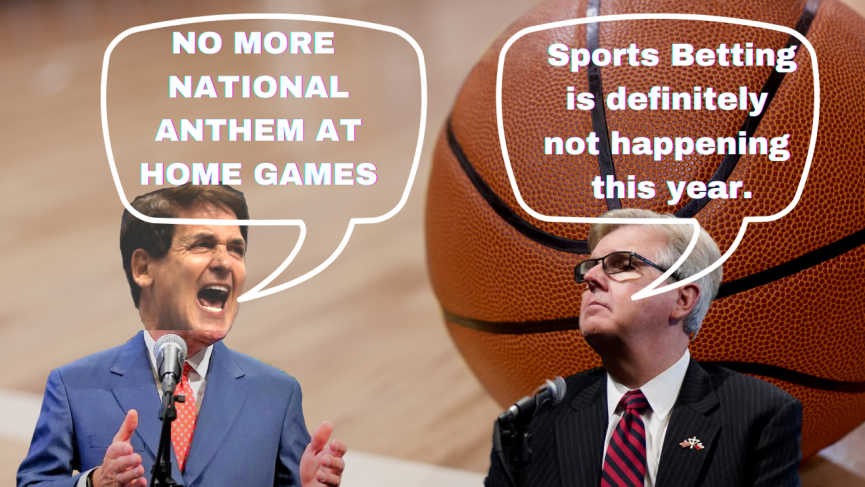 Texas sports betting looked like it was giving itself a legitimate chance to finally legalize in 2021. Everything was going to plan. Sheldon Adelson, Chairman, and CEO of Las Vegas Sands was lobbying to bring commercial casinos to Texas.
The news was big as Texas has been historically conservative and has shied away from gaming expansion. Adelson was lobbying for casino gaming with lawmakers, which potentially would have brought sports betting on the back end of the deals. Last month, Adelson passed away, and the dream of Texas sports betting is falling apart.
Following Sheldon Adelson's death, @LasVegasSands is looking to double down on Asia and expand into New York and Texas: https://t.co/kMNrPP7RoV pic.twitter.com/Pg4BirEWDm

— ForbesLife (@ForbesLife) February 15, 2021
Adelson's death wasn't the big domino that saw this unraveling happen, but losing a big casino mogul and G.O.P power broker didn't help either.
Texas LT. Governor Dan Patrick put the cherry on top this week after an interview KFYO-Texas, stating sports betting was "not going to see the light of day this session."
A vow by the Republican lieutenant governor of Texas to block a sports-betting bill is not resonating with gaming lobbyists who continue to enthusiastically promote an agenda to expand the industry's footprint in the state, @tbattdc reports. @GamblingComp https://t.co/qZT7YlSt3S

— Chris Sieroty (@sierotyfeatures) February 12, 2021
"That generates by their numbers $150 million a year…that's a lot of money, but that pays for about half a day for our total year." Patrick was referencing the sports betting lobbyists that come to the state Capitol every year to persuade lawmakers to legalize sports betting.
"The people were fooled many years ago when they said the lottery was going to pay for education. The lottery pays for, you know, several days of education for the whole year. So our budget is $125 billion a year, roughly…If you want to pitch your casinos or pitch your sportsbooks, talk about jobs, and talk about tourism. Don't tell the public about numbers because the members know better."
Patrick makes an interesting point about what sports betting, and casino gaming lobbyists need to do to legalize sports betting. With the size of Texas's budget, it's hard to say that generating $1 billion in annual revenue will help the state. At the end of the day, gaming revenue will help pay for a couple of days out of the year.
Where Does Texas Sports Betting Stand?
Texas needs to amend its state constitution to legalize sports betting, making it already hard enough for the state to do so. A bill must also pass by a two-thirds vote in the 150-member house and the 31 member Senate. The state Senate has a G.O.P majority of 18-13 and would need 21 votes to pass the bill. Oh, and Patrick would also need to approve of sports betting before it went to Gov. Greg Abbott's desk.
The battle to legalize sports betting seems a lot together than winning the Battle of the Alamo.
Patrick also stated that Democrats are in on sports betting but don't have the votes to give a sports betting bill a chance. There is also no sponsor for the Senate sports betting bill, and Patrick said that one hasn't even been filed.
Despite Patrick shooting down any chance of getting a sports betting bill done this year, there is hope as both chambers have filed a gaming bill. Rep. Harold Dutton filed HB 1121 in January, and Sen. Roland Gutierrez SJR 36, which would amend the state constitution for casino gaming.
There has been support from Dallas Mavericks owner Mark Cuban and Las Vegas Sands for the sports betting and casino gaming bills. However, trying to legalizing anything gambling related might not happen in 2021.
The Sports Betting Alliance For Texas Sports Betting
Despite all the commotion around Texas sports betting, three professional sports teams have joined a coalition to launch the new industry in the Lone Star State.
The Dallas Cowboys, Dallas Mavericks, and Texas Rangers have joined the Sports Betting Alliance in hopes of legalizing wagering in Texas. The Alliance consists of sports betting giants DraftKings, FanDuel, and BetMGM. The three Dallas franchises and the three biggest sportsbooks will now join efforts to get sports betting legalized in Texas.
Marc Cuban, Jerry Jones, and Tilman Fertitta are bankrolling a group to repeal Texas' constitutional ban on sports betting.

One pending bill would tax mobile sports betting at 6.25%; lawmakers have previously turned down similar proposals.

— Sam McQuillan (@sam_mcquill) February 8, 2021
Charlotte Jones, Dallas Cowboys' Executive Vice President and Chief Brand Officer, said Texas is losing hundreds of millions of dollars to offshore and illegal sports betting. The state would generate hundreds of millions in revenue if the state legalized it.
However, the Alliance faced a rocky start this week with efforts in legal sports betting.
Cuban announced last week that the Mavericks would not be playing the National Anthem at home games anymore. A few hours later, the NBA stepped in and would not allow that to happen under league policy. The decision led to Patrick tweeting at Cuban for his decision not to play the National Anthem anymore.
.@mcuban Your decision to cancel our National Anthem at @dallasmavs games is a slap in the face to every American & an embarrassment to Texas. Sell the franchise & some Texas Patriots will buy it. We ARE the land of free & the home of the brave. https://t.co/4xfY5loqQQ

— Dan Patrick (@DanPatrick) February 10, 2021
The situation will not play out well for the Alliance and sports betting to come to Texas. With Patrick upset at Cuban's decision and currently the gatekeeper to legalized sports betting, Texas lobbyists will have to find a new angle to get the industry amended.
Any Glimmer of Hope For Texas Sports Betting?
Right now, there isn't much.
One positive sign is that Democratic lawmakers have filed gaming bills to the state, as it shows an attempt at legalized gaming in Texas. Unfortunately, with Republican lawmakers ruling both chambers and Patrick being the final decision from a bill going to Gov. Abbott's desk, 2021 might not be the year for Texas.
Everything unfolded quickly this week, from Patrick's comments to then Cuban's decision not to play the National Anthem. This will trigger a negative response from any Republican lawmaker, and Patrick was the one to make the statement.
There is a chance more positivity towards gaming happens in 2021. If the gaming bills submitted are heard in the chambers, it gives Texas sports betting and casino gaming more light. Expanding the Texas gaming industry could have a long-term approach to it than getting something done this year.