Georgia Sports Betting Hits Major Setback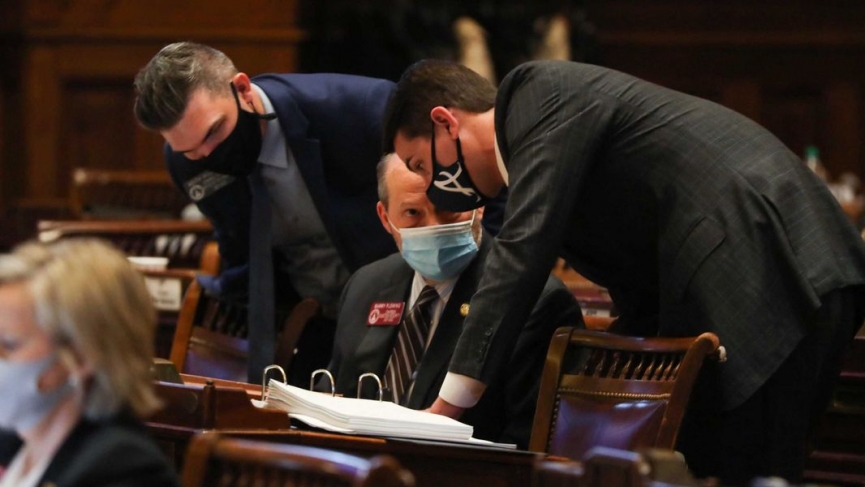 Table of Contents: | Moving Past Setbacks | Hope in Georgia |
In many thought was unlikely, Georgia sports betting hit a major setback. Two days after the Georgia House Economic Development and Tourism Committee passed Senate Resolution 135 and Senate Bill 142, both sports betting bills were sent back to the House Rules Committee.
UPDATE on online sports betting legislation in Georgia

Both pieces of legislation dealing with online sports betting in Georgia have been sent back to the House Rules Committee. They were on the State House calendar for a possible vote today. #gapol #GPBLawmakers @gpbnews https://t.co/pIMOBQNFKN

— Rahul Bali (@rahulbali) March 25, 2021
Both bills were scheduled to be potentially voted on today, and the setback now puts major pressure on House lawmakers to get a deal done and pass a sports betting bill by the end of the next week.
According to Ryan Butler of Action Network, the news brings a devastating reality that Georgia may not pass sports betting until 2025.
This is not good news for Georgia sports betting. Could be a chance to work out some issues, but both the Senate's constitutional amendment ballot measure and regulation bills need to pass the House by next week. If not, legal GA sports betting isn't likely coming until 2025… https://t.co/xKusXLVOyS

— Ryan Butler (@ButlerBets) March 25, 2021
The news about the setback could be something more minor and needs to be rehashed by the committee, but there is not much time left to give the bill back to the House floor for a vote before this current session is over.
Moving Past Setbacks
Georgia sports betting has never been closer to legalizing the new industry.
Along the way, there were some minor hiccups with passing a sports betting bill, but nothing to derail conversations in this session. Georgia's goal was to avoid a constitutional amendment because it is difficult to pass a sports betting bill down that route.
SR 135 would amend the constitution while SB 142 would not.
Then came the morality behind sports betting, as some lawmakers stated that some of the biggest scandals in sports came from gambling. The 1919 Black Sox and Pete Rose were the two examples cited. Still, the bills moved beyond the concerns of point shaving and gambling on a sport.
Then came the questions about how sports betting would benefit minority businesses. Some lawmakers wanted to know how minority businesses would receive a sports betting license, a mother issue that was resolved during this session.
Differences were felt about betting on college sports. The House bill took out language to allow for betting on college sports while the Senate would allow it. Some lawmakers did not believe it was fair for people to profit off people who are not getting paid, and it has been one of the biggest issues moving forward with a sports betting bill.
The biggest setback came this month when PlayGeorgia reported that Lebron James led the More Than A Vote group to pay attention to Georgia's voter suppression. This pinned Republican lawmakers against pro sports teams who have been strongly in favor of legalized sports betting.
While @GOP operatives try to restrict minority voting, a group of minority athletes led by @KingJames has organized to work for voter rights in key states, reports @Merica in @CNN. Called "More Than a Vote," the effort will be broad based and effective!https://t.co/9foRuInNcd

— Ted Lehmann (@BluegrassTed) March 5, 2021
Again, the issues were resolved, and now it looked like Georgia sports betting was well on its way…until today.
Hope in Georgia
As of writing, there is no word as to why both sports betting bills were sent back to the House Rules Committee. It could be something minor that needs to be adjusted in the language or go back for review.
If it is the latter, then the bill might need to have language changed and re-voted before being sent to the House floor. Until the end of the month, the state only has to pass a sports betting bill until its Sayonara to Georgia sports betting in 2021.
Hope isn't officially dead in Georgia, but it is a major blow to legalizing sports betting.