Illinois In-Person Registration and Barstool Sportsbook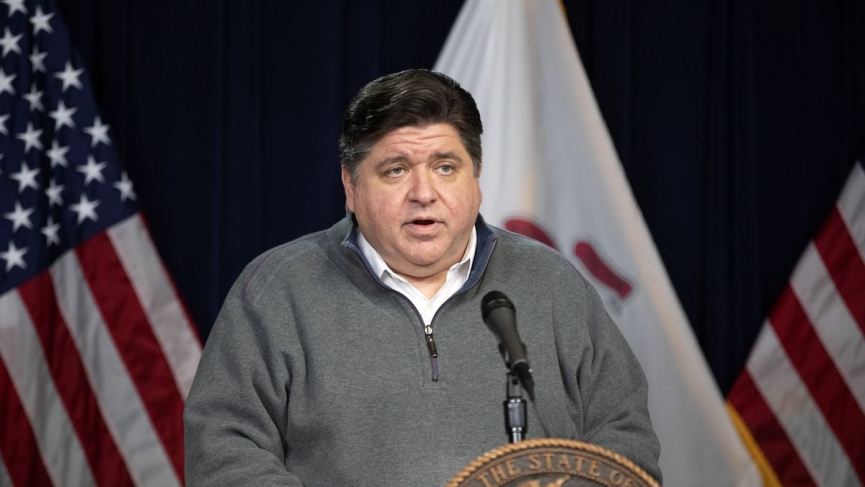 Illinois in-person registration was brought back by Gov. JB Pritzker one month after Barstool Sportsbook enters the market. Now Barstool's main focus is to help Illinois bettors figure out how to sign up for an online sportsbook account.
What does this mean for online operators and future revenue? States like Iowa and Rhode Island suffered from in-person registration and their revenue took a hit. Once that mistake was corrected, revenue corrected itself and both states saw record-breaking numbers almost immediately.
Wow. By a margin of about $300,000, Illinois has already surpassed Pennsylvania in single-month sports betting handle.(Although that momentum may reverse if Illinois doesn't re-nix the in-person registration requirement soon.) https://t.co/gAtIuEA2Mh

— Eric Raskin + (@EricRaskin) April 9, 2021
Will Illinois with one of the largest emerging sports betting markets take a step back with in-person registration? Will Barstool's growth in a new market take a hit?
Barstool Enters Illinois and 1 month Later Gov. Pritzker Announces In-Person Registration
The #BarstoolSportsbook is coming to Illinois. Even better? You can now earn mychoice tier points and mycash by placing wagers in the app.

Download the app and get ready: https://t.co/NuSkDW7sj0

Gambling problem? Call 1-800-GAMBLER (1-800-426-2537). pic.twitter.com/Sz9ecmU5Xk

— Hollywood Joliet (@HollywoodJoliet) March 1, 2021
The announcement came from Hollywood Casino Joliet and Hollywood Aurora on Twitter, making Barstool Sportsbook the sixth betting operator to enter the state and is the third state the sportsbook has entered.
One month later:
Illinois genius @JBPritzker strikes again!

In-person registration required for online gambling but we can't carry on with any other part of our normal lives because you know, HUGE pandemic going on? It's just a big joke at this point and too many people are just going with it. https://t.co/UppNJpDZRb

— CC (@CC121991) April 8, 2021
How Do Bettors Sign up For a Barstool Account?
Barstool had one full month of online signups before in-person registration came back in full force. Timing is everything as March Madness had bettors busy on the biggest college basketball tournament of the year and Barstool took full advantage of it.
Barstool's activation team was in full force right before online registration ended by aggressively offering bonuses to those who signed up before the deadline.
🚨ILLINOIS🚨 if you want to use the Barstool Sportsbook, sign up today. After today, you will have to go sign up at a casino in person. All you have to do today is download and sign up. Also there are TONS of promos today. pic.twitter.com/zXWqTOQJuF

— Chuck Naso (@ChuckNaso) April 3, 2021
Now with in-person registration, bettors will have to get in their cars and head to Hollywood Casino in Aurora and sign up. The process is simple enough by just driving on to the property and signing up online. The question is, will bettors be motivated enough to make the drive just to set up an account?
Residents in Decatur, Bloomington, and surrounding communities where there's no easy access to a casino, racetrack, or off-track betting facility that hosts a sportsbook, will find it difficult to justify a 2 to 3 hour trip to a casino parking lot in Aurora just to open a Barstool account.
Barstool Will Bump Illinois March Handle
Even though Illinois has not reported its March revenue numbers yet, they should see an increase with Barstool entering the scene. The state saw $509.8 million wagered in February, and Barstool will bring a significant chunk of the betting handle in through its site.
In Michigan, the Barstool Sportsbook app was downloaded 48,000 times and saw $27.5 million wagered in the first 10 days of sports betting. It ranks third in its betting handle in Pennsylvania and Michigan and has a retail sportsbook in Colorado and Indiana.
Barstool also has a strong presence in the Chicagoland area, with its Barstool Chicago Twitter page having just under 175,000 followers and one of Barstools biggest personalities, Barstool Big Cat, from the area.
April will be a clear indicator of how much in-person registration will cost the state in terms of sports betting tax revenue. Legislators are busy working on a bill that will terminate this requisite and bring back online registration but chances of it passing does not look good.
If another executive order or legislation does not pass, the earliest online sportsbook registration can open again is this December.