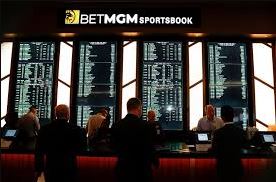 BetMGM Sportsbook Review: BetMGM Sportsbook is the offspring of a joint venture between one of the biggest sports betting operators in Europe and one of the world's largest casino companies. For a quick origin story, in 2018, MGM Resorts and GVC Holdings partnered to create Roar Digital. Roar is the company behind BetMGM and is responsible for the technical side of the betting platform.
At the time, the cache of both MGM and GVC was enough to raise the eyebrows of people familiar with the industry. 
But, with the help of new spokesman Jaimie Fox and many partnerships with professional sports teams like the Tennessee Titans, those new to sports betting have also begun to recognize the brand as one of the top choices for betting on sports in the U.S. But, is this Roar Digital site worth the noise it's making? For the most part, we'd say so.
BetMGM Sportsbook Welcome Bonus
The self-proclaimed "King of Sportsbooks" doesn't have the king of welcome bonuses. That's not to say that this sportsbook is bereft of quality bonuses, but the highly advertised welcome bonus itself is not one of their best.
New users can qualify for a $500 risk-free bet on their first wager using BetMGM. But, this doesn't mean you can bet $500 with no repercussions. There are important details to keep in mind before you try to enter into this deal. The most important of which is that if you try to qualify for this bonus, you won't qualify for any other welcome bonus. 
Rules Breakdown of BetMGM's Sign up Bonus
Type
Amount 
Max bonus
how it works
First Bet Refunded
(20% Increments)
Ok, this is going to sound like a lot of steps, so read carefully. The first things you'll have to do are make an account and then make a deposit. This involves giving them some personal info, but it's nothing that making a Netflix account wouldn't ask you. This should only take you a few minutes. 
After that, you'll need to make your first bet (and if that bet loses), BetMGM will reward you 100% of that same amount of money in free bets. 
So, for example, if your first bet was $50 and it loses, you'll get $50 from BetMGM. If your first bet is $500 and you lose, you'll also get $500 in free bets. But, if your first bet is $1000 and you lose, you'll only qualify for $500 in free bets.
You won't get these funds as a lump sum. Instead, you'll get them in 20% increments. So, for example, if you qualify for the full $500, you'll get 5 increments of $100 free bets. If you only qualify for $100, then you'll get five $20 free bets.
Now, what do you do with those bonus funds? You bet with them, very soon after you get them. BetMGM only gives you 7 days to use those free bets before they become invalid. You can't use them on casino games, so you'll have to get good at sports betting fast.
You'll have to play through these funds before you're able to withdraw them. So there is a chance that you won't be able to recoup your initial bet amount if you keep making the wrong picks. 
Too many rules for our liking in this area. BetMGM could do better, but they make up for it some in their extra perks.
---
Special Perks At BetMGM Sportsbook
There are several unique promos and features found at BetMGM that could be the difference-maker for some. They have promos exclusively for certain games, certain sports, and even certain states. The best ones they have currently are:
| BetMGM | Rewards and Promos |
| --- | --- |
| Bet with the in-crowd | Get a $20 free bet when you place a $50 in-game wager. |
| End the game with a boost | Get a $10 free bet if any MLB teams that day hit a walk-off. |
| Pick 3 TD Challenge | Pick 3 players to score the first TD in their games and win up to $100. |
| Money Monday Club | Get a $10 free bet every Monday if you bet $50 in qualifying bets the week prior. |
| Multi-Sport Parlay Boost | Earn 40% more on parlays involving different sports. |
Along with these promos, you'll also have access to BetMGM's easy Parlay feature. This allows you to easily build parlay bets across sports and different bet types like spreads, totals, and money lines.
There is also live streaming available on the BetMGM platform. This is more so reserved for smaller market competition and ones that major networks don't carry. This allows bettors to actually watch their wagers play out after they put them in and make bettor live bets.
---
BetMGM Website Review
The BetMGM Sportsbook website layout isn't the prettiest one around, but it's nowhere near the worst. BetMGM would like the girl you'd want to take home to your parents to meet. It was not too flashy or over the top, but also not one that would have them worry what their grandkids might look like.
Let's start with the homepage of the site, which will right away feature some key differentiators. 
Besides Jamie Fox trying to sell you on a sub-par welcome bonus, you'll notice the media box, bet slip, and Easy Parlay builder.
The Media box allows you to tune into live streaming matches easily, and the bet slip allows you to see your selections and active bets, while the Easy Parlay builder takes you to a special page in which you can make some parlay bets. 
BetMGM pushes parlay bets hard throughout the site because they know at the end of the day, parlay bets are suckers bets, and they can make the most money on them. But, every sportsbook does this to a certain extent. It's just most noticeable at BetMGM.
It's highlighted by the parlay generator that's always located on the screen as well. 
The parlay generator allows you to pick what range of odds you want your parlay to be or what you want your maximum winning amount to be greater than. Just click "spin selection," and it will generate a new parlay every time within the parameters you selected previously.
Pretty nifty feature if you're not finding any enticing odds and want to take a premade parlay bet.
We will note that we're not too crazy about that once you do get to a certain sport's odds board, it can be a bit cramped.
But, what's more important is that the odds themselves are a good price. From that standpoint, we tip our hat to BetMGM as they usually don't have too high of vigor for the most part, and they have also boosted odds for other types of prop bets.
---
BetMGM Sportsbook App Overview
The BetMGM Sportsbook app is one of the highest-rated sports betting apps on the Apple App Store. 
It isn't on the Google Play store because of Google's policy with gambling apps, but the app can be downloaded to Android devices simply by going to BetMGM from your mobile browser. 
To start, we'll be blunt with you. The interface isn't the prettiest of all the sportsbook apps out there, and navigating through different pages may take a fraction of a second longer than you want. The app is stable and hardly ever crashes, which is clutch when it comes to live betting.
You'll also be able to access BetMGM's extra features like match center, their menu of bonuses, or their live streaming capabilities from the app. 
The bet slip is also hidden until called upon, which is nice because it allows the sportsbook to utilize your screen's full value. 
---
BetMGM Deposit Methods
BetMGM deposit methods are some of the most expensive of any sports betting site on the market. This is actually one of the major advantages they hold over their competition. Their current list of deposit options are as follows:
Ways to Deposit on BetMGM
Visa/MasterCard/American Express
Prepaid Card
Wire Transfer
ACH/E-Check
PayPal
Skrill
Netteller
PayNearMe (Available at 7/11)
Casino Cage
You have to deposit a minimum of $10, no matter which method you choose. You may also have to deposit into their casino app first and then transfer funds from there onto your sportsbook app. This can be an inconvenience, but the transfer process is pretty quick.
You can make these deposits from anywhere in the country; note that you won't actually be able to use those funds to bet on sports unless you're in a state that BetMGM is licensed in.
How To Make Withdrawals From Your BetMGM Sportsbook Account
Just like any other sports betting site, the withdrawal options are more limited than the deposit options. BetMGM still has methods that will suit any sports bettor. The current withdrawal options at BetMGM sportsbook include:
Ways to Withdrawl on BetMGM
E-Check
PayPal
Skrill
Paper Check via Mail
Cash at the Casino Cage
Remember that the time it takes for your winnings to reach your bank account varies depending on the method you choose. If you decide to use something like PayPal, you'll most likely have to wait 2 days, whereas if you choose a paper check, you're going to have to wait possibly two weeks.
Those types of wait times are normal, so don't bank on getting your money instantly.
Other sportsbooks like PointsBet have their own card. You can order to use an atm for cash or purchase things using money from your sportsbook account. BetMGM, unfortunately, is currently lacking in that department. 
They have the standard, reliable withdrawal methods.  
---
BetMGM Customer Service
Getting a hold of BetMGM's customer service is pretty easy, but a little tedious.
The sportsbook has its "help and contact" tab located at the top right of the screen at all times. When you click it, you'll be able to choose from a range of topics with quick FAQs. They're pretty helpful, but you'll have to log in to get more concrete answers to certain questions. 
Also, to get their contact information, you have to select an FAQ topic first. This can be a little annoying, but it's only a couple of extra clicks.
After that, you can choose to email them or live chat with a representative. Live chat is available 24/7 and is fast, so it's the contact method we recommend most.
---
BetMGM Sportsbook FAQ
Who Supplies The Software for BetMGM Sportsbook? 
GVC Holdings Technology powers BetMGM Sportsbook. The brand BetMGM itself is owned by Roar Digital, a joint venture between GVC Holdings and MGM Resorts. 
Is BetMGM Safe To Use?
Yes, BetMGM is safe to use so long as you are located inside the state in which it's regulated. Players outside of West Virginia, New Jersey, Nevada, Colorado, and Indiana can access the sportsbook but cannot place any real money on the games they offer.
Can I Transfer Funds Between The BetMGM Sportsbook And Casino?
Yes, if you live in a state such as New Jersey, West Virginia, or Pennsylvania, where online casino gaming is legal, you can transfer your funds from the casino platform to the sportsbook platform.
BetMGM Sportsbook Pros And Cons
| Pros | Cons |
| --- | --- |
| An expansive list of bonuses and great promos for new and existing users. | Doesn't have the most innovative withdrawal features. |
| Reliable and easy to use app that's great for live betting. | It can be aesthetically bland for some, especially when it comes to the app.  |
| A great choice for those that like online casino games as well.  | Doesn't have certain niche sports such as volleyball. |