Maryland Sports Betting: Passed by Legislators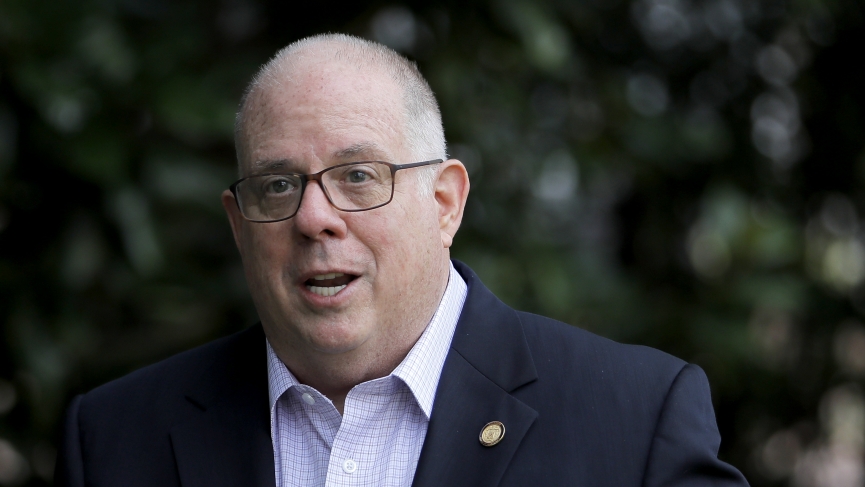 Table of Contents: | HB 940 Breakdown | Senate Amendment | Activists Requests
Updated 4/13/2021: Can the Maryland sports betting bill pass and go live before the 2021 NFL season? It sure can, as of yesterday evening, the state legislature passed HB 940 by a vote of 112-16-1.
HB 940 will now allow up to 60 online sports betting operators and 30 retail sportsbooks located in casinos, sports stadiums, small businesses to name a few.
It is all up to Governor Larry Hogan to give his signature so the bill passes to law. The industry is now ready to prepare to launch by this year's football season.
If Gov. Hogan signs the bill (as expected) it would technically legalize sports betting in Maryland, but state regulators would still need to license each sportsbook, a process that has taken several months in most other states. Lawmakers hoping first books go live by fall 2021. https://t.co/IuAAWQlUY9

— Ryan Butler (@ButlerBets) April 12, 2021
Original article: Many in Maryland were hopeful after the bill was passed by the Senate via a voice vote this past week. This was an amended version of the House's bill and now it will move on to a third reading before heading back to the House for approval since amendments were added. The last time HB 940 passed the House was in March. Question is, will the house approve these amendments?
According to the Capital Gazette, after a Saturday of negotiations between the house and Senate, they have come to an unofficial compromise that could become official today.
The @capgaznews reports Maryland lawmakers are working on a deal that would allow 60 online sports betting licenses, the most of any state with a cap. Senate had tentatively agreed to an uncapped market, but would limit that as part of a House deal. Final vote deadlines are today https://t.co/2sInGg9PEw

— Ryan Butler (@ButlerBets) April 12, 2021
Maryland Sports Betting HB 940: House Version
HB 940 Breakdown
Maryland voters approved sports betting through a referendum in the November Election, and lawmakers have finally filed its first sports betting bill. HB 940 was filed and sponsored by House Speaker Adrienne Jones.
The bill was also introduced to the Ways and Means Committee as Jones is looking for the bill to create a sports betting framework, increase money for education, and benefit Maryland businesses.
Multiple parties discussed the framework of what Maryland sports betting could look like, including for small business owners wondering if they will be able to get in on the action. Both chambers have been discussing what the overall framework of the industry will look like.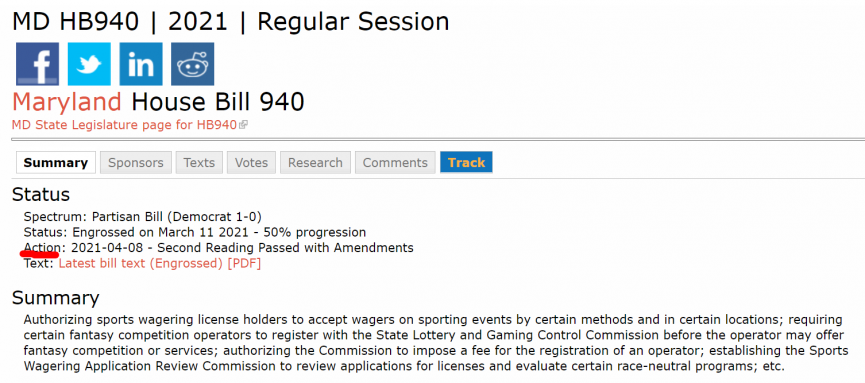 Other details of HB 940 include a 15% on the first $5 million in gross gaming revenue and then 17.5% tax after that. Maryland created a tax structure depending on the license an operator receives. Class A licenses (casinos and racetracks) will pay a $250,000 licensing fee and an annual $50,000 renewal fee.
Class B licenses (which must be within 10 miles of a Class A license) will pay $50,000 in an application fee and an additional $10,000 annually to retain the license. Mobile betting operators have the steepest payments with a $500,000 application fee and a $100,000 annual licensing fee.
All approved licensees will pay a renewal fee every five years, equal to 1% of the average annual gross gaming revenue the operator collects.
HB 940 Senate vs House Amendment
Senate Amendment
Maryland is the closest its ever been to getting a sports betting bill passed. Now that the Senate has approved the bill, after making some adjustments, it's time for the house to approve the amendments.
| Maryland Sports Betting Bill HB 940 | House | Senate |
| --- | --- | --- |
| Number of Licenses | 13 | unlimited |
The Senate's plan would create types of licenses for in-person betting and online betting but effectively would allow an unlimited number of licenses. If the General Assembly passes it, any online sportsbook could apply to operate in Maryland without an existing land-based casino partnership.
According to HB 940, 13 retail licenses are available for casinos and racetracks, along with other locations competing for the remaining licenses. Maryland will allow grant 10 licenses to mobile sportsbooks entering Maryland.
The number of licenses may not be enough, considering House Speaker Jones stated that she wants to see minority businesses receiving sports betting licenses. With at least eight retail licenses set aside for the six casinos and two racetracks in the state, minority businesses will be competing for a small share of the market.
Hurdles the State Could Face
Activists Requests
Problem gambling activists have been vocal on the importance of making sports bettors aware of problem sports betting. Activists also want operators to have appropriate sports betting advertisements and for the state to help make problem gambling treatment known if people need it.
(1/3) Maryland Senate advances unprecedented online sports betting bill with amendments that permit uncapped potential licensees. If Senate gives final approval & House agrees, any qualified mobile sportsbook could apply to operate in MD. Final votes should come in next few days.

— Ryan Butler (@ButlerBets) April 8, 2021
Overall, the hurdles the state could face should not be enough to derail the current sports betting bill. There are many positive signs towards the current bill from both chambers, and it has an opportunity to reach Gov. Larry Hogan's desk sometime this year.
In a perfect world, sports betting could be available during the 2021 football season if the bill gets passed before the assembly adjourns next week.
| State | Handle | Prev. High | Revenue | Prev. High |
| --- | --- | --- | --- | --- |
| Arkansas | $5.5m | $450,000 | $7.2m | $1.4m |
| Colorado | $337.7m | $326.9m | $23m | $32.1m |
| Illinois | $590.1m | $581.5m | $48m | $47.9m |
| Michigan | $419.5m | $325.6m | $26.8m | $17.4m |
| Mississippi | $68m | $67.7m | $13.7m | $12.3m |
| Nevada | $660m | $659.9m | $53m | $61.8m |
| New Hampshire | $62.7m | $59.8m | $5.2m | $4.8m |
| New Jersey | $990m | $996.3m | $60.1m | $82.6m |
| New York | — | — | $3m | $3.57 |
| Oregon | $35.8m | $34.9m | $4m | $3.5m |
| Pennsylvania | $620.6m | $615.3m | $55.4m | $49.3m |
| Rhode Island | $40.26m | $3.9m | $5.5m | $6.3m |
| Tennessee | $225.7m | $211m | $23.8m | $21.8m |
| Virginia | $325m | $265.8m | $15.5m | $12.2m |