Kansas Sports Betting Bill Causes Friction Before Vote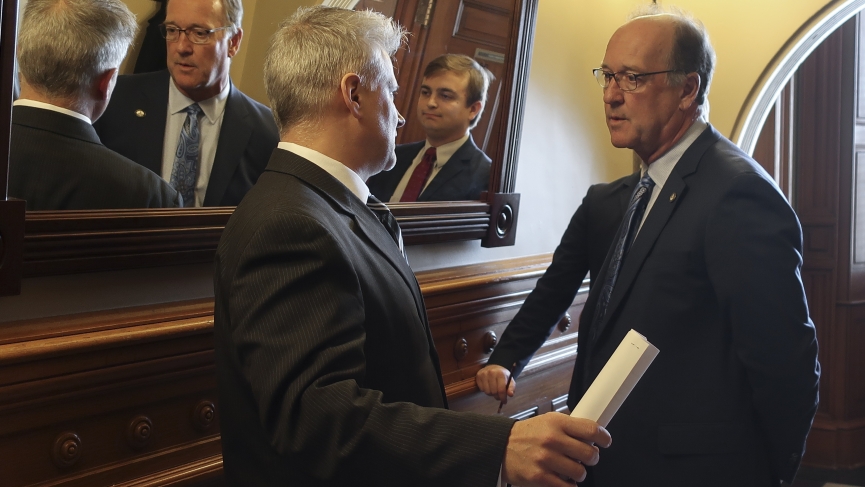 Kansas sports betting road to legalization is taking baby steps in the right direction. Last week, Kansas lawmakers held a hearing around its sports betting bill from sides that are in favor and against it. A few shareholders are upset that SB 84 does not include them in the bill and would prohibit them from taking bets.
Since 2018, Kansas has been making attempts to pass a sports betting bill but has failed to do so. 2021 feels like this is the state's best chance to get a deal done despite opposition. Despite Kansas City Chiefs fans not being able to bet the Super Bowl the last two seasons, lawmakers are now doing everything possible to make sure Chiefs fans can bet on Mahomes in 2021 and beyond.
The Kansas Senate will look at potential amendments to its bill and hopefully pass SB 84 to compete with the Kansas House bill in the coming weeks.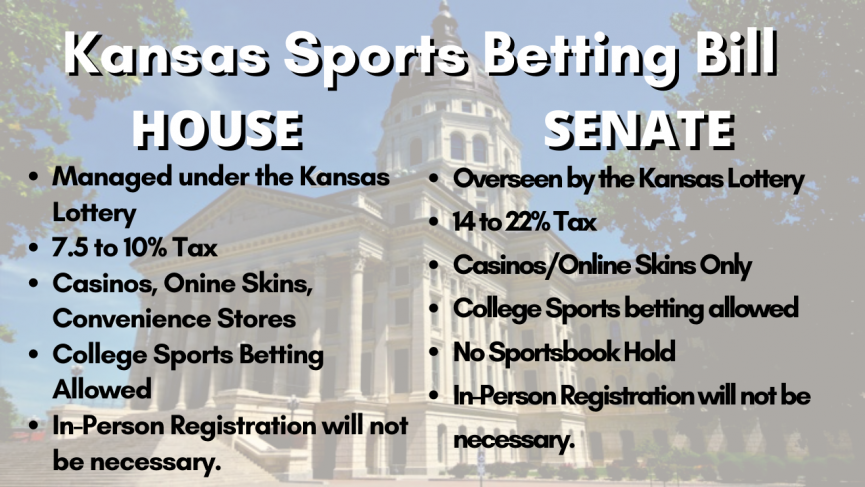 Kansas Sports Betting Bill SB 84
Under the Senate bill, Kansas Casinos would have two partnerships at their locations and sports franchises also having sports betting partnerships. The Kansas Lottery would oversee operations but would not be involved with licensing and partnerships.
Online and in-person sports betting would be allowed in the state, and bettors would have to be 21 years or older to place bets. The Senate bill is also looking at a tax rate between 7.5% to 10% depending on retail and online sportsbooks. No licensing fees have been set.
The House version allows the Kansas Lottery to be more involved in sports betting, one of the biggest opponents to the sports betting bill. Under the Kansas House bill, the tax rate is between 14% and 22%. Convenience stores would support the bill since those locations also sell lottery tickets and facilitating sports betting would just be expected behavior.
Kansas Sports Betting – How Much Revenue Are we Talking About?
According to The Kansas Division of The Budget, the Kansas Lottery estimates the state could bring in $3.5 million annually depending on how legislation is passed. The Senate bill is specifically geared towards casinos, where the House bill has more locations involved and could go as far as convenience stores.
The Kansas Lottery indicates that industry analysts predict that the sports wagering industry will see substantial growth in future years and Kansas could reach $900.0 million in gross wagering in five years, which could generate approximately $5.3 million for the state.
These estimates assume that most sports wagering would occur over the internet with an interactive sports wagering platform with an average hold percentage of 6.0 percent. The Kansas Lottery indicates
that a well-designed and well-implemented sports wagering system would generate significant
revenues in future years.
The proposed bill would implement a sports wagering system that could be characterized as "convenient
availability." The studies(Eilers-Krejcik and AGA-Oxford) use a number of variables to estimate the impact of sports wagering in Kansas, including comparing certain demographics in Kansas to Nevada where sports wagering is legal, the number of existing gambling outlets, and the level of spending in those outlets to help determine the perceived competitiveness of the market. The studies also suggest that a large portion of currently illegal sports betting would shift to legal markets.
Kansas could reach nearly $1.0 billion with limited availability of sports wagering (sportsbooks
only available at casinos) or more than $2.0 billion with convenient availability of sports wagering
(sportsbooks at casinos, retail locations, and online) that is fully implemented.
The bottom line is that casinos view sports betting as cutting its profits if more locations are involved and  the Kansas Lottery feels like it is being excluded from the bill, with casinos getting all the Senate love. Expanding sports betting to convenience stores could keep Republican and conservative lawmakers away from Lottery's idea of how easy it would be to place bets in Kansas.
Both bills will spend a part of their revenue on problem gambling. Lobbyists for addiction centers have talked about these issues with legalizing sports betting from a health standpoint. 2% of casino revenue already goes to problem gambling.
US-KS: Testimony by Deb Stitham (Kansas Association of Addiction Professionals) in relation to Senate Bill 84 that would allow statewide mobile sports betting "Everyone who profits from sports betting bears responsibility for gambling problems" #ksleg #us https://t.co/LrAhyedDER

— Janne Nikkinen (@DocNikkinen) February 12, 2021
What's Next for Kansas Sports Betting?
In the coming weeks, both chambers will discuss the tweaks it will make to its own sports betting bills. The House will keep a majority of the Lottery friendly language in its bill, while the Senate will discuss amendments on February 24.
Covid-19 has also helped the push to legalize sports betting in Kansas. The state is suffering from a budget deficit, and sports betting could be an additional revenue stream for the state to take advantage of. Although some lawmakers are against legalizing Kansas sports betting, there is enough support from Democratic and Republican officials to get a deal done. The question remains what it will look like moving forward.
Both bills will most likely pass its respected chamber where House and Senate officials will discuss the details of what sports betting could look like in Kansas. From there, things could get interesting depending on how lawmakers work out the final details of a betting bill.
Even though there is support for Kansas sports betting, getting a deal done will not be easy.