FanDuel Sportsbook Review
FanDuel Sportsbook got its start back in 2009 as a Fantasy Sports website. Nearly 10 years later in September of 2018 FanDuel took its first sports wager in New Jersey. FanDuel Sportsbook is now one of the foundational brands in legal stateside sports betting. The bookmaker operates in five states, New Jersey, Pennsylvania, West Virginia Indiana, and Colorado.
How did FanDuel get to be the household name it is today? In 2006 George Bush signed the Unlawful Internet Gambling Enforcement Act which decimated unlicensed sports betting sites and online poker. However, the bill had a carve-out for fantasy sports, thereby legalizing it through exclusion.
George Bush basically did his best Richie Incognito impression and run blocked for Fanduel and DraftKings. Many existing gambling sites were moved out of the way and the DFS sites were given a lot of room to break through and get some first down yardage. FanDuel did indeed push up the field and pushed the definition of Fantasy Sports to the limit.
Fantasy Sports went from a season-long $50 contest to the the daily buy-in contests that we have today. These contests were the best options for fans, and sports bettors, to put their money on the line and compete along with their favorite teams.
New Jersey became the first to offer online sports betting licenses and FanDuel was ready. FanDuel was able to flip the switch and offer existing New Jersey DFS account holders the ability to bet on sports. The power of the FanDuel brand and existing client base was clear early on. Paddy Power Betfair, already a formidable name in gaming, acquired FanDuel before it took its first sports wager. Today FanDuel operates under the parent company, Betfair Interactive LLC.
---
FanDuel Sportsbook Signup Bonus
| | |
| --- | --- |
| Bonus Type: | Match Bet |
| Bonus Amount: | 100% Match-Loser Bet |
| Bonus Maximum: | Up to $500 |
| How it works: | 1) Lose first bet. 2) Receive free bet in that amount. |
FanDuel's Deposit Bonus is valuable but comes in a different format than most online sports bettors are familiar with. Let's say you have roughly a 50/50 chance of winning this $500 bet. If you do lose it, you are awarded a free bet in the amount of $500, which is credited by the house. If you go on to win this bet it gets credited to your balance. Assuming you haven't deposited again already, this credit becomes your new FanDuel balance.
The best way to look at these offers is to ask yourself, If I took this offer 10 times and won half of my bets, how much would the sportsbook be giving me on average? Using that crude math and not accounting for the vig, this 100% match-losing-bet bonus has a slightly lower value than 25% cash.
Match Free Bet Bonus Requirement
| Bonus Fine Print | Details |
| --- | --- |
| Amount: | 100% |
| Type: | Matching Free Bet |
| Maximum: | $500 |
| Based On: | First wager |
| Play Through: | 1 Time (1X) |
| Wager Restrictions: | Only On Losing Bet |
| When do I get it? | 72 hours after first bet loses |
| Expiration: | None |
What do these Bonus Terms mean?
First off, bettors should  know what this bonus is not. It's not a free bet bonus based on the deposit amount. It's not even a free bet bonus matching your first bet. It's a free bet bonus POSSIBLY matching that first bet if, and only if, it loses.
Now that we have that out of the way, this bonus is indeed a sweet offer. Assuming you max out the offer and bet $500, you have a 50% chance at getting a $500 free bet and, that's for a bet we have to assume you would have placed anyway. So, as difficult as it can be to think about the losing side, you should, and with this bonus you can put the odds in your favor.
Note: We list this as a one time play-through since by default you have to wager the initial amount and then the matching free bet.
---
Perks at FanDuel Sportsbook
FanDuel is one of a handful of sportsbooks that have regular "odds boosters". What this means is that every day you will have the opportunity to bet on a line that has a higher payout than it should.
For example, FanDuel has Jonathan Taylor to Win Offensive Rookie of the Year at 12 to 1 under their "Odds Boost" menu.
At the time of writing this, the average odds at competing sportsbooks are 9 to 1. Over time these increased payout odds can add up to much more than your typical signup bonus. On this single bet I have increased my would-be payout by 30%.
---
FanDuel Website Experience
There is a lot we like about the FanDuel Sportsbook website. To sum it up, they took a lot of the simple features we like and applied them without trying to be too fancy.
First off, there IS a website available for mobile users which is nice when other bookmakers require an app. Some sportsbooks make us feel like an iPhone user when Apple removed the headphone jack saying "This is how we want you to use this." Well, I still want headphones without playing around with Bluetooth and I still want to be able to make a bet on any ol ipad without downloading something.
The navigation is clean. Upon clicking on a sport I can see all the available leagues without digging through the lines that a sportsbook thinks I want to see.
FanDuel's colors are that of a normal website. No permanent dark mode color schemes. Video sites and online sportsbooks… always trying to make me go dark.
Teaser In my bet slip – Parlays are automatically offered in our bet cart but there is also a tab for me to see what teaser options are available for my spread bets.
"More Wagers" – Perhaps what we like the most about Fanduel's site is their "more wagers" listing next to each event. This may seem trivial but not all bookmakers offer this as a way to drill down to how else I can bet this game. It can be extremely convenient not having to go back to the main nav to find the props markets and then find that same event again. As bettors we make bets based on games that interest us, not based on markets. We'd like to see more books with this interface.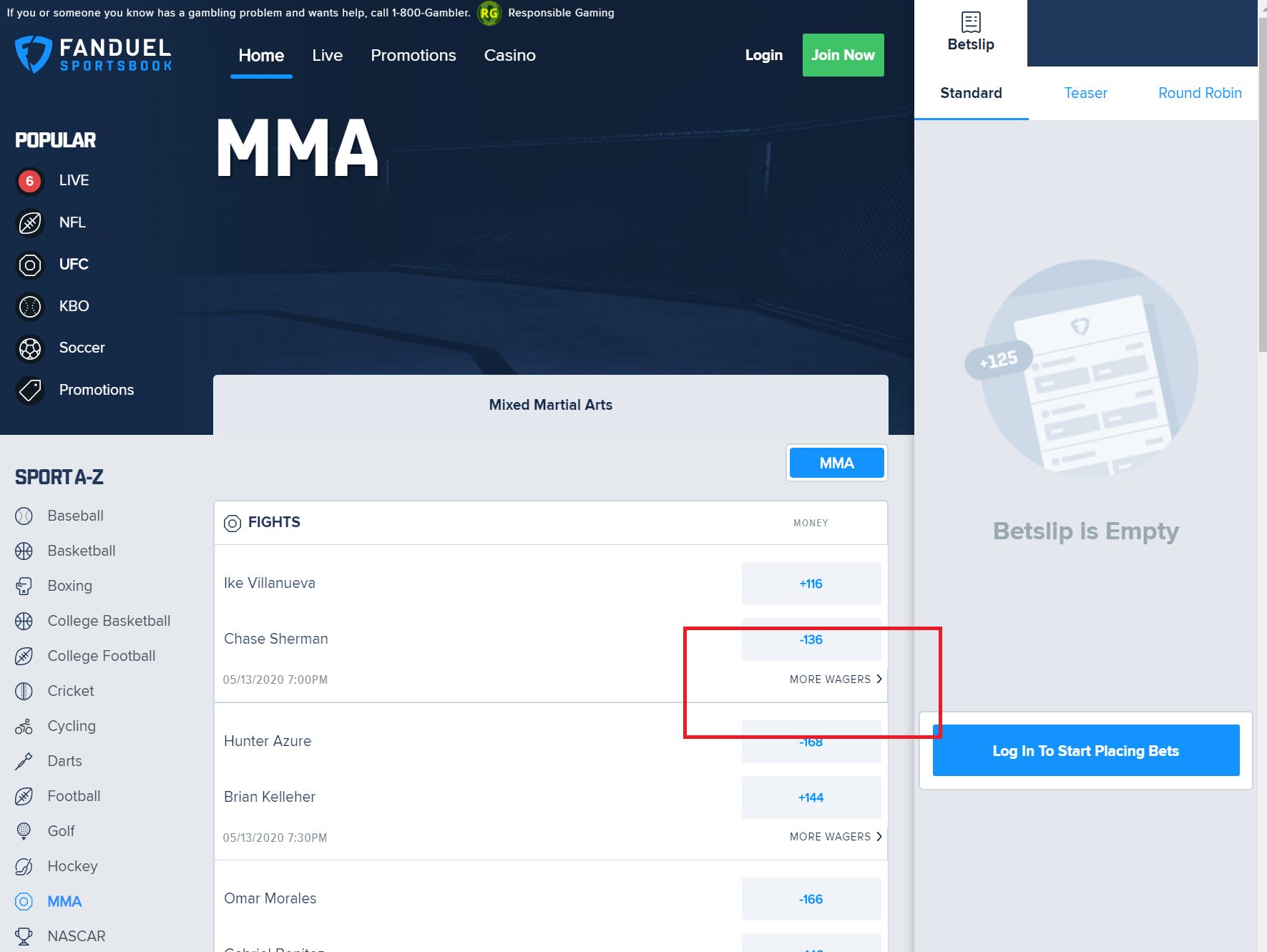 I don't even know who Ike Villanueva is but I suddenly wonder if this other guy can submit him to cash me a 33 to 1 bet. Many more players will be exposed to these offers because these smaller markets are attached to the larger ones.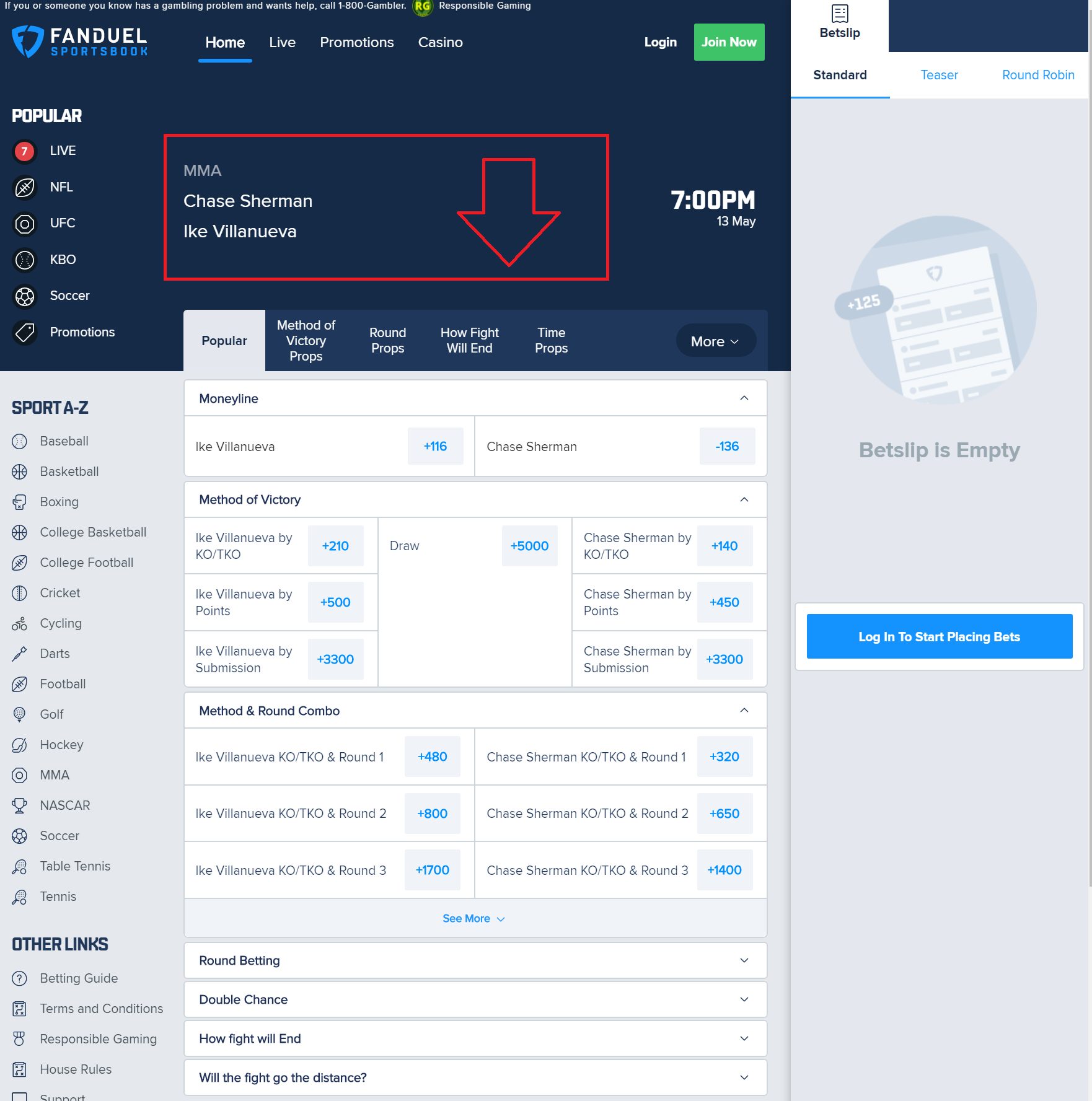 FanDuel Sportsbook App
FanDuel has both IOS and Android sportsbook apps. These apps are very similar to the mobile website but some items are easier to access because of the side-scrolling nav. Players obviously like the iPhone sportsbook app with a rating of 4.7/5 from 61,000 reviews. Benefits of using the sportsbook apps are:
Expanded side-scrollable navigation.
On-screen betting cart. You don't have to open a new page to finalize your wager.
A few things FanDuel's betting app can improve:
Allow favorited leagues. MMA is one of the few leagues with lines at this moment but I must scroll down past darts and cycling.
Replace the email and password with a pin option like the DraftKings Sportsbook App. I want the security of logging in without having to type my email and the crazy password you made me use.
---
FanDuel Deposit Methods
PayPal
Credit Card
eCheck
Wire Transfer
Online Banking (PayWithMyBank)
PayNearMe
FanDuel Prepaid Card
FanDuel Withdrawal Methods
| Withdrawal Options: | Minimum: | Daily Maximum: | Wait Time: |
| --- | --- | --- | --- |
| PayPal | $10 | $2,000 | 12-24 hours Days |
| Check | $15 | $20,000 | 7-10 Days |
| eCheck (ACH) | No Minimum | $9,000 | 3-5 Days |
| FanDuel Card | $10 | $2,000 | 1 hour |
Credit Card is the smart choice for anyone who gets rewards points. Online Banking Transfer is the easiest option for depositing on the fly, especially if banking information is already saved. Players simply log in to their bank from the secure browser window inside their sportsbook.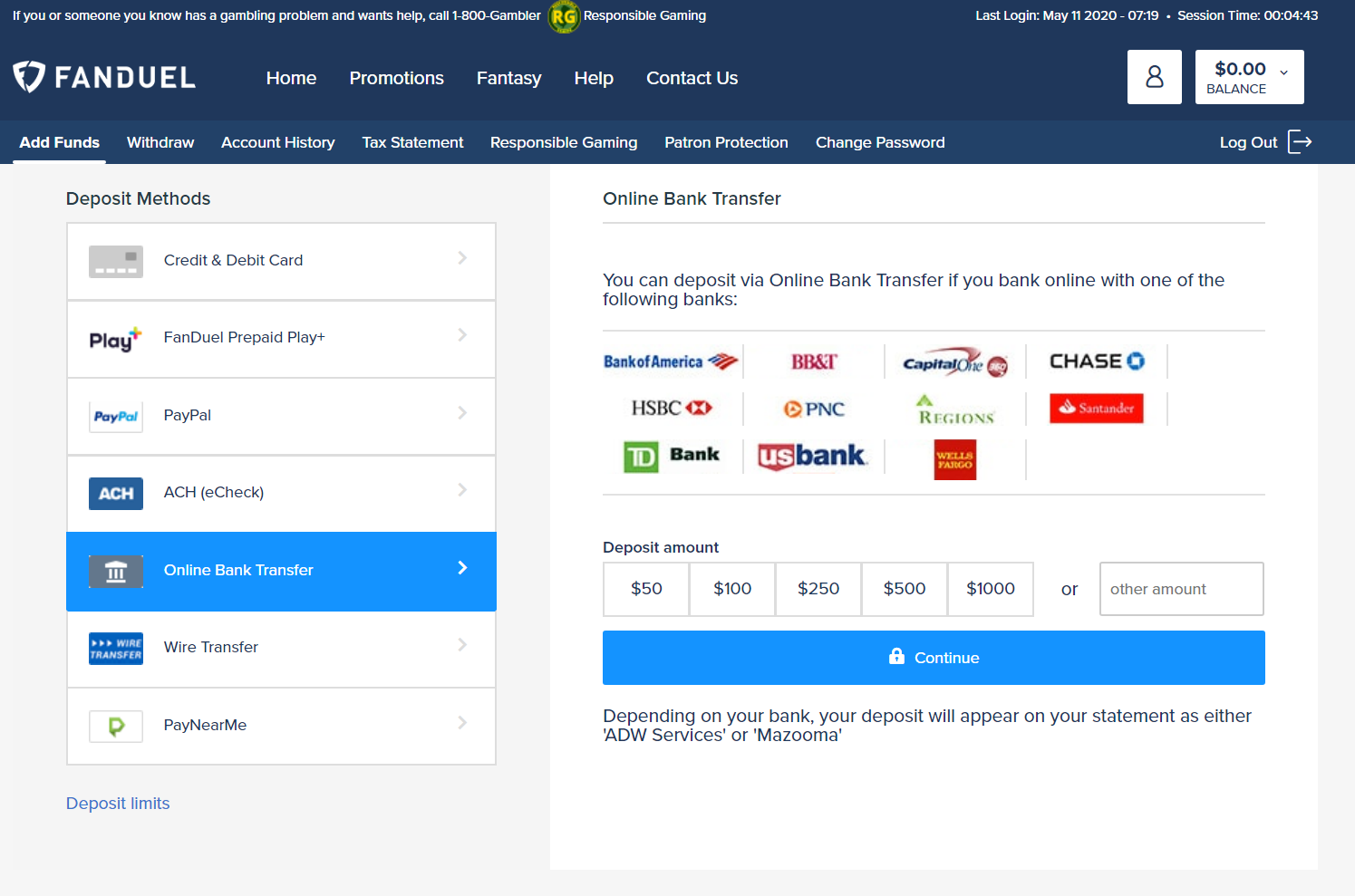 Can I move Funds between My DFS Account?
Yes. FanDuel uses the same domain and account database for their DFS and sportsbook product. That's the long way of saying… it's the same account. Balances do need to be migrated before you can play on the second platform.
---
Sportsbook FAQ
What Software Does FanDuel  Use?
IGT PlaySports powers FanDuel's betting platform. However, there is talk of FanDuel adopting new software including Scientific Games. Scientific Games powers sister sportsbook, Paddy Power in Europe.
Is FanDuel Sportsbook Safe?
Yes. FanDuel Sportsbook is a legal sportsbook and casino that is licensed in each state of which it operates. FanDuel is also part of a publicly traded parent company, Flutter Entertainment.
ODDS.com has not received or observed FanDuel payout complaints.
Does FanDuel Sportsbook Accept Players from my State?
FanDuel Accepts players in:
New Jersey
Indiana
Pennsylvania
FanDuel opened their online sportsbook to Colorado residents at the start of May 2020.
---
FanDuel Sportsbook Pros & Cons
Pros:
The interface on all wagering products is very crisp. Betting options are up there with William Hill Sportsbook and well above the rest of the field.
Cons:
FanDuel is a polished product. The negatives are currently limited to the bonus structure. We'd like to see the sportsbook move to a more player-friendly bonus model rather than target big bonus numbers for marketing purposes. Perhaps a free bet at only 50% of the first bet that players receive regardless if they win or lose would be a win for the players and FanDuel's marketing team.