Illinois Sports Betting Wins Again With $490 Million Wagered in December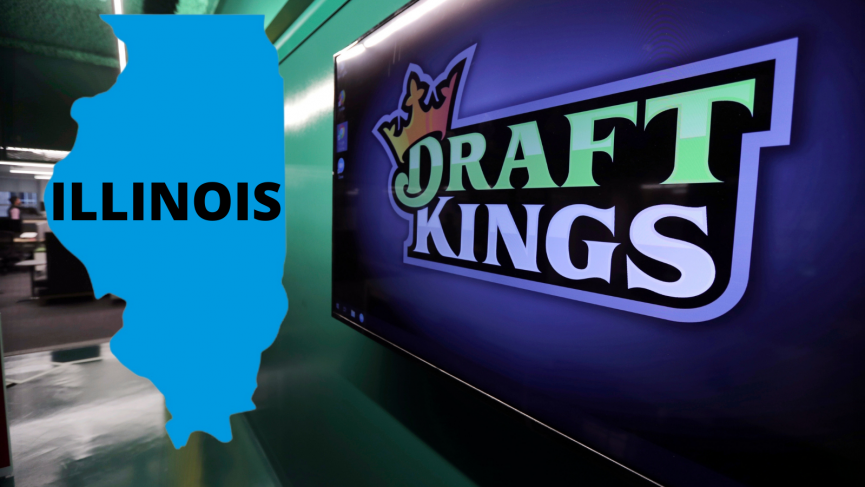 Illinois sports betting continued success has another record month to end 2020. The betting handle hit $491.7 million in December, a 9.5% increase from November's $449.2 million handle, according to the state report.
The state continues to grow its sports betting industry between seven casinos offering sports betting and Hawthorne Race Course in Stickney. Illinois was able to post the fourth-highest handle in December thanks to mobile betting being available. The Land of Lincoln only trails Pennsylvania ($548.6), Nevada ($558), and New Jersey ($996.3) in betting handle size.
Despite having its seventh straight month in growth, Illinois' revenue and hold had a sharp decline in December. The state's revenue hit $23.9 million and a 4.9% hold compared to $41.3 million and 9.2% in November. Taxes also decreased 42.4%, going from $6.6 million in November to $3.8 million in December.
A possibility for the decrease is due to the fluctuation with the state's hold percentage in the early months of sports betting. October and November saw holds of 9.7% and 9.2%, while September was the lowest at 2.2%, respectively. December's decrease could be a regression towards what the average hold percentage will be for Illinois.
Illinois Sports Betting by the Numbers
In December, the big month brought the total to $1.9 billion wagered in 2020 – a great start to sports betting in Illinois while only for seven months and overcoming a pandemic. $125.5 million in revenue was generated, and the state collected $20.2 million in taxes.
DraftKings continues to be the market leader in Illinois with collecting 40% of the betting handle at $195.4 million, followed by FanDuel at 29% and $144.5 million, and BetRivers at 23% $111.2 million. PointsBet ($44.3 million) and William Hill ($29.5 million) had 9% and 6%, respectively.
So with Illinois giving us Dec today… am able to turn the page on 2020. At the highest level, states with legal sports betting saw…

Handle $21.5 billion
Revenue $1.5 billion

Works out to ~7% hold proxy for the year. pic.twitter.com/lUHA4tl21g

— Alfonso Straffon 🇨🇷🇺🇸🇲🇽 (@astraffon) February 17, 2021
The other three sportsbooks in the state are retail locations at Hollywood casinos in Aurora and Joliet and Grand Victoria Casino in Elgin. Retail sports betting was closed in December due to Covid-19 restrictions. 100% of the sports betting handle was made via mobile devices.
Five of the largest sports betting operators all have a fair shake in the Illinois market, but that could be ending sometime in 2021. Penn National's Barstool Sportsbook app will be coming to the Land of Lincoln and could take up a significant portion of the betting handle.
Barstool Sportsbook is one of the most popular mobile betting apps in Pennsylvania and launched in Michigan last month.
By no surprise, football was the most bet sport in December, with $204.4 million of the betting handle. Basketball followed with $144.2 million, and parlays were third with $90.3 million. The Bears making a playoff push in December, along with the NBA returning to action in the final third of the month and a full month of college basketball, helped boost numbers in those sports.
What to Expect for Illinois Sports Betting in 2021
Mobile betting transformed the Illinois betting industry in 2020. Betting laws originally made people create betting accounts in-person instead of online. However, when Covid-19 kept people home in 2020, Gov. J.B. Pritzker signed an executive order allowing users to register remotely during the pandemic.
Pritzker has continued to renew the order and will most likely extend it again when it expires on March 6. The industry would feel better if the laws are re-written and online registration becomes permanent instead of leaving the governor's discretion.
Also, Rep. Mike Zalewski filed House Bill 0849, which would remove the ban on betting on in-state college sports. Multiple states allow college sports betting except for the universities in that state.
However, no allowing this has created a hole in the market, and Illinois could be at the forefront of changing the industry if it is passed.
Impressive work, guys. $45.6M handle and $1.1M tax revenue from the first Super Bowl with legalized sports betting in Illinois.

Just imagine if the apps were working an hour before The Big Game. https://t.co/Js1ohTuNZb

— Joe Ostrowski (@JoeO670) February 8, 2021
If Illinoians are allowed to bet on in-state college, then it could vault the state to the third or even second-highest betting market in the U.S.
Overall, more growth is coming to Illinois in 2021. The state saw over $45 million wagered on the Super Bowl alone and should see more increases in January and February's betting handle. March Madness is right around the corner, which will be a big boost to the state's betting handle.
Then, baseball season will begin as many baseball fans will be getting bits in on the Chicago Cubs and White Sox and St. Louis Cardinals fans placing bets in southern Illinois.
Illinois sports betting nearly hit $2 billion in seven months and could hit the $2 billion mark in the first four months of 2021.