UFC Fight Island 6 Underdog: Bukauskas vs Crute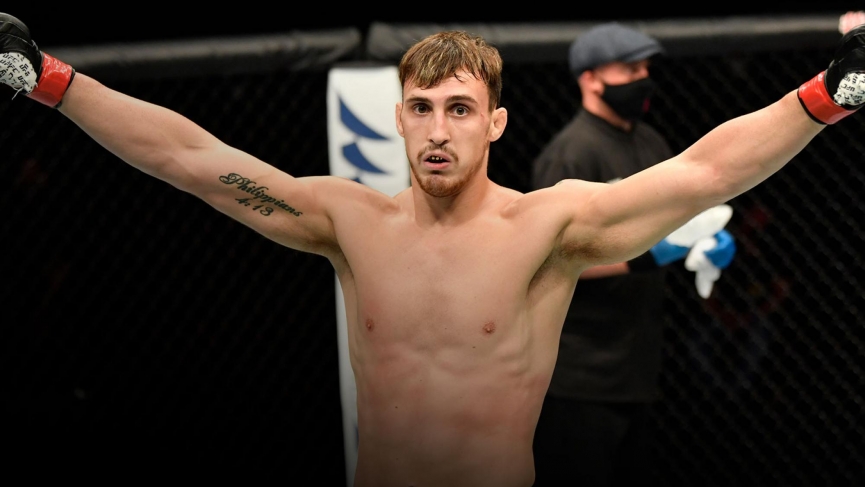 Odds.com's Modestas Bukauskas vs Jimmy Crute Pick – UFC Fight Island 6: A firefight is expected when the Aussie Jimmy 'the Brute' Crute takes on Modestas 'the Baltic Gladiator' Bukauskas at UFC Fight Island 6. Both fighters have 11 wins on their professional records. Bukauskas with two losses, and Crute with just one. Will Modestas Bukauskas be able to pull off the upset as a +200 underdog? 

| | | |
| --- | --- | --- |
| UFC Fight Island 6 | Modestas Bukauskas | Jimmy Crute |
| Best Odds | +263 | -302 |
| Total Rounds | Over 1.5 (+110) | Under 1.5 (-112) |
| Where/When | Fight Island, Abu-Dhabi | Saturday, Oct 17, 7:00 PM ET |
Did I say dogs were barking last week or what?! We hit several big dogs last week including our article underdog Chris Daukaus and he took no time to hit that +225 ticket!! This week the card seems a little more favorite heavy to me, but we always have to find a way to get down on an underdog.
Tale of the Tape
| | | |
| --- | --- | --- |
| UFC Match Up | Jimmy Crute | Modestas Bukauskas |
| Age | 24years old | 26 years old |
| Height | 6'2 | 6'3 |
| Reach | 74' | 78' |
| Wins by Method | 4 by Submission | 8 by T/KO |
| Finish Rate | 72% | 91% |
| Win/Loss | 11-1 | 11-2 |
The Fighters:
Let me get this out of the way. I REALLY like Jimmy Crute. This kid has all the makings of what could be a future champion. Jimmy is very physically strong and has a BJJ black-belt that is his favorite weapon to put to work. Jimmy is aggressive and looks to maul his opponents on the floor. Unless you are a very highly skilled grappler you do NOT want to end up on the floor underneath Jimmy Crute.
Modestas Bukauskas is the new kid on the block and honestly, I like everything that I see. Modestas is tall and long and knows how to use that reach. He is a striker who has excellent footwork and deadly elbows. What we saw last from Bukauskas is his ability to intelligently defend himself and get his back to the fence in order to elbow his foes into oblivion.
The UFC Fight Island 6 Underdog Criteria:rie
Fight IQ
Bakauskas is a striker first and he knows this. We have seen over his entire career that his opponents cannot hang with him on the feet and look to put him on his back. Modestas wastes no time on the floor with his opponents but rather looks to work immediately to the cage and use it to get back to his feet. Bukauskas knows what he has to do to win a fight and never settles for playing somebody else's game.
Chin
Bukauskas has 2 losses by finish. Now I know that doesn't sound great but one of those losses is by heel hook in 18 seconds. That kind of wild thing happens in the sport of MMA. The other finish is a first-round TKO loss however that was 4 years ago. All fighters take time to grow and evolve. Some come to the UFC undefeated but others have to learn their lessons the hard way. At 205 we are talking about fighters who are damn near heavyweight and its forgivable to have 1 KO loss on your young record. At this point, I do not question the durability of Modestas.
No Quit
This category goes hand in hand with the fight IQ for me. Modestas has several 2nd round and even a 4th round TKO on his record because he refuses to quit. His wrestling defense needs work, but once that falls into place and he can force his opponents to stand with him he is going to be a monster. What he does is incredible because he actually wears out the fighters trying to take him down. Normally the one getting put on their back is the fighter who tires first, but Modestas makes them work so hard and repeatedly that they eventually gas and then he goes to work. This kid never stops.
Power
Of Bukauskas ' 11 wins 8 of them are by knockout. He is a fantastic striker who knows how to use his range and drags opponents deep and drowns them. While Modstas is fully capable of the one-hitter quitter he is a patient striker which I actually prefer. He lets the knockouts come to him rather than chasing them and I feel that works more effectively.
Modestas Bukauskas vs Jimmy Crute Pick:
The Pick: Modestas Bukauskas (+260)  via Bet365: As I said at the beginning of the article, I actually really like Jimmy Crute and I do not like standing in front of him, but he is still an extremely young fighter and is prone to making mistakes. Jimmy also has a questionable gas tank! The few times we have seen him get out of the first round he has worn down considerably and this is an opponent that you just can't do that against. Jimmy is ALWAYS a threat to finish the fight in the first round, but if Modestas can do exactly what he has always done and continue to get up after being taken down and force Jimmy to work he is completely live in this fight.
Modestas is actually the older of the two fighters and has experienced the 2nd round and beyond much more often than Jimmy, but he is also no stranger to a firefight. This fight will start on the feet where Modestas has a significant advantage and it will be up to Jimmy to change this to be a grappling match. The big question is not can Jimmy get this fight to the mat because we know can but it will be can he keep it there? If this fight stays standing for any length of time I fully expect Modestas to be in the driver's seat and he might even be able to put the tough Jimmy away. We hit a big +225 dog last week. Let's see if we can up the stakes and hook an even bigger one.