PointsBet Sportsbook Review
In 2017, PointsBet opened the doors to a new bookmaking shop in Melbourne, Australia. Although they started out small, the company quickly became noticed for a style of play that set them apart from other bookmakers. The company knew if they were going to survive in a crowded marketplace, they needed an angle to grab the attention of the masses. That angle was 'Points Betting'.
What is "points betting"? Points Betting is PointBet's take on the old school bet type that was commonly referred to as action points. With this bet the player is betting on their team to win, but also on each point their team wins by. Let's say you bet $110 on the Celtics -1 and they win by 4, you have beaten the spread by 3 and each point returns $100 for $300 total profit. It's a similar concept to betting per ball on the pool table or if you played someone 1-on-1 in basketball for $100 per point. Even if you are losing by a wide margin you are still going to play your heart out for every possession! It's the same at PointsBet Sportsbook. The game is never over as you have action on every… point!
Points betting was an early hit. A year into operation, PointsBet had 45,000+ bettors and was paying out a few hundred million in winnings per year. The Aussie bookmaker knew they had their finger on the pulse of the sports betting market. They knew they wanted to expand. And when PointsBet CEO Sam Swanell saw online sports betting in the USA was no longer a pipe dream, he knew expanding in the USA would become the primary focus.
By January 2019, PointsBet partnered with the Meadowlands Racetrack and became the ninth bookmaker to serve the New Jersey betting public under state mandated regulations. PointsBet has outperformed earnings expectations relative to their percentage of players in NJ. As legalization of sports betting continues to sweep across the country, they have expanded to other states. PointsBet currently operates in New Jersey, Iowa, Indiana and are nearly live in Colorado.
Like in Australia, PointsBet has been recognized for it's high risk / high reward style of betting. Having the option to go big or go home can be useful on occasions when you have a large edge. However, with great risk comes great responsibility! Points Betting is not for the faint of heart. For those that don't want to sweat every update to ESPN's scoreboard, traditional betting is also available. We suggest all new bettors start here. The truly disciplined, advanced sports bettor will appreciate the opportunity to magnify their edge when risking more on the margin of victory.
PointsBet Sportsbook Signup Bonus
Bonus Type:
Match Bet
Bonus Amount:
100% Match-Losing Bet
Bonus Maximum:
Up to $200 – $100 in Points Betting & $100 Fixed Odds
How it works:
1) Lose either or both of your 2 Match Bets.
2) Receive a free bet for the amount lost.
Most bookmakers create signup bonuses for one reason, to attract people to the website and get them signed up. Typically, online bookmakers match your initial deposit up to a certain percentage with the hook being the rollover. This sportsbook has more than one motive. Sure, they need to give you something initially to compete for your business, but PointsBet also ensures that every new customer who takes advantage of the bonus will try the points betting model.
What do these Bonus Terms mean?
A normal free bet bonus means you get to try the sportsbook with THEIR chips. The size of your free bet is based on a percentage of your deposit. If the offered bonus is a match bet, that means the sportsbook will typically match your individual first bet, with a free bet. In this scenario, win or lose, you are also are guaranteed to get this free bet.
So how does the PointsBet's bonus work? PointsBet advertises "$200 in Risk Free Bets" which isn't really true. If you lose your own money, only then do they give you a credit to bet up to $200 on them. It's kind of like if you went up to the black jack table and the dealer said 'Hey. you have a free roll!' and then when the bet loses, he takes your money. You say "Hey, I thought it was a free bet?" and he says, "Oh, don't worry! I will give you a free bet right now". Even if you were already going to continue wagering, this free bet can POSSIBLY pay you the win amount, not the full amount you initially staked on the prior bet. Flat out crediting you the risk amount if you lost your initial bet would make it a free bet. Giving you only a shot at getting some of your money back is not the same thing. I think we beat that horse! Now that we know what it is not, let's look at what it is…
PointsBet offers up to $100 to match losing bets in both fixed odds and points betting. Let's say the average bettor, who wins half the time, deposits $200. Say he loses his $100 bet in points betting while winning the fixed odds bet. Now, he has a $100 free bet that matched his losing risk amount. Let's say that will win at a rate of 50%. That makes it worth about $45 to add to the $190 from his first winning bet. All in all, the player is realizing a value of about $35 from the $200 advertised. It's a legit edge on the house but $35 dollars isn't the $120 in value of a real $200 free bet. To be fair to the player who doesn't know the difference, PointsBet should advertise the promo as some kind of insurance plan rather than try to pretend to compete against William Hill's deposit bonus.
| Bonus Fine Print | Details |
| --- | --- |
| Amount: | 100% free bet if you lose |
| Type: | Matching-loser Free Bet |
| Maximum: | $200: $100 per bet type |
| Based On: | 1st Fixed Odds Wager and 1st Points Betting Wager |
| Play Through: | None |
| Wager Restrictions: | Only on Losing Bet |
| When do I get it? | No parlays/exotics |
| Expiration: | None |
While there is no rollover on winnings from the match bet, your rollover is essentially $300 on a $200 deposit which of course comes out to 1.5x. Again, not bad and most will find it is worth about $35 to them. (A rollover is the amount of money you have to bet if you take the bonus before you can withdraw funds.)
Perks at PointsBet Sportsbook
The best perk at PointsBet is in the name of the sportsbook. Points Betting can be a lot of fun. However, it could also be dangerous, and it takes a disciplined sports betting mentality to use this style of betting. You can either win or lose a massive amount of money per point. Every play and every point matters exponentially more than with a traditional fixed odds bet. Let's go into more detail.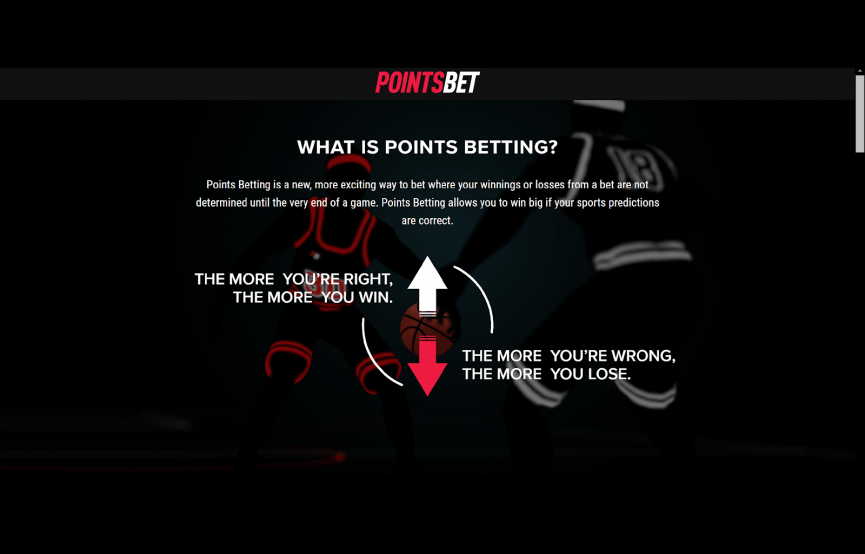 Not the Spread Betting We Are Accustomed To
Normally, if we bet Under 54 points scored in an NFL football game, it doesn't matter if the final score is 10-7 or 28-24. We win the same amount of money regardless. It doesn't matter how correctly you handicapped the game. You are not going to make more money if the score is lower. This is typical as we are essentially betting yes to the question "Will the bet stay under X?  With the PointsBet Points Betting model, the game changes.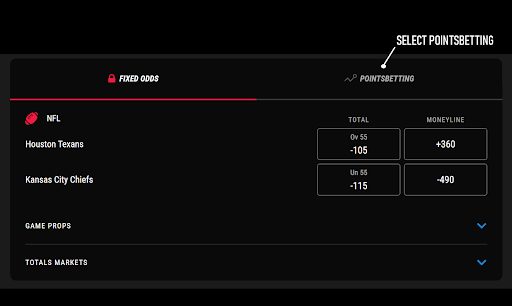 Almost every spread bet on the site gives you two options.
The 'Fixed Odds' tab, which is the betting style we are used to, or
the 'Points Betting' tab.
We can't stress this enough, when you click the Points Betting tab, you have entered the high risk zone.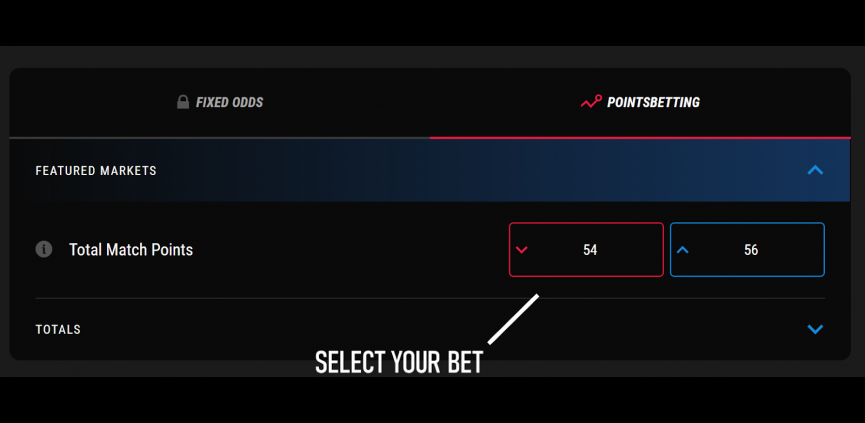 Once you select the Points Betting tab, it will bring you to a screen that you are still somewhat familiar with. In the example we are using, the over/under total points line in the Texans vs Chiefs game is 55 points. If you were going to bet UNDER 55, the highest point total for you to profit in that game is 54. We've selected 54. Once you have selected 54, you are locked in to the ride that is points betting.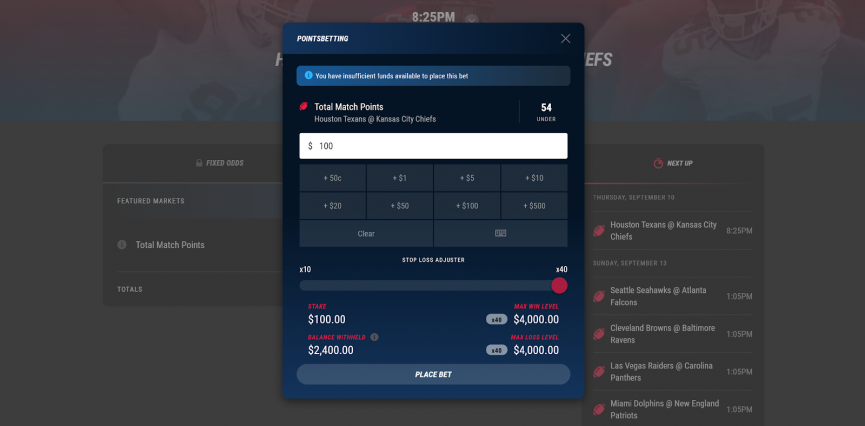 A new way of betting: Points Betting
As mentioned, the traditional way we bet is by answering a yes/no propositions. It doesn't matter how right or wrong we are, but with points betting, how right or wrong we are can mean how rich or poor we are.
You can win or lose between 10x to 40x your initial bet, depending on the parameters you set when you make the bet. In the image above you can see that we set the meter at 'up to 40x' our initial bet. What does this mean? Let's continue with our example bet of UNDER 55 points.
If the total score is 54 points, we win the initial bet amount.
If the total score is 53 points, we win twice the initial bet amount.
If the total score is 52 points, we win three times the initial bet amount.
If the total score is 44 points, we win 10 times the initial bet amount.
If the total score is 34 points, we win 20 times the initial bet amount.
That sounds incredible, right? Who wouldn't want to be compensated for being more right? If the total score was 34, that $100 initial bet would make you $2,000. So, what can go wrong? A lot. The same swings happen when you are wrong. If your read on this game is substantially off, you can lose an incredible amount of money.
If the total score was 56 points, you lose the initial bet amount.
If the total score was 57 points, you lose twice the initial bet amount.
If the total score was 58 points, you lose three times the initial bet amount.
If the total score was 66 points, you lose 10 times the initial bet amount.
If the total score was 76 points, you lose 20 times the initial bet amount.
That's the rub with Points Betting. In this example, a $100 bet could cost you up to $4,000 by the time the game is over.
More PointsBet Perks:
Double Winnings Promotions
Points Bet will select events over the course of a few days. If you are up, the sportsbook will match your profit in the amount of a free bet, up to $100.
Parlay Close-Call $25
If you bet a parlay with at least four legs, and one leg loses, PointsBet will give you a $25 free bet.
IN-Game parlays 
It's very rare to be able to parlay live-betting wagers. Of course, this works best during timeouts or when there is an extended break in the action.
Rewards Program
For every dollar wagered PointsBet will apply Rewards Points. More points are given for parlays.
Booster Odds
PointsBet offers Booster Odds on many events and will also allow players to selectively boost parlays.
Cash Out Pending Bets Before the game Ends
This is becoming a common offering at many US Licensed Sportsbooks. Sportsbooks now know the odds of a bet winning in real time and can therefore let bettors sell it back for a margin. Think of it as Carmax buying back any car… They can deal that car back to the market for a slice! Still, it's a nice little perk to know if you go big, and the game starts as you expected, you can cash it out. However just like hedging wagers, we advise bettors not to get stuck with losers while bailing early on advantageous positions.
PointsBet Website Experience
We'll begin by saying it's refreshing to be able to bet on PointsBet.com when on a mobile phone. Too many online bookmakers are taking the easy route by forcing mobile users to get the app. We won't mention any names… but this bugs us 365 days of the year!
PointsBet's desktop website offering is simple and that's good when firing in bets in the heat of the game. The gold standard right now for the desktop interface is FanDuel. If FanDuel's website is a 5 star UI, PointsBet is 3.5 stars. It's clean, but there are things that can be refined. The black background can throw the eye off, especially when switching from your favorite website scoreboard and back to the betting menu.  No one in our office is over 50 but we'll still complaint about team names being too small. People want to see what they are betting. In the example of this UFC match, the biggest text on the screen only gives you a fighter's last name.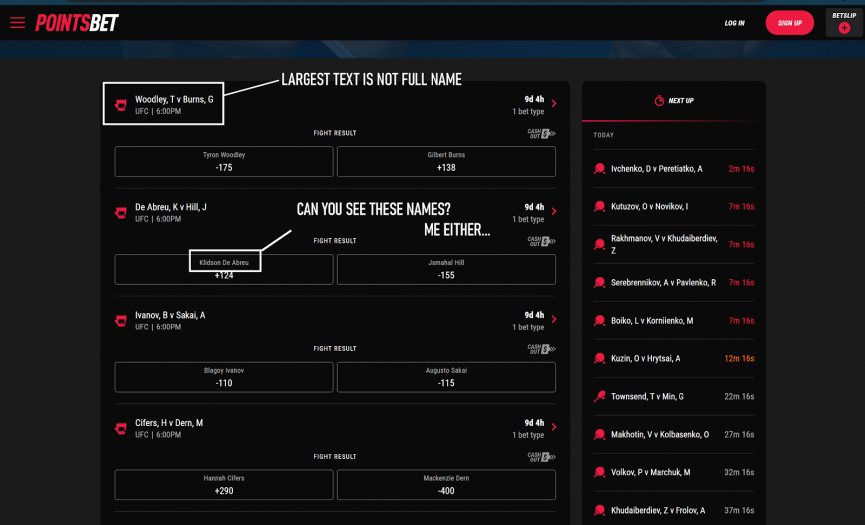 League Menus
Another minor inconvenience we experienced is finding the leagues within a sport. When you are in the 'Sports A-Z' section, and you click on the sport of football, it brings you to the football page. Initially, the first page you see is a featured bets page. That is the case when you go to most sports on the site. Once you are on the NFL football page there are multiple tabs including, 'Featured' and 'All Comps'. When you click on the 'All Comps' tab it brings you to an NFL and NCAAF futures page. You can see the struggle is real when attempting to find week 1 NFL Odds.
RPReplay_Final1592211765
An ideal football page for me will have an NFL tab, NFL Futures tab, College Football tab, and College Football futures tab. We shouldn't have to scroll down past the NFL content in order to view the College Football content.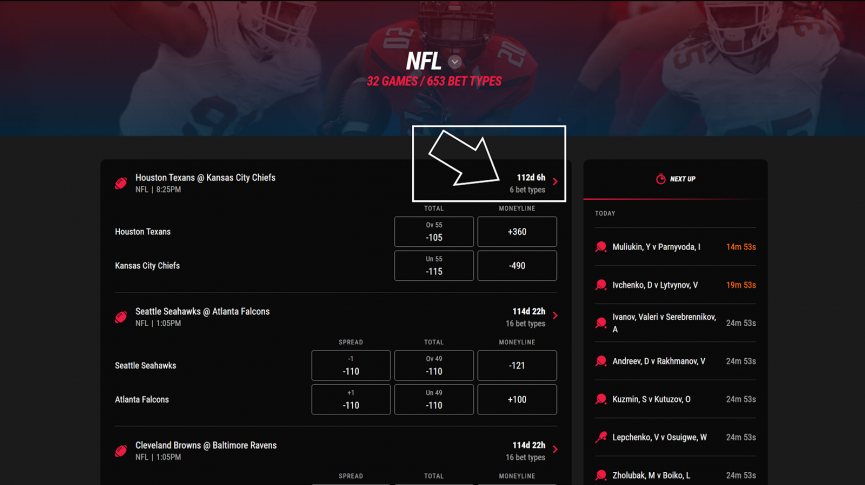 Bet Slip
The bet screen is similar to most licensed sportsbooks. We noticed that line changes do not stay marked as such in your cart. In rare cases bettors may inadvertently accept odds that did not intend.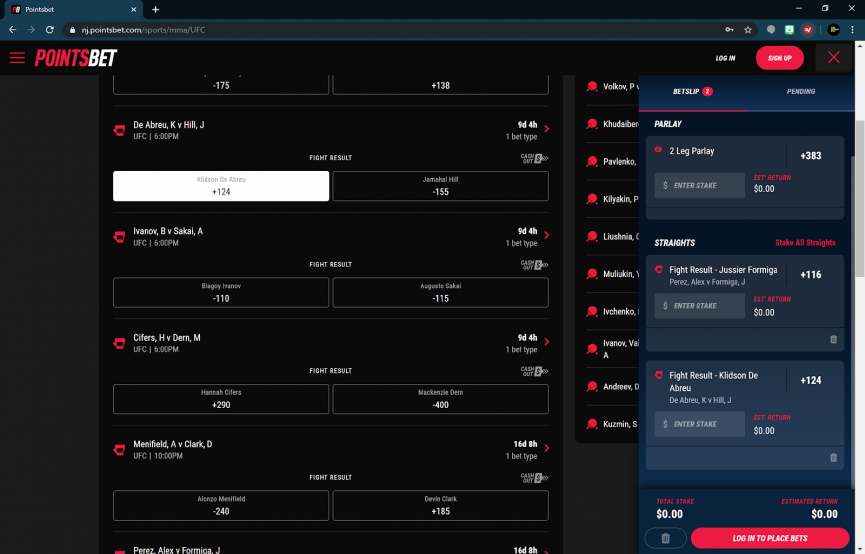 PointsBet Sportsbook Mobile App
PointsBet has a mobile betting app for IOS and Android platforms. Most sports betting apps are the same and pretty straight forward. While the app is very similar to the PointsBet website, there are a couple of additional features.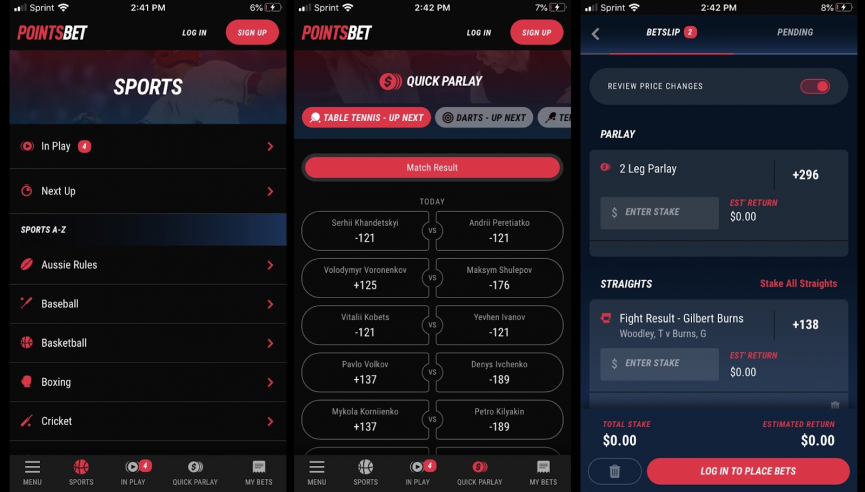 Expanded side-scrollable navigation
'Quick Bet' dropdown window
'Quick Parlay' Tab (I like this feature. It immediately throws you to a nice interface where you can side-scroll through every sport/league to construct whatever parlay you like.
If English is not your first language, there is an option to toggle to other languages.
PointsBet Deposit Methods
Bank Transfers
PointsBet Mastercard
PayNearMe
PayPal
Wire Transfers
Credit Cards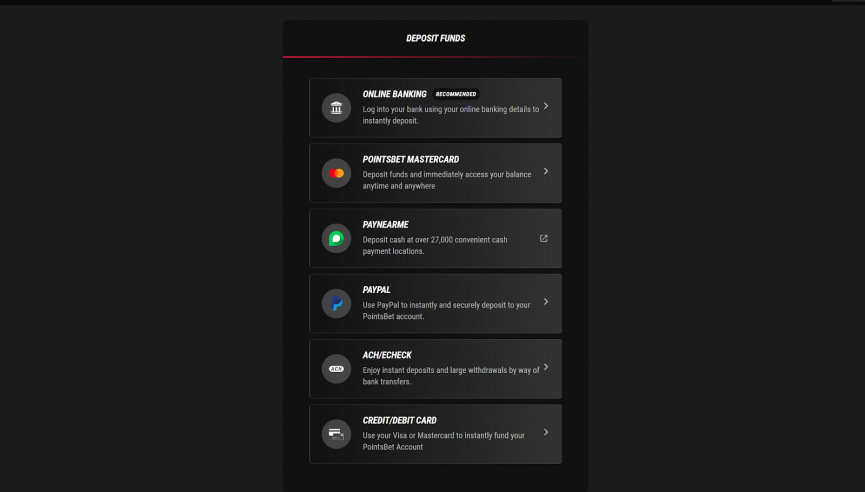 PointsBet Withdrawal Methods
Bank Transfers – At the moment this is the only one way to withdraw from PointsBet. Considering the withdrawal options are plenty at most other US bookmakers, Pointsbet is lacking here. Players may miss the convenience of PayPal or other eWallets.
Sportsbook FAQ
Is PointsBet Sportsbook Safe?
Yes. PointsBet is a legal and a state-regulated bookmaker that is licensed in each of the states they operate in.
Are there any How-To Guides for Beginners?
Yes. The website has partnered with former NFL star Darelle Revis, and together they have created the 'Revis Betting Academy.' It's a section that explains the different types of sports bets that PointsBet offers.
What are PointsBet Customer Support Options?
PointsBet offers live chat and email support 24 hours per day. In addition to the 24 hour support, they offer a phone number that you can call between 8:00am – Midnight.
Does PointsBet Accept Players from my State?
PointsBet accepts players from:
New Jersey
Indiana
Iowa
Colorado (Expected to be live this month)
PointsBet Pros & Cons
Pros:
PointsBet's points betting platform is innovative and slick. It's right there with in-game betting and DFS as far as keeping their customer engaged with the product throughout the game. This is certainly a retention tool that other licensed sportsbooks will soon attempt to emulate. Once a bettor tries this action points-style of betting and feels the rush through the 4th quarter of an NFL blowout, it will be difficult for that bettor to go back to making bets and simply checking the final scores. Points betting is not a revolutionary idea but getting it mainstream in a legal and licensed market is. At a time when states have a fine print for almost every bet type, it was clear that no one expected or knew the role points betting could play. Everyone knows now, at least in the four states where PointBet has already launched.
If action points are not your thing, PointsBet's standard fixed odds betting along with the many fun promotions may be enough to make PointsBet one of your funded bookmakers. Each free bet you score from one of these promos is yours without any rollover requirement. Small to moderate sized parlay bettors may consider PointsBet a must. No other bookmaker has parlay boosters, kickbacks on close-call parlay bets, as well as the ability to parlay live in-game bets.
Cons:
These cons are more industry pet peeves than true reasons to not play at Pointsbet.com. All of the book's promotions and bonuses are advertised in the context of the player getting real money. $200 on signup! Nope, the stars need to align before you see 200 in anything and it won't be pure cash! $25 back on close-call parlays! Nope, it's not $25 of your money back. It's a $25 free bet. PointsBet really needs to learn that these dollar amounts are not interchangeable. It reminds me of a college scholarship fund saying $20m has been awarded to students but in reality they are counting all the scholarship money for multiple colleges to a single student. It's not $20,000 in scholarship money if he didn't go to Texas U. and it's not $200 in bonus funds if I his initial bets never went to the lost column!