UFC 256 Underdog Best Bets: Mackenzie Dern vs Virna Jandiroba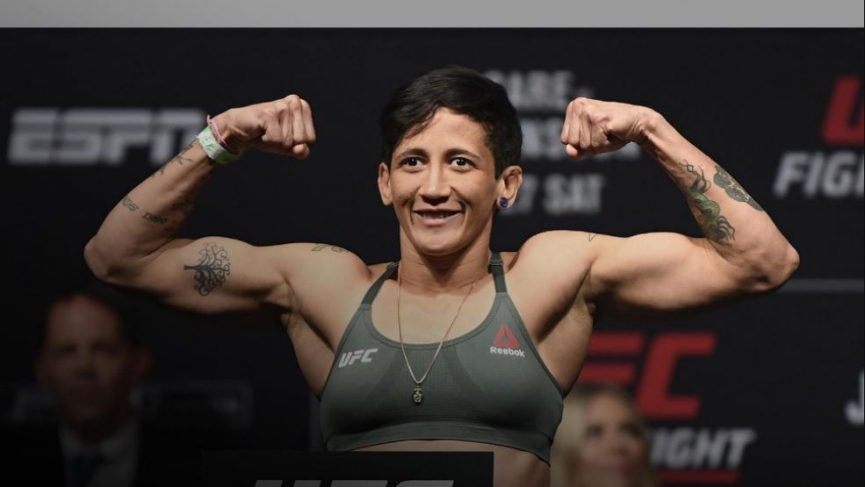 Mackenzie Dern vs Virna Jandiroba Pick – UFC 256: 'Carcara' Virna Jandiroba has won 2 of her 3 UFC appearances by way of stoppage, profiting +3.95 units 'Inside the Distance', +3.25 units on the 'Under' and +2.52 units on the 'Fight Doesn't Go the Distance' prop.
The current line suggests that the bookies expect this one not to reach the scorecards, as a rare affordable 'Over 2.5' for women's MMA sits at -135. However, both women having a ton of stoppage victories in their careers, so don't be surprised if this one ends inside the distance. Whichever way you cut, it's high-level UFC women's strawweight action at UFC 256, and we got a dog that's barking!
UFC 256 ODDS
Mackenzie Dern
Virna Jandiroba
To Win Outright
-170
+167
Inside the Distance
+137
+1065
by Decision
+325
+250
Total Rounds
Over 2.5 (-135)
Under 2.5 (+130)
Fight Goes Distance
Yes: -110
No: -110
Where/When
Apex Center, Las Vegas
Sat, Dec 12th, 10:00 PM ET
UFC 256 is a card that has been shredded by COVID. We have had to talk about this time and time again, and so many fights get dropped late during these wild times; it's not something that you can expect to go away soon. Because of that, the fights that we can target are limited. Thankfully there is an underdog that I have been eyeing all week who is still on this card. To learn how I find my underdogs in more detail, check out the full article here: 
The Fighters:
UFC Match-up
Mackenzie Dern
Virna Jandiroba
Age
27
32
Height
5'4
5'3
Reach
63′
64′
Wins by Method
6 Wins by Submission
13 Wins by Submission
Finish Rate
67%
81%
Record
9-1
16-1
Mackenzie Dern is one of the MMA darlings who hasn't been left behind. She is exactly what the UFC is looking for. Dern is young, good looking, and very talented. Dern's most recent victory was at UFC Vegas 11, where she picked up the submission victory over Randa Markos as a -180 favorite. She is an Olympic level BJJ practitioner and so far in the UFC has been running through her opponents. In fact, Dern's only MMA loss is to Amanda Ribas, who is the "next big thing" and expected to be the future queen of this division. 
Virna Jandiroba is an unassuming fighter who most people may not even recall having seen compete. She had a wild run through Invicta, which provides most of the UFC's female talent, and she stumbled in her UFC debut against Carla Esparza. Since that fight, she has put together back to back wins, both by finish, her most recent coming as a strong -305 favorite against Felice Herrig at UFC 252. 
UFC 256: Under Criteria
Fight IQ: Jandiroba is one of the few women in the UFC who will be able to match Dern's grappling skill. The nice thing that we have seen from Jandiroba is knowing what puts her food on the table. She's not one of these BJJ practitioners (like Dern) who relies on their opponents making a mistake to get the fight on the mat. She is also not falling in love with her striking. Jandiroba has doubled down on her BJJ and has worked on her wrestling and top control so that she can dominate her fights in her world. You love to see it. 
Chin: Jandiroba has 17 professional MMA fights, and she has won 16 of them. Even though she is primarily a finisher, she has been to decision four times, and even in the one fight Jandiroba lost, it was not by stoppage. Virna Jandiroba is durable, tough, and mean. I love it. 
No Quit: Jandiroba never stops doing what she does. We only have UFC stats for her, but her whole career has followed the same path. In Jandiroba's 3 UFC fights, she has averaged 4.57 takedowns at an incredible 50% accuracy. Generally, when somebody averages that many takedowns, you would expect to see them land roughly 30% of them. The fact that Jandiroba gets the fight to the mat when she wants to show her ability to continue driving no matter what she faces. 
Power: We have looked at the concept of power before, and we know that we are not simply discussing knockout power. The power that Jandiroba possesses is still fight-ending power with her submission threat as well as the power to physically dominate her foes. She can both take over a fight and grind away the clock by controlling her opponents as well as end the fight at any moment by choking her foe unconscious. 
Mackenzie Dern vs Virna Jandiroba Pick:
UFC 256 Underdog Best Bet: Virna Jandiroba (+162) via Bet365: Jandiroba opened up an underdog in a fight that I fully believe is a 50/50 toss-up. Not only that, but the money so far has been coming in on Dern, so this line is getting wider! I'm stumped. 
There is one area of this fight where Dern MIGHT has the advantage: the pure BJJ submission grappling aspect of it. I know that it is more than likely where this fight will be contested with these two women's skills, but we have to look at their skills as a whole. Dern is a notoriously bad striker. Dern has no wrestling and relies on her opponents slipping and falling into her area of strength. Dern has no ability to gain top control and must sweep her opponents to get to advantageous positions or work from her back.

Verna is the better striker. Verna has more experience. And maybe most importantly, Verna Jandiroba is the better wrestler. I fully expect Jandiroba to be the one dictating where this fight takes place and how it gets to the ground. Once it does get to the ground, I expect Jandiroba to be the one on top, and she has a smothering ground game. Jandiroba is more than a live dog here. In fact, I like her a lot to win the fight, and we are getting incredible line value. This should be -110. 
---
UFC Betting Trends: Women's Strawweight
since 2019
record
profit (Units)
'Coin Flip' Favorites (-150 or better)
11-4-1
+4.54u
Favorites
36-16-1
+2.24u
Over
39-14
-0.40u
Mackenzie Dern: UFC Betting Trends
Mackenzie Dern has had 5 UFC apperances, going 4-1 since 2018. She has a moneyline record in professional MMA of 9-1 for a profit of +1.02 units, going back to her MMA debut in 2016 with Legacy FC.
since 2018 UFC Debut
record
profit (units)
Under
3-2
+1.56u
Inside the Distance
3-2
+0.97u
Virna Jandiroba: UFC Betting Trends
Jandiroba is 2-1 in the UFC since making her debut in 2019.  She has a 5-1, +1.8u moneyline record as a professional going back to her time in Invicta FC, where she held the Strawweight Championship.
since 2019 UFC debut
record
profit (units)
Inside the Distance
2-1
+3.95u
Under
2-1
+3.25u
Fight Doesn't Go Distance
2-1
+2.52u
---
FAQ: UFC 256
What is the main event for UFC 256
Deiveson Figueiredo vs Brandon Moreno for the UFC Men's Flyweight Championship is the main event for UFC 256. After multiple championship fights that were booked for the December 12th pay-per-view had to be cancelled for various reasons, UFC President Dana White announced at UFC 255 that Deiveson Figueiredo would defend his title for the second time in just three weeks against top contender Brandon Moreno. Figueiredo will be the first UFC champion in history to defend his title twice in less than a month.
The UFC 256 main event was initially booked to be between Kamaru Usman and Gilbert Burns. However, on October 5th it was announced that Usman would be forced to pull out from the bout, citing an undisclosed injury.
Another potential main event for UFC 256 was a UFC Women's Featherweight Championship bout between Amanda Nunes and Megan Anderson, but on November 9th Nunes announced she was unable to compete at the event, due to an undisclosed injury.
The UFC Bantamweight Champion Petr Yan was to be defend his title against long standing top contender Aljamain Sterling in the co-main event for UFC 256, but after Usman and Nunes were forced to pull out, Yan was elevated to the main event. On November 22nd it was announced that Petr Yan was unable to compete at the December pay-per-view, due to travel restrictions related to COVID-19.
What times does UFC 256 start?
The UFC 256 preliminary card starts at 7pm EST, the main card starts at 10pm.