NBA Finals Betting Trends – Lakers/Heat Game 6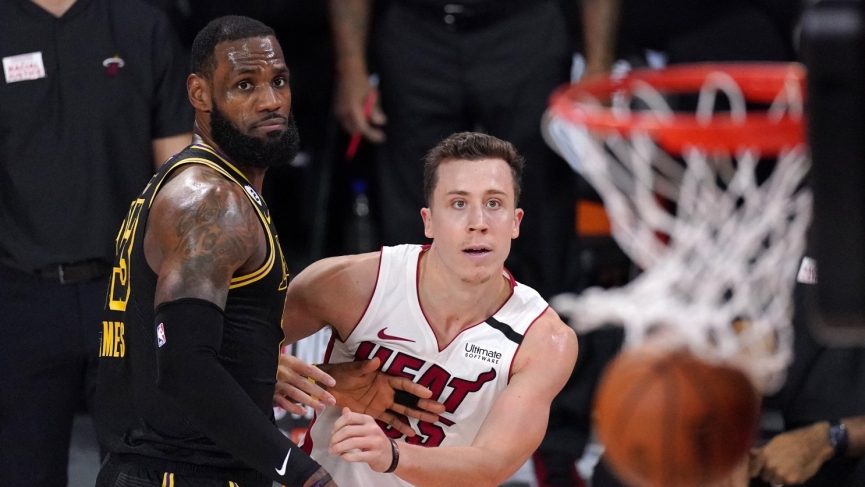 NBA Finals Betting Trends – Lakers/Heat: Miami Heat backers are up +12.9u betting on the Heat moneyline in every game this post-season. At this point, you're playing with house money betting Miami, and there may be more opportunities to do so in this series. If not, Lebron and AD will be crowned kings of the NBA bubble.

| | | |
| --- | --- | --- |
| (LA Leads 3-2) | LA Lakers | Miami Heat |
| Game 6 Odds | -250 | +215 |
| NBA Title Odds | -800 | +550 |
NBA Futures Odds via Bet365
Lakers Lackluster Down the Stretch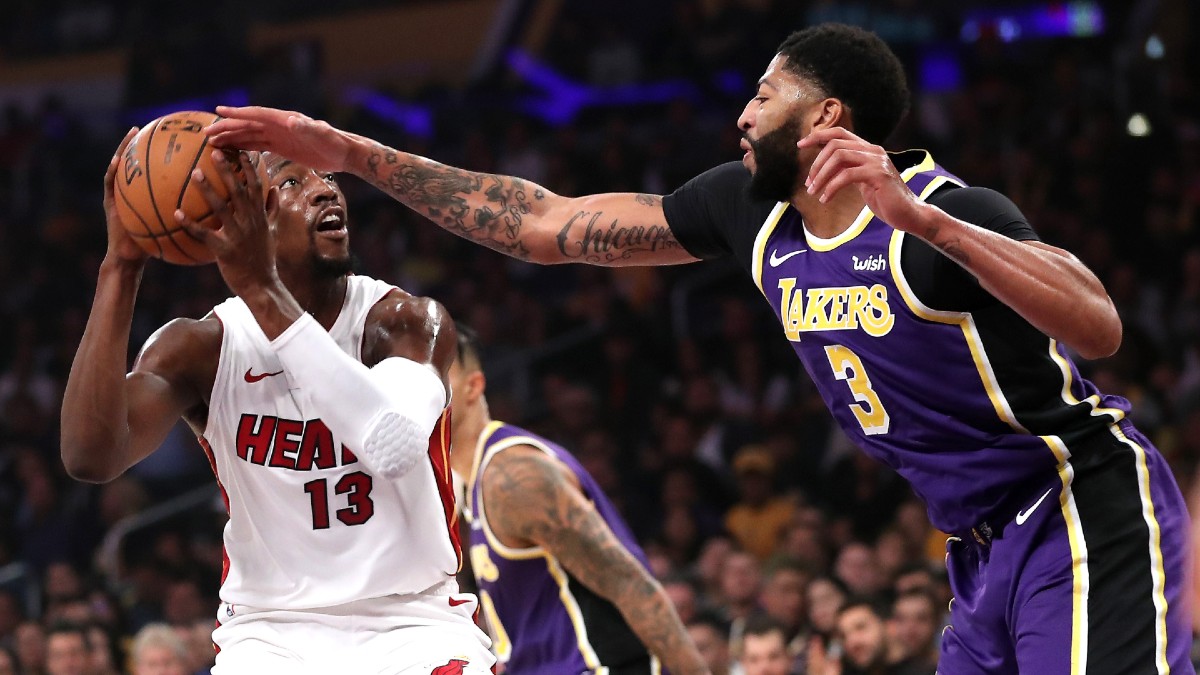 As mentioned in previous series trend articles this Lakers 2H ATS trend of 4-16 is not exactly an indictment on them as a team, but it's simply an oddity found in a specific in-play situation. The Lakers have only lost four games in these playoffs, and have packed it up and emptied the bench in the two losses in the first two rounds. The Lakers rarely find themselves with all their starts on the floor in the 4th quarter in games that are not tightly contested, and even if we see LeBron and Davis on the floor, they are playing at half energy with little to no defensive effort. Again, this is not an indictment on the Lakers as a team, it's just a handicap of a specific situation we've come across continually in these playoffs.
This is nothing new for the Lakers we've seen it from them all season long. The Lakers have an average scoring margin this season of +6.1 points per game, but yet their average margin of victory in the second half is just +1.5 and is even lower at +1.4 in the 4th quarter. This is a clear indicator that this team grabs big leads early and sits on them. To say that the Lakers are a second-half team, would just be inaccurate. You are very likely going to know whether or not the Lakers are on point very early in the game. They either have it, or they don't have it. That being said, this team rarely gives up leads down the stretch. Going back to the start of this season, the Lakers had a record of 45-3 when leading after the third quarter, and have now gone a perfect 15-0 when leading after 36 minutes.
LA Lakers – NBA Playoff Trends Worth Tracking
| | | |
| --- | --- | --- |
| LA Lakers | ATS | O/U |
| Full Game | 10-9-1 | 10-10 |
| 1Q | 11-9 | 9-11 |
| 2Q | 8-12 | 12-8 |
| 1H | 11-9 | 13-7 |
| 3Q | 10-10 | 10-9-1 |
| 4Q | 6-13-1 | 8-12 |
| 2H | 4-16 | 10-10 |
First Half Heat Check
The Heat have a tendency to come out flying in the early portions of games in these playoffs, holding a 1st half ATS record of 13-5-2. The Heat have an average scoring margin in the first half of games this season of +3.5 points, and they averaged a margin of +5 points in the first half, in their last three games of the series against Boston. This is quite similar to the Lakers, who have come out either red hot or flat in the opening of these playoff games. The only difference is, the Heat don't fade away in the 4th quarter. Unlike the Lakers (6-13-1: 4Q ATS) record in the playoffs. The Heat have managed a 12-6-2 4th quarter ATS record so far in the playoffs. Now, this is partly due to the Heat being underdogs in the east-semis and east finals. Which saw them catching a few points against their opponents on the first half ATS line. It will be a similar scenario in these finals, and we will likely continue to see the Heat as +2.5, or +3 point dogs on the 1st half-line throughout this series.
While teams tend to start off hot, the Lakers have a tendency to taper off late in games. While Miami tends to pick it up down the stretch, which is exactly how they've gotten to the point they are at now. By rallying late in games, and by putting a stop to late game runs by their opponents. It will be interesting to see if the Lakers can adjust to contain the Heat's mounting pressure in the second half of games in this series.
Miami Heat – NBA Playoff Trends Worth Tracking
| | | |
| --- | --- | --- |
| Miami | ATS | O/U |
| Full Game | 16-4 | 11-9 |
| 1Q | 9-11 | 9-11 |
| 2Q | 12-7-1 | 9-11 |
| 1H | 13-5-2 | 9-11 |
| 3Q | 10-10 | 9-10-1 |
| 4Q | 12-6-2 | 11-8-1 |
| 2H | 14-6 | 10-10 |
The Heat Is On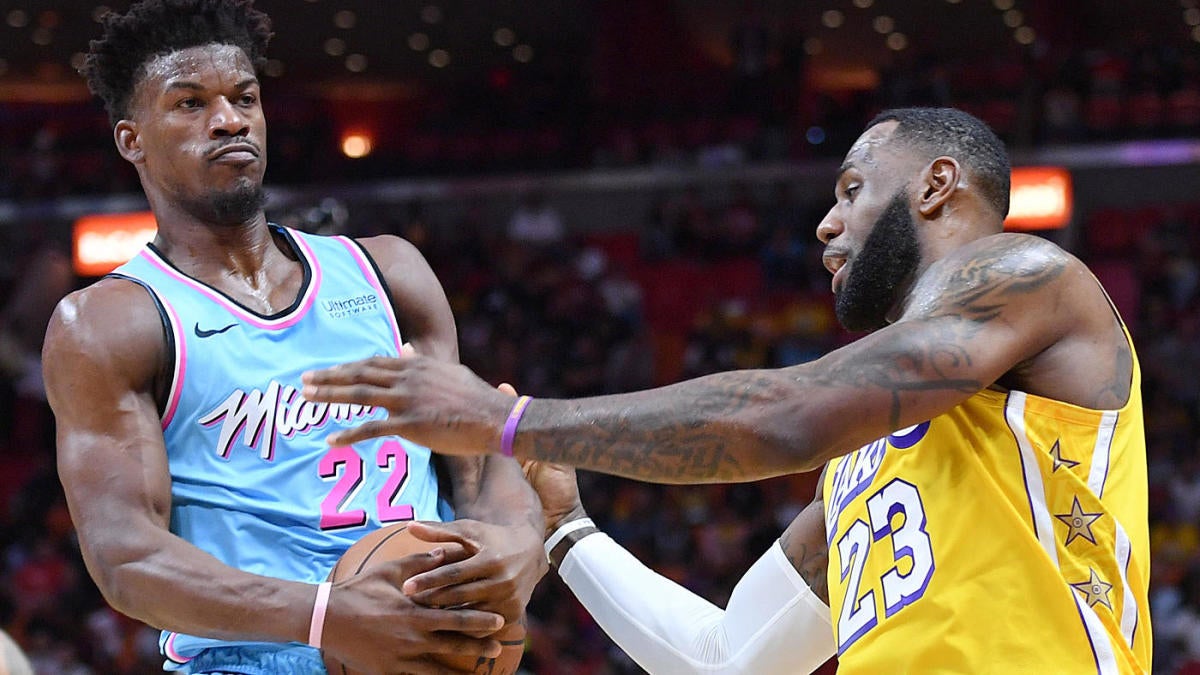 The Miami Heat are an incredible 14-6 in the post-season and have managed an average scoring margin of +3.3 all season, and have beaten the ATS measure of expectation by an average of +1.6 points per game. In a series in which the Heat will likely be a +150 or higher underdog in every game, there is little argument against taking them every game in this series. At 14-6, the Heat have profited their backers +12.9 units profit so far on the moneyline, and even if the Heat lose Game 6, you would still profit +11.9u. Bettors who've ridden the Heat this far are playing with house money, win or lose.