LA Dodgers vs San Diego Padres Series Prediction – NLDS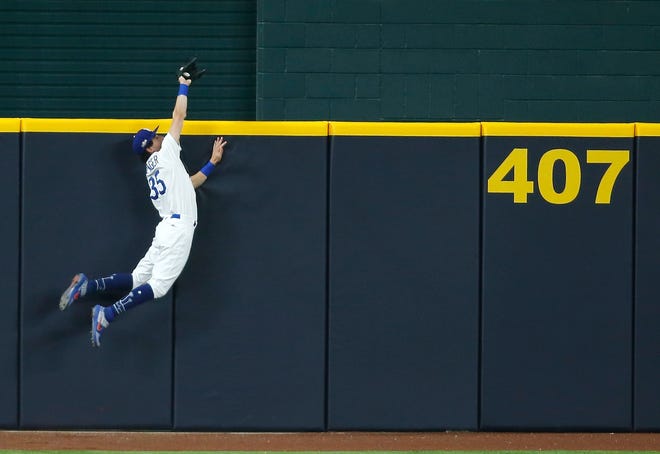 Odds.com's LA Dodgers vs San Diego Padres Series Prediction – NLDS: The Dodgers have dominated the year with a 45-17 record, with all 45 wins coming as the favorite. They take on a Padres team in the NLDS, who have some injuries in their starting rotation, but may be able to get healthy by the time the series is over. It's Dodgers vs Padres for NL West supremacy.
| | | |
| --- | --- | --- |
| NLDS (LAD Leads 2-0) | LA Dodgers | San Diego Padres |
| Series Odds | -2000 | +1200 |
| Game 3 Odds | OTB | OTB |
| Game 3 Total | OTB | OTB |
| Where/When | Globe Life Park | Oct 8th,  9:08 PM EST |
If only the Padres had healthy starting pitching. San Diego is riddled with injuries to the starting five. Dinelson Lamet and Mike Clevinger's status is up in the air, making the mountain is awfully high to climb for San Diego. Los Angeles Dodgers are on a mission much similar to the LA Lakers in the NBA. It would be nitpicking if we really tried to find a weak spot in this 2020 Dodgers squad. Dodger closer Kelly Jansen has lost some velocity on his pitches, blowing leads during the regular season. San Diego has some powerful bats in their lineup, but so do the Dodgers.
This Dodgers starting pitching can not take the San Diego bats lightly. Both Walker Buehler and Clayton Kershaw were exposed against this hard-hitting San Diego lineup back at the beginning of August. Buehler was great allowing just three hits the only thing was, those three hits were all home runs. Clayton Kershaw on the other hand took it on the chin, giving up three runs on five hits in six innings.
September has given us nothing to worry about when it comes to the Dodgers starting pitching, they were lights out against the Brewers in the Wild Card Series, but the Padres are on another level compared to the Brewers bats. Kershaw will want to cement his chances at a first-ballot Hall of Famer by completing the ever so long World Series title. His postseason woes are real, since 2018 in the playoffs Kershaw had a 7.27 ERA. Dustin May will get the call most likely in game 3, he's had a little postseason experience, just pitching three innings last year in two games against the Washington Nationals in the NLDS. May has career numbers under 3.00 ERA and 1.10 WHIP. He's another stallion in the Dodger stable.
Dodgers Probable Starters:
| | | | | | | | |
| --- | --- | --- | --- | --- | --- | --- | --- |
| Pitcher | Inning | xBA | xSLG | Barrel % | Hard Hit % | OZ Swing % | Whiff % |
| Buehler (R) | 36 | .217 | .283 | 6.5 | 36.6 | 27.8 | 28.4 |
| Kershaw (L) | 58 | .217 | .263 | 8.0 | 34.0 | 29.4 | 27.7 |
| May (R) | 56 | .257 | .307 | 6.7 | 33.7 | 26.5 | 19.2 |
Padres Ace Has Potential to Return
San Diego will be waiting for the prognosis of their two top pitchers thus far. Dinelson Lamet and Mike Clevinger will be crucial for the Padres' success in the NLDS. Both Chris Paddock and Zach Davies were touched versus the St. Louis Cardinals in the Wild Card Series, they will have to get rid of those bad memories as the big bat Dodgers come to reign on their parade. Padres Manager quotes Sunday "We owe them, we owe the medical staff (time)."
Regardless of the status of Clevinger and Lamet, San Diego will almost certainly carry more than the 14 pitchers for this Divisional Series against the Dodgers. Among their options are Luis Perdomo, who allowed six runs in three innings against the Dodgers this season, and top prospect MacKenzie Gore, who would become the first pitcher to make his major league history debut in the postseason. The task is large, to say the least for this Padres rotation, it's impeccable that they get innings from their starting pitchers, or else the bullpen will run out of gas.
Padres Probable Starters:
| | | | | | | | |
| --- | --- | --- | --- | --- | --- | --- | --- |
| Pitcher | Inning | xBA | xSLG | Barrel % | Hard Hit % | OZ Swing % | Whiff % |
| Paddock (R) | 59 | .276 | .331 | 11 | 47.4 | 25.4 | 26.0 |
| Davies (R) | 69 | .267 | .329 | 10.3 | 36.6 | 26.3 | 25.6 |
| Clevinger (R) | 41 | .265 | .319 | 7.5 | 34.6 | 23.7 | 30.4 |
Offensive Production:
The Dodgers held the best record in the majors losing only 17 times in a 60 game season. One thing to take note of is the way the Dodgers hit away from home. They go from a .271 batting average to just .242, very middling for a road team. It's not like the Dodgers are have slipped up in September they're batting .264, with their highest SLG %, and OPS % of the season.
The Dodgers already punched their ticket to the Division Series after Thursday night's victory over the Brewers, but they won't play again until Tuesday. What's wild is that there are no off days scheduled for the series, making teams play every day until one of them wins three games. This could affect the Dodgers immensely, as they really have not revealed their starting pitching plans beyond their first two aces. Should the series reach a Game 4 or Game 5, we could see both clubs getting extra creative. This is were we the Dodgers will take over. Conceivably, we might see multiple starters throwing on short rest and bullpens playing super-critical roles in the series outcome.
San Diego is led by 21-year-old Fernando Tatis Jr. Tatis smashed two home runs in Thursday's 11-9 win clinching win, with one hell of a bat flip, and strut. On Friday, Tatis doubled and scored the Padres' first run in the fifth inning, then was walked intentionally to load the bases for Machado in their two-run seventh. Players thrive on Tatis's energy within the clubhouse, catcher Austin Nola quoted "The talent and energy are off the charts, you can watch it and it just brings everybody's energy level up when he's so enthusiastic to play the game." San Diego has spent money this season to make a World Series run, and they knew they Dodgers would most likely stand in their way. With Manny Machado, Eric Hosmer, and Wil Myers all producing, and Fernando Tatis Jr. emerging as a magnetic star. If San Diego had healthy arms to attacking the potent Dodger squad, the tables would be much more level.
Bullpen Production:
The Dodger's only area of concern lies with closer Kenley Jansen. The longtime Dodger has lost velocity on his almost all of his pitches, looking like the Jansen era is coming to an end. He's pitched well versus teams he should closeout, and has struggled when tasked with a heavy-hitting lineup. In three games versus the Padres on the road this year, Jansen holds a .333 batting average against, giving up one run on four hits in three innings.
This Padres team has been worked the past series against the Cardinals, making history not allowing a run starting nine different pitchers in a postseason game. St Louis has been known to go into ruts and lack power at the plate, this Dodger team is the complete opposite, getting after you early and often. Trevor Rosenthal was not that impressive in his few innings against St. Louis, San Diego is still searching for a true closer in the postseason.
LA Dodgers vs San Diego Padres Series Prediction
The Dodgers bats will prove too much for a Padres bullpen that will not see a day of rest. This bodes very well for a team that gets into a rhythm at the plate. With the lack of rest and depth at pitching look for the Dodgers to pour on the runs all series long.
The odds on the Dodgers to Win the Series are at -280 (via Bet365)