Tampa Bay Rays vs LA Dodgers Pick – Game 6 World Series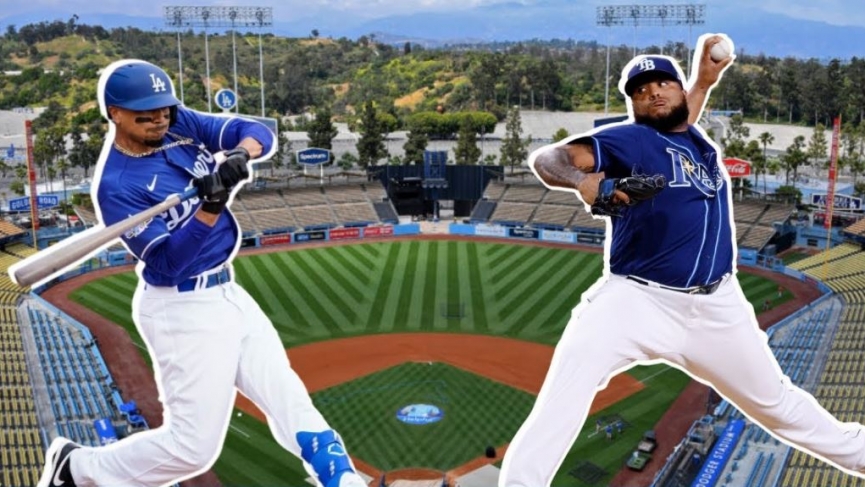 Odds.com's Tampa Bay Rays vs LA Dodgers Pick – Game 6 World Series: The Dodgers are one win away from capturing their first World Series title in over three decades. They will have to do so with Blake Snell on the mound, one of the best pitchers in baseball in 2020. 
| | | |
| --- | --- | --- |
| World Series Game 6 | Tampa Bay Rays | LA Dodgers  |
| Series Odds | +450 | -600 |
| Game 6 Odds | +145 | -159 |
| Total | Over 8 (-104) | Under 8 (-112) |
| Where/When | Globe Life Field | Oct 25th, 8:08 PM EST |
It's not over yet. Tampa Bay has a legitimate shot at taking this Dodgers squad seven games when Blake Snell takes to the mound. Snell worked the Dodger lineup last time out giving up just 2 runs on 2 hits,  he followed it up with nine strikeouts in less than five innings. Tony Gonsolin will be the question mark for the Dodgers, he's only pitched three career postseason games, not being able to get through the opposing lineup more than once. With much better arms available out of the bullpen, I'll be backing the Tampa Bay Rays to extend the series to seven games on the money line. Find the best line at your local Draftkings sportsbook. 
Starting Pitching:
| | | | | | | | | |
| --- | --- | --- | --- | --- | --- | --- | --- | --- |
| 2020 Postseason | Inning | Hits | Runs | BB | K's | HR's | ERA | WHIP |
| B. Snell (TB) | 24.1 | 18 | 9 | 14 | 28 | 5 | 3.33 | 1.31 |
| T. Gonsolin (LAD) | 7.2 | 6 | 7 | 7 | 9 | 3 | 9.39 | 1.69 |
Blake Snell – Will have the confidence and backing of manager Kevin Cash and company. Snell was chosen as their ace way back in 2016 when he was drafted by the organization. Snell has been solid under the big stage pitching 29 innings allowing just 10 runs on 22 hits. One thing to note has been the walks for Snell in his two past starts allowing four walks in both games. Snell topped his career-high with 9 strikeouts in game two against these Dodgers. With their back up against the wall, Tampa Bay is not going down without a fight. The good news for the Rays, they have several bullpen pieces available for this game who are yet to allow a run to the dodgers. Blake Snell will be able to relax compared to Tony Gonsolin who is going to be heavily relied on to eat innings, something he is yet to do in his early postseason career.
Tony Gonsolin – In three starts in the 2020 World Series Gonsolin is yet to pitch through the lineup more than once. He's getting hit hard while walking a batter per inning. Gonsolin is going to have to eat up innings, unlike his first two starts. Gonsolin looks uneasy on the mound, sweating like he's already pitched five innings of play. Rather, Gonsolin is rolling in a 9.39 ERA with a whip of 1.69. During Gonsolin's one start in the World Series, he lasted only an inning and a third. Dave Roberts does not seem to trust Tony very much when he's on the mound, if he had his druthers, Roberts would start anyone but Gonsolin. The Dodgers would have already won the championship if they didn't get rid of Hyun-jin Ryu, Yu Darvish, or Kenta Maeda. This was a corner piece of the Dodgers rotation for many years of postseason runs. Now that the Dodgers are this close to lifting the trophy, they are lacking one more starter to secure them their first World Series title since 1988. 
Offensive Production (Postseason): 
Tampa Bay has five guys who are contributing at the plate more than they were in the regular season. These are the players the Rays need to show up if they want to stretch this World Series to seven games. The big-name you want to look out for is Randy Arozarena, he's leading his team in OPS at 1.21 and has increased his batting average from .281 in the regular season to .333 in the World Series. Mike Brosseau, Yandy Diaz, Kevin Kiermaier, and Manuel Margot are the names to keep an eye out for and it may be worth looking into betting player props on all of these batters. All four have seen an increase in their batting average and OPS. Our largest differential from the regular season to World Series would be gold Glover Kevin Kiermaier, going form .217 batting average and .683 OPS, to .375 (BA) and 1.16 OPS. If the Rays have all five guys in the lineup, I would expect Tony Gonsolin not to last more than three innings. 
Los Angeles Dodgers have four players who are contributing more to their team than they were in the regular season. All four are original Dodger players who have been with the team for several years, that being Max Muncy, Joc Peterson, Cory Seager, and Justin Turner. One of these four players will win the MVP if they can lift the trophy, my bet would be Cory Seager, the NLCS MVP has been smashing opposing pitching all postseason, reaching a league-best 1.43 OPS and .471 batting average. One thing the Rays top players did not have was an OPS over 1.00. The Dodgers have some heavy bats that can turn things around at any point and time during a high-pressure situation. Tampa Bay wants to pay particularly close attention to when the Dodgers have two outs and guys on base, the Dodgers are breaking records with men on base with two outs. 
Bullpen Production (Postseason):
The Rays have done a magnificent job maintaining their bullpen, keeping the number of innings each guy's pitches to the same amount. Most guys have 2 innings under their belt in the World Series, the bright spot for Tampa will be the arms available for game 6 will be three of their lowest WHIP's in the bullpen. Ryan Thompson, Ryan Sherriff, and Shane McClanahan all have yet to allow a run to the Dodgers, keeping their WHIP's all under 1.00.  Since Snell will be starting the game as a left-handed pitcher, expect more righties from Cash, as he tries to mix up the opposition focal point. With that being said, Snell will still be relied upon to go twice through the Dodger rotation. 
Dave Roberts's manager of the Dodgers will have five guys who have yet to pitch more than two innings in this series. Led by Brusdar Graterol, Adam Kolarek, Dylan Floro, Kenley Jansen, and Jake McGee. Don't expect to see Kenley Jansen any time soon after blowing yet another Postseason record four world series games. The arm you want to see is Brusdar Graterol. He can hit up to 102 MPH with his fastball, not looking to execute much energy in the process. Jake McGee and Adam Kolerak have yet to allow a run to the Rays in the World Series, expect to see both guys after Gonsolin gets pulled by another short leash from Dave Roberts. The Dodgers will need Gonsolin to pitch well into the fourth or even the fifth innings or else the Dodgers will be in trouble late in the game.
Tampa Bay Rays vs LA Dodgers Pick
Best Bet: Rays ML +125 via DraftKings: The Dodgers will need Gonsolin to pitch well into the forth or even the fifth innings or else the Dodgers will be in trouble late in game. Tampa Bay will have the advantage on the mound all night in my opinion, if Snell can give them a performance similar to game two, the Rays will have a legitimate shot at taking this World Series to seven games. The dramatic moments are not over yet. Tampa Bay to win Game 6 on the ML will be on my betting board.