Oakland Athletics vs Houston Astros Series Prediction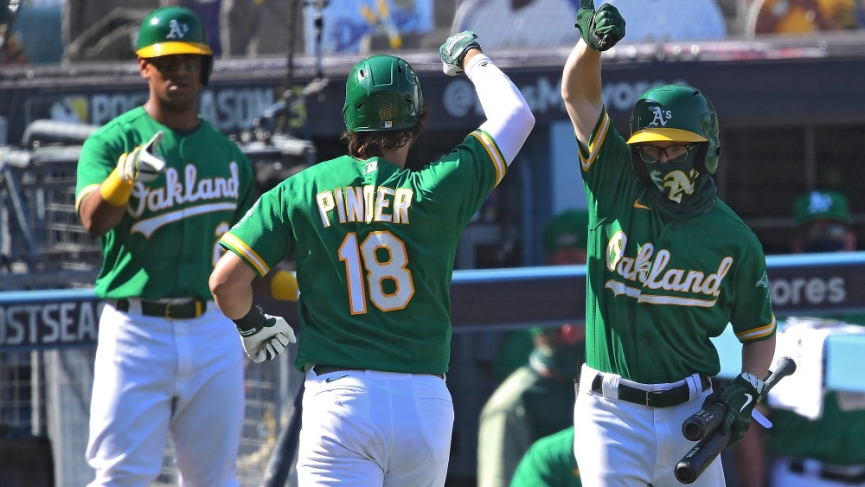 Odds.com's Oakland Athletics vs Houston Astros Series Prediction – ALDS: The Houston Astros will make their fourth straight appearance in the ALDS, while Oakland hasn't found themselves in the divisional series since 2013. Oakland was the most profitable teams at home in the AL West, but this series will take place at Dodgers Stadium. Can the Athletics finally get through the divisional series? Let's break it down and find out. 

| | | |
| --- | --- | --- |
| ALDS (HOU Leads 2-1) | Oakland Athletics | Houston Astros |
| Series Odds | +240 | -300 |
| Game 4 Odds | OTB | OTB |
| Game 4 Total | OTB | OTB |
| Where/When | Dodgers Stadium | Oct 8th,  3:35 PM EST |
Bad blood will let out when the Athletics and Astros face off in the ALDS. Mike Fiers was the whistleblower who exposed the Astros cheating scandal after Houston won another World Series. Already benches were cleared when Ramon Laureno charged the Astros bullpen after getting beamed three times back in September. There will be no lack of motivation when these two divisional foes face off for the 11th time this year. Houston is doing what most didn't think was possible, with the injury to their ace Justin Verlander and the backlash from their extensive cheating ways, look for Houston to rise from the ashes.
Oakland Chasing the Championship Series
Mike Fiers was the whistleblower who exposed the Astros cheating scandal at the beginning of the 2020 season. Fiers will be a marked man, and if I was the manager for Oakland, I would keep Fiers in the bullpen. Houston hit right-handed pitching with much more power and for average, compared to left-handed pitchers. This is great news from Sean Manaea and Jesus Luzardo. Chicago was the best in the league against left-handed pitching. I expect Manaea and Luzardo to pitch better than what they showed in the Wild Card Series.
Oakland Probable Starters:
| | | | | | | | |
| --- | --- | --- | --- | --- | --- | --- | --- |
| Pitcher | Inning | xBA | xSLG | Barrel % | Hard Hit % | OZ Swing % | Whiff % |
| Bassitt (R) | 63 | .241 | .288 | 5.9 | 37.4 | 25.7 | 23 |
| Manaea (R)  | 54 | .266 | .292 | 7.1 | 44.6 | 27 | 22.1 |
| Luzardo (L) | 59 | .257 | .307 | 7.1 | 36.7 | 26.1 | 29.7 |
Astros Putting the Pieces Together
Houston's pitching took a huge hit when it was announced that their ace, Justin Verlander, was going to be out till for the foreseeable future due to Tommy John surgery. Good news, not all hope is lost. The Astros still have five quality starters including; Zack Greinke, Framber Valdez, Jose Urquidy, Cristian Javier, and Lance McCullers Jr.
Greinke has a 5.40 ERA over his past eight appearances, while Valdez has also been excellent, pitching against the Twins following a dominant regular season. Valez has a 3.57 ERA and has batters lost at the plate when he throws his curveball. Opponents are hitting just .117 when Valdez throws his curveball. Christian Javier could be a crucial piece in the Astros rotation. He's a Rookie but has some electric stuff that's been causing hitters fits all season. Houston definitely shouldn't be worried when it comes to pitching, if anything I think the Oakland batters should be concerned batting no better than .230 in almost every situational stat.
Astros Probable Starters:
| | | | | | | | |
| --- | --- | --- | --- | --- | --- | --- | --- |
| Pitcher | Inning | xBA | xSLG | Barrel % | Hard Hit % | OZ Swing % | Whiff % |
| Grienke (R) | 67 | .249 | .286 | 8.2 | 35.2 | 26.3 | 27.8 |
| Urquidy (R) | 29 | .283 | .335 | 6.7 | 38.9 | 28.9 | 20.9 |
| McCullers (R) | 55 | .246 | .320 | 10.3 | 34.9 | 26.1 | 29.7 |
Offensive Production:
Oakland are going to be a tough out for Houston. Unlike the Twins, Oakland won 11 games they trailed at the beginning at the fifth inning or later, almost double the big league average. Holding off the Chicago White Sox's offense is something to think twice about. Chicago had been crushing bullpens and starting pitching, but after the Athletics starters left the game, their bullpen had an MLB best 2.72 ERA.
If Houston gets ahead early and anticipates to win, they will need pitchers like Josh James and Christian Javier to restrain the Athletics from thinking they have a possibility at another comeback. The strength and depth of the A's bullpen are unlike others, If the Athletics can find some quality pieces of hitting from players like Matt Olson, Marcus Semien, and Kris Davis, it might be a little too much for the Astros bullpen to handle. Unlike the Astros, Oakland's bullpen is stellar and can usually keep the game within arms reach if needed. This was what happened against the White Sox, and a big reason why they won.
The Astros offense had the lowest strikeout rate in the majors, but their batting averages had a dramatic decrease this season. It's pretty clear as to why the Astros had a dip in the offense. Houston led the majors in wOBA last year, while in 2020 they declined to 18th place. Of the nine Astros starters, 2017 AL MVP, Jose Altuve, has felt it the hardest, He's looked lost at the plate, taking pitches he should be swinging and vice versa.
Despite Altuve's struggles, Manager Dusty Baker has kept Altuve in the second spot for the majority of the season. With all the distractions in the mirror and no fans in the stadiums. Houston has a real chance of making right after doing so wrong for the past three years as an organization. Houston had no chance against the Twins, and people are counting out the Astro's just like they did in the Wild Card Series. Houston is a complete offense who've proven themselves at the big stages. Let's see if it was all a hoax.
Bullpen Production:
The Athletics will be led by Liam Hendriks. If Houston is not up after the first five innings, it will be very tough to get a hit off their 2.72 ERA bullpen that leads the league. To sum things up Oakland is going to make life very tough for Houston to hit, though they are the better hitting squad, they will need to get after Oaklands starting pitchers if they want to move on the ALCS.
This Astros bullpen will be something to worry about. They are going to have to rely on aame lot of rookie pitchers with no postseason experience, and this could go either way. When the Astros faced the Twins, closer Ryan Pressly and inning eater Josh James took the mound along with five other rookies. James could be a key player in this series, he was dominant in his last five outings in the regular season after struggling for a few games in the month of September. It seems the Astros bullpen has finally found the strike zone. This bullpen is not going to be a sure thing, but with the runs production we expect to get from the Astros will be just enough for the Astros bullpen to hold of the mediocre Athletics offense and company.
Oakland Athletics vs Houston Astros Series Prediction
This is going to be an intense series, possibly drama-filled, and a must-watch for all baseball fans. My number has the Athletics with a slight edge, but anything can happen in October. Houston might just be that Cinderella story along with the Miami Marlins in the NL. These two will not skip a beat, playing every day during the week in order to get this season complete in time. This is a series you will not want to miss.
The odds on Houston to Win the Series is at +140 (via Bet365)