Wyoming Sports Betting Bill Passes the House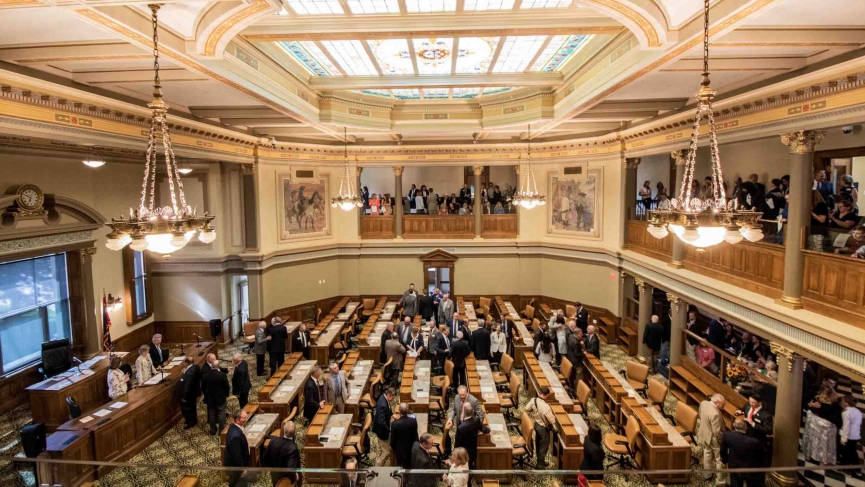 Table of Contents: | Details of House Bill 133 | Feeling Pressure |
A monumental day for Wyoming sports betting took place on Tuesday as the House passed House Bill 133, 32-28. The bill passed on a reconsideration motion on March 10.
The boost came from Rep. Landon Brown, who is co-sponsor of HB 133. He managed to get a reconsideration and explained that Colorado is beginning to take tax dollars away from the state since Wyoming's neighbor had legalized sports betting.
The Senate Appropriations Committee reviewed the bill this week and had a constructive hearing, which gave committee members confidence that the betting bill should pass on the Senate floor. Rep. Tom Walters HB 133 and explains that the bill is to protect consumers. He states that bettors can wager offshore or local bookmakers and never be paid out if they win since it's not regulated.
Details of House Bill 133
If the sports betting bill gets through the Senate, it will legalize online sports betting in Wyoming. House Bill 133 calls for at least five sports betting operators to enter the state, with those operators running in at least three other states.
Some lawmakers were looking at using the single-operator lottery system, but Walters explained that having multiple sportsbooks in the state would make the industry more competitive and drive profits. Sportsbooks will pay a $100,000 licensing fee that will be good for five years and then pay a $50,000 renewal fee.
| Wyoming Sports Betting | Amount |
| --- | --- |
| Licensing Fee | $100,000 |
| Renewal Fee | $50,000 |
| Tax Rate | 10% |
The Wyoming Gaming Commission estimates that the sports betting market will hit $449 million annually and propose a 10% tax rate on sportsbooks. The funds will then go into the state general fund, which will then go towards education and other general state services.
Lawmakers set a July 1, 2021 start date if the bill is enacted. However, the Wyoming Gaming Commission asked to delay the start date to September 1 because the commission feels like it could be scrambling in the coming months to ensure the industry is good to go. Having an additional two months could help Wyoming in the long run.
Feeling Pressure
Wyoming is one of the more conservative states in the U.S., and those states have struggled to pass a sports betting bill quicker than others at times.
However, Wyoming feels the need to move now before leaving behind and losing out on tax revenue. In May 2020, Colorado launched sports betting and had an online industry making it convenient to place bets from your phone. One of the reasons lawmakers stated for an online industry is because Colorado is taking some needed tax revenue away from the state.
Also, South Dakota recently passed its sports betting bill and is hoping to launch before the start of the 2021 NFL season. South Dakota also plans to have its sports betting hub in Deadwood, 25 miles from the South Dakota-Wyoming border.
The state needed to act quickly on a bill and could have been part of why HB 133 was able to get a reconsideration this month. That might have saved the state an additional year of legalized sports betting.
Last October, Wyoming tribal groups were in talks of launching sports betting at their casinos without Wyoming passing any sports betting laws. The tribal groups would have taken precedent from New Mexico sports betting as tribal groups launched the industry despite New Mexico not having sports betting laws in place.
Wyoming could have felt additional pressure from tribal casinos as there has been a push for sports betting. The Northern Arapaho tribe in Wyoming found a loophole in the gaming laws, which would have allowed sports betting to go live at their location.
The tribe operates under Class III gaming laws, including table games and ultimately, sports betting. Wyoming could have contested the move through court but did not do so when word got out. Instead, lawmakers went the other way and decided it was time to legalize the industry.
Now, the state is one step closer to legalizing sports betting and could have the industry running by September.