US Sports Betting On Pace for Decline in February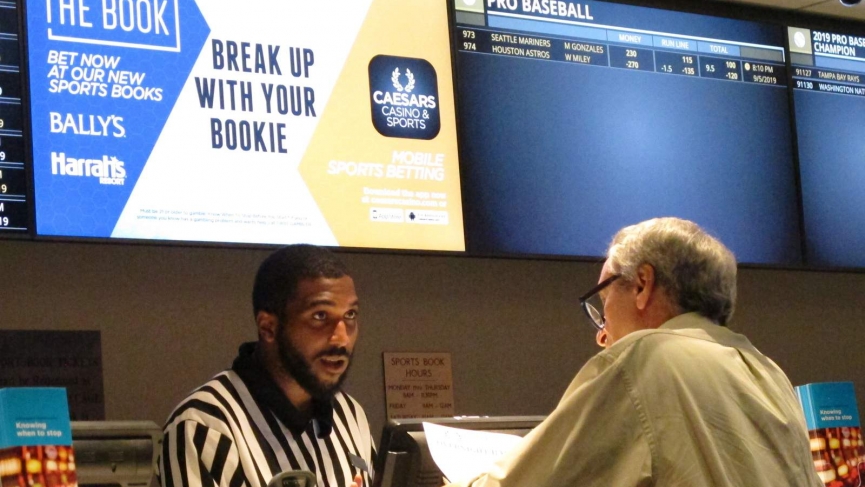 Despite sports betting hitting a record high for the Super Bowl, it so far has not been enough to keep the growth trend in the right direction which signals that US sports betting will report a decline in February. Five U.S. states have released sports betting revenue reports for February, and the numbers are not encouraging.
There is a 12.4% decrease in the betting handle for February among the five states reported. Indiana, Iowa, Oregon, Washington D.C., and West Virginia are the early reporters and combined for a $558.5 million betting handle to start 2021. In February, the five states have combined for a $489.5 million betting handle.
New Jersey reports $743 in February sports betting handle, dropping from $959 million last month. Revenue was $46 million, compared to $82.6 last month. February 2021 revenue totals more than double Feb 2020 revenue total ($17 million).

— Ryan Butler (@ButlerBets) March 16, 2021
The drop is discouraging but does make sense. The NFL only has one game in the month, despite that game being the Super Bowl. Even as heavily bet as the Super Bowl is, it still does not make up for the full NFL schedule between September to December and January playoff games.
This past January, sportsbooks across the U.S. saw basketball take over as the largest betting handle for the month with limited football action.
Even if February had an additional two to three days in the month, it would most likely not make up the dip that the month will consistently see.
Early US Sports Betting February Numbers
Not a single state that has reported for February has seen an increase this month. With the football season ending and only 28 days on the calendar, February was expected to see a market correction.
In its betting handle, Iowa saw the lowest dip, going from $149.5 million in January to $143.6 million in February for a 3.95% decrease. Revenue also dropped from $11.3 million to $7.7 million.
Most revealing statistic in Iowa gambling is 34.5% drop in parimutuel handle at 3 retail locations in state between February 2020 & February 2021. Pandemic obviously impacted these numbers but did this money go to racing ADWs or go for sports betting?

— Riley Grannan (@RileyGrannan) March 13, 2021
Only GameBet DC has reported in Washington, but the mobile betting app is down $1 million for the district, and West Virginia also saw a 24.65% decrease month-to-month. The Mountaineer State went from $50.7 million wagered in January to $38.2 million wagered in February. West Virginia also saw its lowest over the last 12 months at 3.6%, which took a huge chunk of revenue for February. The state went from just under $4 million in January to $1.4 million.
Oregon also saw nearly 30% lost month-to-month going from $34.9 million in bets for January to $29.6 million for February, and the state lost $1.2 million in revenue. There is some good news that came out of the Beaver State, however.
Oregon will be looking at ways to replace its current mobile betting app, Scoreboard, with DraftKings in the coming months. The state has underperformed drastically with the single-operator model, but adding a reliable operator in DraftKings could turn things around.
The Hoosier State reported is the fifth market to report as it saw a $74.3 million decrease in its betting handle. In January, Indiana collected $348.2 million in bets compared to February, which had a $273.9 million betting handle. The state's revenue also took a massive dip going from $29.3 million to just under $17 million for February.
FanDuel takes top spot as Indiana sportsbooks bring in $17.0m in February
Monday 15 March 2021 – 10:33 amhttps://t.co/y8QCh7J2AP
Indiana's regulated sports betting market saw handle increase 31.6% year-on-year to $273.9m in February, a growth of almost $100m, although both… pic.twitter.com/txgKWKoJxV

— betcompanies (@betcompanies) March 15, 2021
Will Any State See a Positive Sports Betting February?
Michigan and Virginia should most likely see an increase from January since both states went live halfway through the month. Tennessee and Illinois will be questionable as both states are newbies in the sports betting industry, but no guarantee that February will be kind to either market.
Outside of the four states, expect a drop from the remainder of the market. Having 28 days will play a factor in the decreased betting handle, but losing football for the year is the biggest culprit. The Super Bowl can only replace so much action that a full NFL schedule brings for sportsbooks.
Basketball will continue to take over the late winter months and be a huge cash cow in March when the NCAA tournament gets going later on this week. Although February will most likely be a down year for most betting markets, March should rebound nicely in the U.S.
March Madness

It's a major driver of legal betting volume and customer acquisition. March Madness potentially will generate $15.9bn in handle.

The tournament—a 67-game slate played over 19 days—is also a tentpole customer acquisition event for the U.S. sports betting industry.

— BeyondTheTrades (@BeyondTheTrades) March 12, 2021
For the first time in two years, the NCAA March Madness tournament is back in action, which should bring a lot of betting demand after the coronavirus shut it down last season. The American Gaming Association reports an estimated 30.6 million people will bet on the tournament, which is a significant increase from 2019, up from 17.8 million.
The U.S. has tripled its betting markets from 2019, and legal sports betting will bring more action. February might be a dip in the U.S. betting industry, but the March Madness tournament will help bring a rebound next month.