March Madness Betting Handle Projections For Each State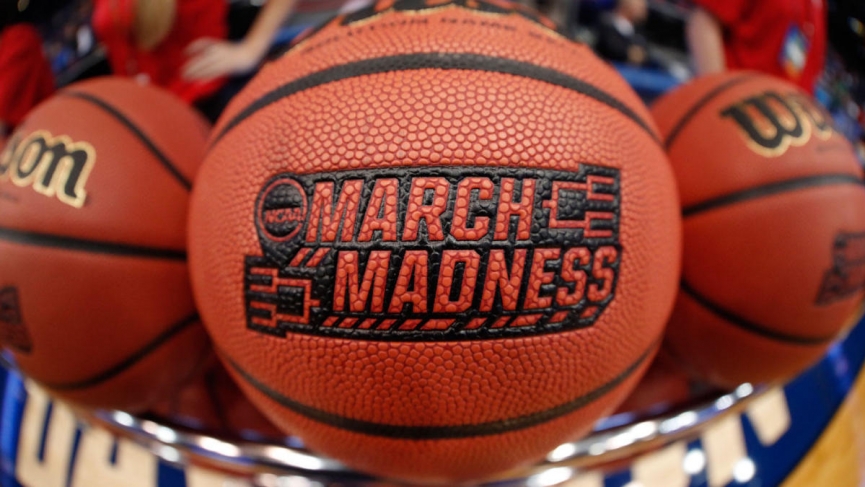 For the first time in two years, sports bettors across the U.S. can get their bets in on the NCAA March Madness tournament. The American Gaming Association expects over 47 million people to bet on the tournament between filling out brackets and placing wagers on the big event.
What will the March Madness betting handle projection per state look like? Based on what the AGA and industry experts are predicting, this NCAA tournament will bigger than the Super Bowl.
The AGA also announced that 30.6 million are expected to bet on the March Madness tournament, with over 20 states are taking wagers in the U.S. – compared to 17.8 million placing bets and seven states live during the 2019 NCAA tournament.
March Madness

It's a major driver of legal betting volume and customer acquisition. March Madness potentially will generate $15.9bn in handle.

The tournament—a 67-game slate played over 19 days—is also a tentpole customer acquisition event for the U.S. sports betting industry.

— BeyondTheTrades (@BeyondTheTrades) March 12, 2021
The cancellation of the 2020 March Madness tournament could bring huge demand for college basketball betting this year. "The sports betting landscape has changed dramatically since 2019 – and as a result, tournament betting has transformed," said AGA President and CEO Bill Miller.
With sports betting seeing exponential growth across the U.S., states with legal sports betting could see another record month solely from the betting volume that will be seen over the next two and a half weeks. Here is a breakdown of what the sports betting market will look for in the top U.S. states.
New Jersey March Madness Betting Projected Handle
Teams to Watch & Odds to Win
– Rutgers Scarlett Knight (#10) +6600
Rutgers is the only New Jersey team to make it to March and will square off against Clemson in the first round. Unfortunately, for Rutgers fans, they will have to travel out of state to bet on Rutgers this weekend. As of writing, the consensus line is Rutgers -2 despite being the lower seed.
Projected Betting Handle
– $723.8 M
New Jersey could see a monster betting handle from March Madness alone. March could bring the $1 billion betting handle for New Jersey, which has been very close to hitting in recent months. Our projections believe over $720 million will be wagered on the March Madness tournament in New Jersey this year.
New York will help boost the numbers as the state continues to stall with legalized online betting. New York City bettors will be flocking to the Garden State to get their action during the tournament.
Can You Bet In-State Colleges?
– No
One of the downfalls of betting in New Jersey is the inability to bet on in-state colleges. Rutgers is the lone New Jersey team in the tournament and could be a quick exit squaring up against Clemson and then a potential matchup with Houston in the second round. This year might not be a huge issue with this law, but things could change in 2021 with lawmakers attempting to remove the rule.
Nevada March Madness Betting Projected Betting Handle
Teams to Watch & Odds to Win
– No Nevada Schools Made the Tournament
UNLV and Nevada failed to make it to the postseason this year, but the consolation will be able to bet in Las Vegas and Reno, one of the most electric weekends of the year Silver State. Nevada bettors will have the whole bracket at their disposal.
Projected Betting Handle
– $625.9 M
Nevada has seen its sports betting market decline, with more states going online and the coronavirus limiting travel to the region. March Madness should help see a rebound this year. The state saw a jump of $138.2 million in betting from February 2019 to March 2019, the last time the tournament was held.
This year might not see a 30% increase month to month, but the betting market should move in a positive direction thanks to the tourney returning for Nevada sportsbooks.
Can You Bet In-State Colleges?
– Yes
Nevada has the oldest betting market in the U.S. and has no issue with betting in-state colleges, but it will not be an issue for the Silver State.
Pennsylvania March Madness Betting Projected Handle
Teams to Watch & Odds to Win
– Drexel Dragons (#16) +50000
– Villanova Wildcats (#5) +4000
Drexel gets the nod after winning the CAA Conference tournament, but Dragons fans will have a short stay against #1 seed Illinois. Maybe Drexel can cover the spread to give Dragons fans their moment, but it's going to be a long two hours for the Dragons.
Villanova comes into the tournament liming after losing Collin Gillespie at the end of the season. The Wildcats have lost to Providence and Georgetown since Gillespie went down and are on the dreaded 5-seed line with a potential upset matchup against Winthrop. Gillespie's backup, Justin Moore, is also dealing with a severe ankle sprain.
Projected Betting Handle
-$206.4 M
Pennsylvania will have online sports betting for this year's tournament, which will be a huge boost to the betting handle. The state could see a significant jump in its betting from the tournament, and it helps with betting on Drexel and Villanova, although their chances of making a deep tournament run are slim.
We see over $200 million being wagered on the tournament from Pennsylvania bettors.
Can You Bet In-State Colleges?
– Yes
Villanova and Drexel bettors will be able to bet their team this weekend, but there is no guarantee that it will go beyond that. The ability to do so will give the state a slight boost.
Illinois March Madness Betting Projected Handle
Teams to Watch & Odds to Win
– Illinois Fighting Illini (#1) +700
– Loyola Chicago (#8) +4000
Illinois and Loyola can meet up in the second round of the tournament, with both teams coming off the conference tournament wins. Illinois will have a much better chance of moving forward than Loyola, who will play Georgia Tech in the first round. The Yellow Jackets are also coming off an ACC Tournament win and ready to go on Friday.
The matchup in Illinois everyone wants to see is the Illini going up against the Rambles, but there is a chance Georgia Tech comes in and ruins the opportunity.
Projected Betting Handle
– $188.6 M
The first March Madness tournament Illinois bettors can wager on could be a big one. The Land of Lincoln continues to see its betting handle grow every month, and the state should see over $180 million wagered on the tourney. There is a chance that our projections have a conservative number on the state and could even hit $200 million.
Not being able to bet Illinois and Loyola will hurt the state, especially if either team makes a deep run in the tournament. That could be the thing that keeps the betting handle lower in Illinois.
Can You Bet In-State Colleges?
– No
Illinois does not allow for betting on in-state colleges, and it will be a massive blow for the state this month. However, Illinois lawmakers are working towards reversing the rule to allow for it in the future. Still, bettors will be letting their local state representative know about the rule when Illinois makes a Final Four run, and no one can bet the game.
Michigan March Madness Betting Projected Handle
Teams to Watch & Odds to Win
– Michigan Wolverines (#1) +600
– Michigan State Spartans (#11) +6500
The Michigan Wolverines will be looking to make a Final Four run under second-year coach Juwan Howard. However, Michigan could be without Senior forward Isaiah Livers, which will be a huge blow to this Wolverines squad if they go deep in the tournament.
Michigan State limped into March and sneaked in as one of the last four teams in the tournament. They will take on UCLA in a play-in game on Thursday. If Sparty can make it past UCLA on Thursday, Michigan State will face BYU in the next round. How Michigan State has played this year has been subpar, but it's always hard to go against Izzo in March.
Projected Betting Handle
– $112 M
Michigan legalized online sports betting in January and had a huge first 11 days in the month. March should bring a huge jump in the state's betting handle, with it being the 10th largest state in the U.S. The Wolverine State should see at least $100 million wagered on the tournament this year, especially with the two heavy hitters of Michigan and Michigan State in the field.
Can You Bet In-State Colleges?
– Yes
Yes, Michigan bettors will bet on their state schools and help boost the betting handle this year. Michigan State might not hang around, but Michigan is a Final Four contender and could draw big numbers if they make it a few weekends.
Indiana March Madness Betting Projected Handle
Teams to Watch & Odds to Win
– Purdue Boilermakers (#4) +4000
Purdue is the lone Indiana team that has made it to the tournament this year. The Boilermakers could be a matchup nightmare in their region with the size of their bigs in Trevion Williams and Zach Edey. However, if they can run, Purdue will square off against Baylor in a potential Sweet 16 matchup.
Projected Betting Handle
– $124.8 M
Indiana should have a big month with the state hosting the full March Madness tournament in Indianapolis. Although there are a limited number of fans able to watch the games in person, it will bring fans from teams that might have sports betting in the state, which will help boost the betting handle throughout the month.
This year marks the first time Indiana will be able to book bets on March Madness when 68 teams compete throughout the state. Indiana's sportsbooks posted a handle of $273.9 million in February of 2021. Who are you betting on? pic.twitter.com/WgSj1r69PX

— ETPicks (@ETpickswin) March 15, 2021
The Hoosier State is already a huge basketball state, and with the tournament being held in Indiana, the March betting handle could be the largest one yet.
Can You Bet In-State Colleges?
– Yes
Yes, Indiana bettors will be allowed for in-state betting on colleges. Purdue is the lone team to make it this year but should be a decent draw this year, especially if they make a run. Having all 68 teams in the state is a bonus for this year's tournament.
Colorado March Madness Betting Projected Handle
Teams to Watch & Odds to Win
– Colorado Buffaloes (#5) +6600
The Colorado Buffaloes make it for the Centennial State and have a tough matchup against Georgetown. Even as nice as the Hoyas story has been, Colorado should make it to the next round. The Buffaloes have been able to beat up on average teams this year, and although Georgetown won the Big East to make it Indy, they are still just an average team.
Projected Betting Handle
– $128.8 M
The state should see a decent amount of bets coming in throughout the tournament. Colorado has been a solid sports betting industry since coming on in May 2020 and should continue to do so once the tournament kicks off. It would not be a huge surprise if Colorado saw a big jump from February's betting handle to the March handle.
Can You Bet In-State Colleges?
– Yes
Colorado bettors will be able to wager on the Buffaloes. The team did get a tough draw with a first-round matchup in Georgetown and potentially had the face Florida State in the second round. Regardless, Buffaloes fans will be able to get some action on their team this year.
Tennessee March Madness Betting Projected Handle
Teams to Watch & Odds to Win
– Tennessee Volunteers (#5) +4000
The Volunteers are another team that will have a tough break in the first round. Tennessee will have to face Oregon State, who just won the Pac-12 tournament to get into the NCAA tournament. If they avoid the upset, Tennessee will have to face off against Oklahoma State, who has been red hot down the stretch.
Projected Betting Handle
– $46.5 M
Tennessee is still a growing market, could see much bigger numbers depending on what growth continues to do. The Volunteer State has only been live since last November, but the March Madness tournament could help see a jump in the state's betting handle this month.
Can You Bet In-State Colleges?
– Yes
Tennessee, unfortunately, might not make it past the first weekend of the tournament, but Volunteers bettors will be able to get their action in against them in the Oregon State game. Maybe there is a chance Tennessee gets past Oklahoma State as well, but the Volunteers path is brutal.