Online Sports Betting to Hit $40 Billion by 2033 says Goldman Sachs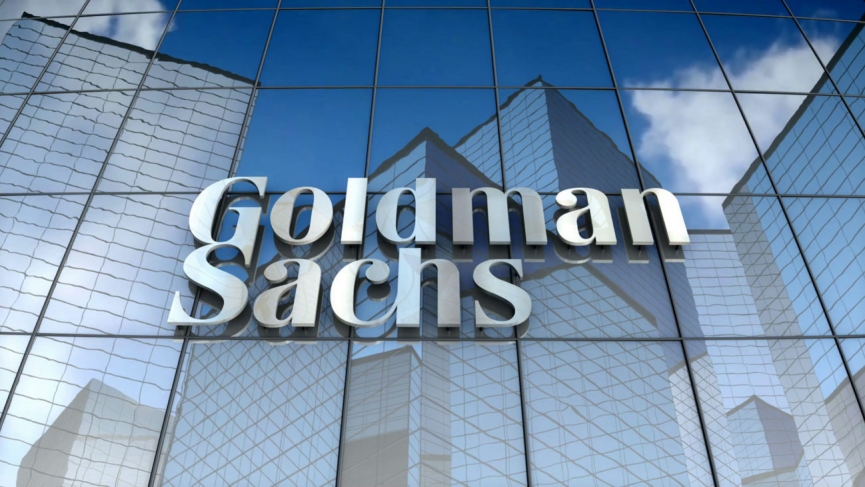 Table of Contents: | Increased Trading Volume | Watch Out for Michigan |
U.S. online sports betting is on the rise and has already become a multi-billion industry since the U.S. Supreme Court struck down PASPA in 2018.
Goldman Sachs has high expectations after the firm told clients that it is expanding online sports betting and gambling expectations across the U.S. In the note to clients, Goldman Sachs reported the online gaming industry is roughly $2.4 billion today ($900 million in online sports betting & $1.5 billion in online gambling).
Goldman Sachs Raises Sports Betting and iGaming TAM and Price Targets of Key Players on Favorable Legislation and Consumer Adoption $DKNG $PENN $RSI $CZR https://t.co/oVwCYSp3tc pic.twitter.com/ZtsZgbYgtC

— Streetinsider.com (@Street_Insider) March 23, 2021
By 2033, the U.S. online sports betting industry could take over as the market leader, with Goldman Sachs expecting roughly $39 billion and internet gambling only being $14 billion.
It's hard to blame the investment giant as growth does not seem to slow anytime soon. The adjustment also comes in the middle of the NCAA March Madness Tournament, which is expected to bring billions of dollars in bets and over 30 million people wagering on the event.
Increased Trading Volume
Trading volume has grown in sports betting stocks as demand has increased in the industry. Some of the industry leaders like Barstool Sportsbook ($PENN), DraftKings ($DKNG), and BetMGM ($MGM) have been posting healthy trading volumes over the last three months.
DraftKings has been the heaviest traded stock in the time averaging around 19 million shares traded daily. Its day with the highest volume came on January 6, with 40.9 million shares traded. MGM has seen roughly 9.5 million shares traded daily and on January 4 saw 23.6 million shares traded.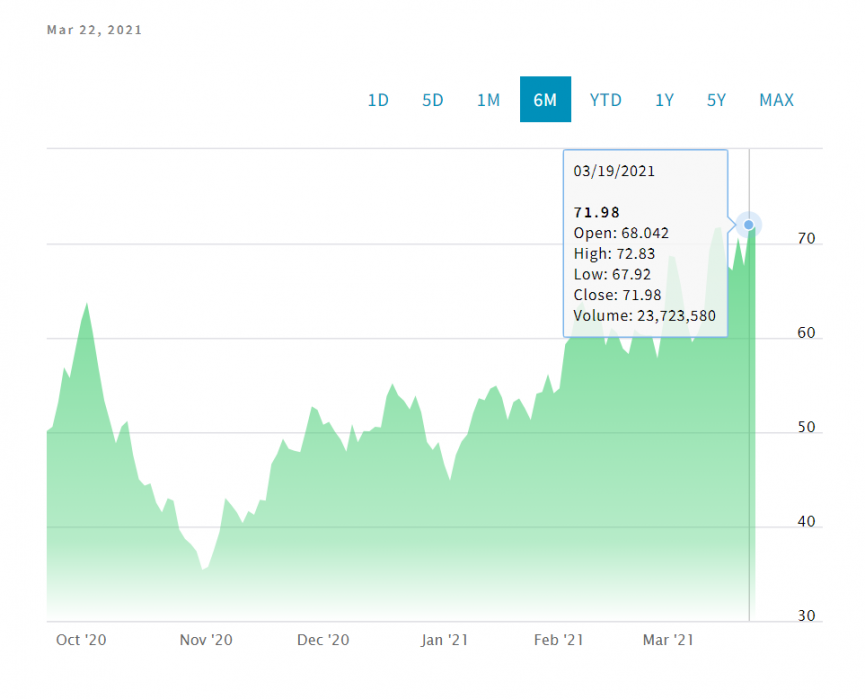 Penn National, which owns a portion of Barstool Sportsbook, has seen its stock rise exponentially over the last 12 months and hit an all-time high of $142 on March 15. On March 19, the stock saw 30.6 million shares traded, which was also the start of the March Madness Tournament.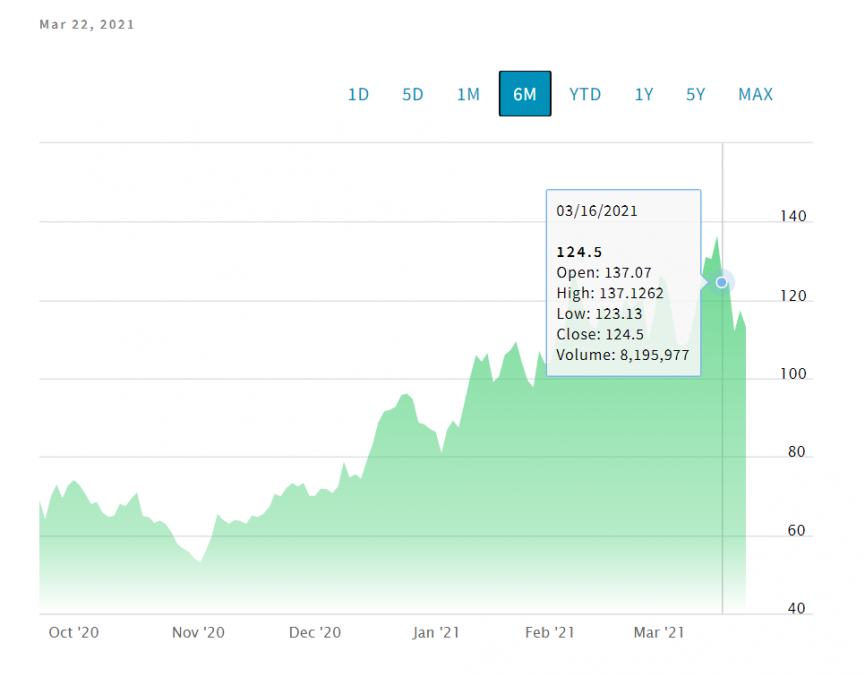 With gaming stocks on the rise in the coming year's thanks to growth, the trading volume should continue to increase over time. There would not be a surprise if the entire sports betting market saw increased trading volumes from day traders in the coming years.
Sports betting stocks could have similar growth projections like some of the Blue Chip stocks in the market. Goldman has a buy rating on Penn National and DraftKings. According to Goldman, Penn has a projected increase of 30%, and DraftKings has a growth projection of 21% over the next 12 months.
Watch Out for Michigan
Not only are the top-seeded Michigan Wolverines heading into the Sweet 16 of the tournament, but Wall Street analysts are also watching the state to see how it performs in March.
Michigan legalized online sports betting and casino gaming in mid-January. With the state having the 10th largest U.S. population, it is now being a testing ground for Wall Street on what state markets could look like if states legalize online sports betting and casino gaming at once.
Also, Michigan allows for betting on in-state colleges, which is a big deal this time of year, especially with the University of Michigan making it to the Sweet 16. Bettors and alumni in the state can bet on the team in the later rounds as they try to get one game closer to a championship.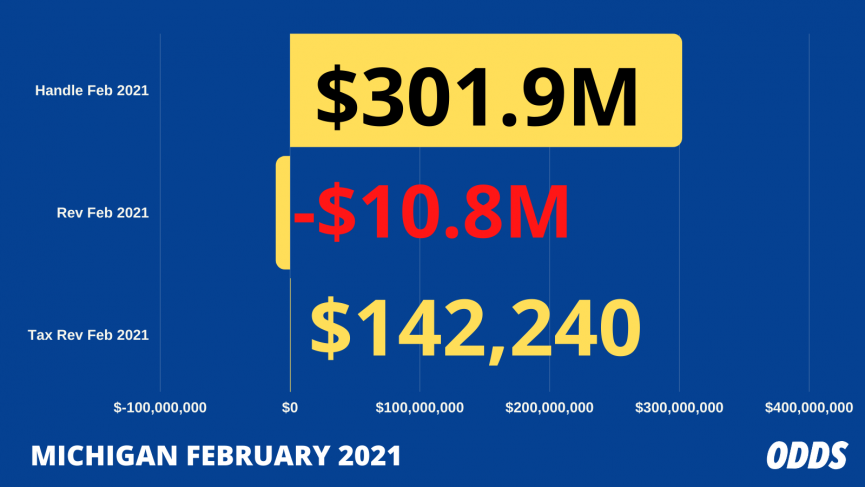 The state has 12 major operators running sportsbooks and online casinos. Names like DraftKings, FanDuel, BetMGM, and Barstool Sportsbook claimed their spot in the first weekend of legal sports betting in Michigan.
The competitive market will be interesting to watch as most major sports betting players will all try to capture market share in what has been a fairly even playing field. This could give Wall Street an idea of which sportsbooks are truly the best instead of focusing on ones that just enter more states or enter early.
The operator's quality could become a focal point in Michigan, where truly the best sportsbook for the common bettor will decide who will rise to the top.