March Madness 2021 Betting Projections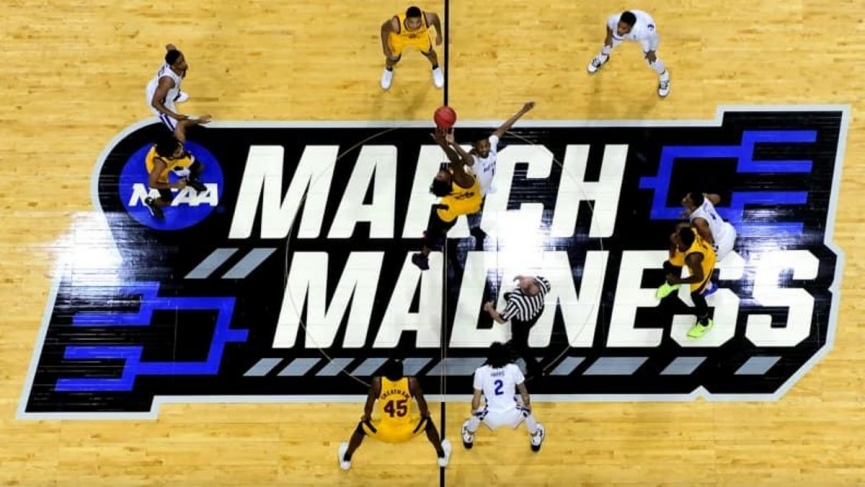 March Madness 2021 betting officially kicked off yesterday with the games being announced and Americans eagerly filled out their brackets with the hopes to get it right all the way to the finals and make some money.
By the way, if you were wondering, the odds of picking all 63 games correctly by a coin flip is 1 in 9.2 quintillions. How much is that exactly? According to the NCAA, a group of researchers at the University of Hawaii estimated that there are 7.5 quintillion grains of sand on Earth.
If we were to pick one of those at random, and then give you one chance to guess which of the 7.5 quintillion grains of sand on the entire planet we had chosen, your odds of getting it correct would be 23 percent better than picking a perfect bracket by a coin flip.
AGA expects fewer Americans to fill out a bracket this year,( can't blame them with those odds) 36.7 million Americans to be exact, down 8% from 2019 yet 30.6 million Americans will place more traditional bets on this year's tournament, up from 17.8 million in 2019.
17.8 million will place a bet online, up 206% from 5.8 million in 2019 which operators like Draftkings, Fanduel, and BetMGM are ready for and 8.3 million will place a bet at a physical sportsbook, up 79% from 2019.
How many Americans Bet on March Madness This Year?
According to a press released from the AGA yesterday, more than 47 million Americans will place bets on the 2021 March Madness tournament, with online and physical sportsbook betting expected to grow dramatically compared to 2019 because of sports betting legalization across many states.
More than 47m Americans will place bets on the 2021 March Madness college baseketball tournament, with online and physical sportsbook betting expected to grow dramatically compared to 2019, according to new data from the @AmericanGaming Association

— Chris Sieroty (@sierotyfeatures) March 14, 2021
Interest in the tournament is up slightly from 2019, with 26% of Americans saying they are extremely or very interested in the tournament, compared to 23% two years ago
"The sports betting landscape has changed dramatically since 2019 – and as a result, tournament betting has transformed," said AGA President and CEO Bill Miller. "As consumers formerly limited to bracket contests now enjoy access to legal sportsbook options, they also plan to place traditional sports bets as March Madness returns."
Joe Asher, CEO of William Hill US has high hopes for this year's tournament betting "I think it's going to be very heavily bet, just look at how much betting is up as a general matter, and layer on top of that the fact that we didn't have it last year. There's unquestionably a lot of pent-up demand. In many ways, it's a signal that America is coming back. Beyond the sports betting aspect, it flows into the whole COVID recovery story."
$DKNG $PENN $DKNG – DraftKings, Barstool and BetMGM prep for big March Madness run https://t.co/zK33h7ovU3

— Money Message (@moneymessage_) March 15, 2021
Johnny Avello, head of race and sportsbook for DraftKings, expects the three-week tournament to draw more betting action than Super Bowl, a one-day event.
What action is coming in so far? DraftKings "is seeing a considerable amount of action" on teams that bettors pick to win the entire tournament, as well as the Final Four teams.
"We are expecting a whirlwind of total overall action on this year's tournament," Avello said. "College basketball handle has been up significantly this year, and I do not anticipate a deceleration, not now when we're on the outset of one of the biggest sporting events of the year. Although the setup and configuration are going to be different from past years, I can usually gauge the interest from the conference tournaments. I am not disappointed in what I've observed thus far."
Which States Can Bet on College Sports?
We know that 25 states and Washington, D.C. have legalized sports betting, with 21 legal markets operational. 17 states currently have active or pre-filed legislation to legalize sports betting. Just because sports betting is legal in your state, doesn't mean you can bet on collegiate sports.
Many states have banned betting on college teams or some have restrictions in place. Which states will be contributing to the 2021 March Madness betting handle?
New Jersey sportsbooks are not allowed to accept wagers on NJ-based teams or any college basketball games played in the state. What does that mean for March Madness? As long as you use a licensed online sportsbook operator or brick in mortar casino within the state limits of NJ you should be ok with placing your bet on teams that are not from New Jersey.
Colorado will be more than happy to take your March Madness action except for prop bets which are not allowed.
Illinois and West Virginia have no restrictions in place for betting on March Madness and operators are eager to take your action.
States with huge college programs like Indiana, Pennsylvania, Iowa, Michigan, and Tennessee will all be betting legally this year on March Madness.
Nevada is the most mature betting market and casinos and online operators are looking forward to a tournament full of betting.
Who Are The Favorites For 2021 March Madness?
Gonzaga University is the betting public's favorite to win the tournament (17%), followed by Florida State University (11%) and Baylor University (8%).