BetMGM Q4 Earnings and 2021 Projections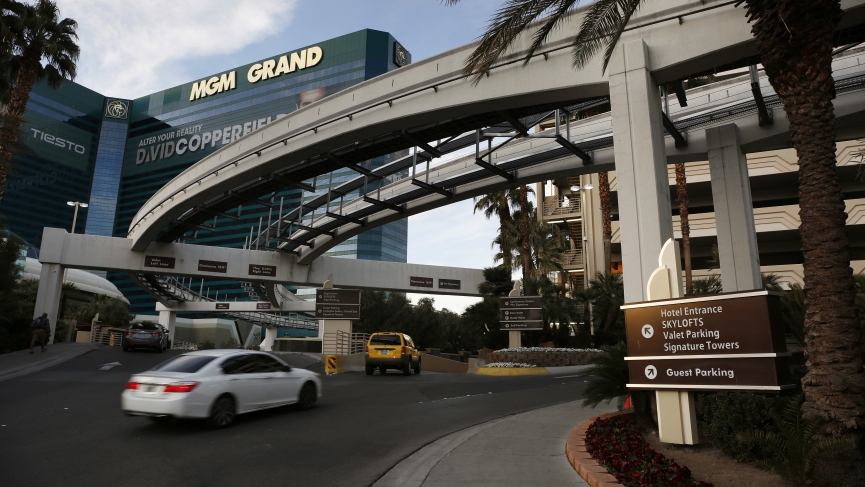 BetMGM, like all gaming operators, had a roller coaster year in 2020. The stock(MGM Resorts International (MGM)) fell to a low of $5.90 in mid-March when the market had a sell-off due to Covid-19. MGM Resorts were decimated with fear of traveling during a pandemic.
With BetMGM having sports betting operations in 10 states and MGM Resorts International saying it will resume full hotel operations in March, things look positive for the company.
BetMGM Sports Betting Growth
Before the start of 2020, BetMGM was only operating in New Jersey and Pennsylvania. The sports betting market heading into last year was also a bit smaller, and there were fewer states online and taking bets.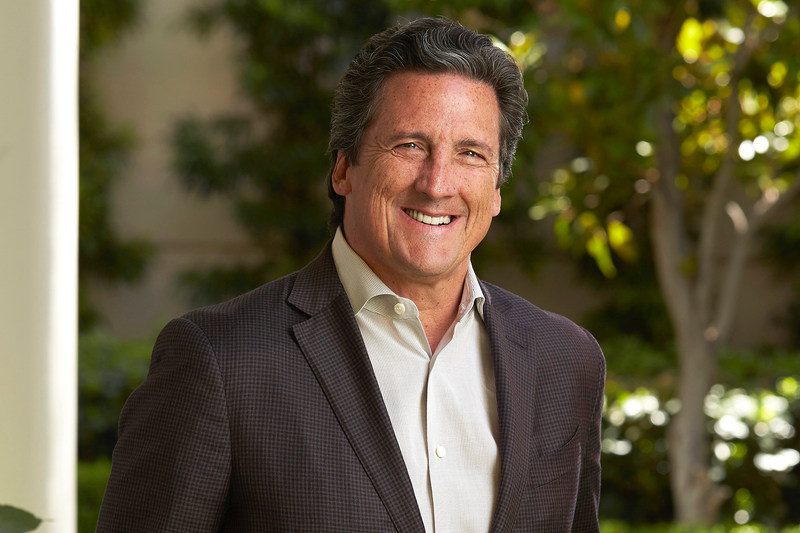 As of writing, BetMGM is now live in 10 states and plans to add more to the list, and legalization continues to expand across the country. MGM Resorts CEO Bill Hornbuckle said on an earnings call last week that it finished 2020 with $178 million in net revenue, beating expectations of $150 million to $160 million.
However, the company still lost $114 million thanks to Covid-19. Hornbuckle believes that revenue will double in 2021 with a full year of sports on the schedule and more growth coming. He expects to receive $356 million in net revenue.
BetMGM has become one of the top sportsbooks to use in the U.S. in 2020. According to Eilers & Krejcik, it is the top sportsbook in Tennessee and second in Colorado. The sports betting operator is third in Indiana, New Jersey, and West Virginia.
Hornbuckle and BetMGM CEO Adam Greenblatt explained how important it is for BetMGM to be one of the first sportsbooks to launch in a state. The betting site launched in Tennessee on the first day and has gained 34% of the market share. Greenblatt explained the most important data is how much money people are putting into their BetMGM accounts. In January, $13 million was deposited from BetMGM users, which is the company's driver.
Of course, Super Bowl LV brought excitement to BetMGM. It saw 11 times more bets made and a handle 17 larger from last year's Super Bowl. However, the company suffered an outage before and during the game, which did not make the two MGM executives happy.
Big News for MGM Resorts
Not only is BetMGM expected to have a better year in 2021, but MGM also announced that its hotels would resume full operations in Las Vegas started in March. The announcement came on Wednesday that Mandalay Bay, Park MGM, and The Mirage resort will open on March 3.
The company says it sees demand to travel again and forgo the mid-week closures that it has suffered due to the pandemic.
"As we begin to see positive signs around the public's sentiment about traveling, coupled with important progress on the vaccination front and decreasing COVID-19 case numbers, bringing Mandalay Bay, Park MGM, and The Mirage back to full-week operations is an important step for us," said Hornbuckle.
MGM also announced last week that it would be increasing capacity at two of its shows and reopening two more shows. Brad Garrett's Comedy Club at the MGM Resort and Carrot Top and "Fantasy" show at the Luxor hotel-casino will resume next month.
Stock Trending Upwards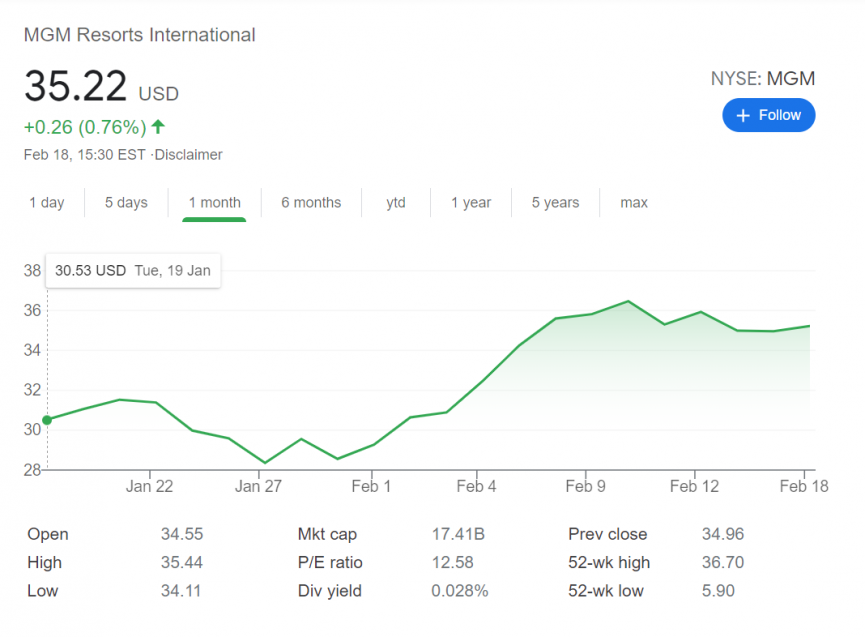 In the last 30 days, the stock has risen from a low of $27.81 to $35.50 and has also outperformed the S&P 500 by nearly 9% since the start of the year. The earnings report did show it did lose .90 per share but still beat expectations with Zacks Consensus Estimate of a loss of $0.96, and improved from losing $1.10 per share a quarter ago.
Despite the down year, 2021 looks to have a better outlook, and people are starting to notice.
Bank of America analyst Shaun Kelley upgraded MGM's target price from $25 to $35. Kelly also upgraded the stock from underperform to neutral. His reasoning is the bullish outlook on online sports betting and seeing more Las Vegas recovery this year.
Rich Duprey of the Motley Fool explained why MGM is a great bet moving forward.
"MGM Resorts has put together the pieces for a sports betting empire of its own for when more states open up, not to mention that online casino gaming could become of critical importance until the coronavirus pandemic is once and for all behind us."
Gaming stocks are trending upward, and the growth of MGM could have it see a great 2021. From Las Vegas recovering to sports betting growth, MGM should see a rise in price as the year continues.
BetMGM, DraftKings, or FanDuel?
MGM could the best bet in 2021 with the stock price it is currently sitting at. The sports betting operator runs in 10 states, which is tied with FanDuel and three behind DraftKings. However, MGM is trading between $34-$35 compared to DraftKings ($58-$59) and FanDuel ($95-$96), showing BetMGM is undervalued as one of the top sportsbooks in the U.S.
When BetMGM can get into a state early in its launch, the sportsbook competes well with DraftKings and FanDuel. In the first two months in Tennessee, BetMGM is the market leader over DraftKings and FanDuel.
First look into the opaque #TN online #sportsbetting market: Since launch (11/1/2020), GGR share distro pretty evenly split between the big 3, per our ests and checks. The results reflect a particularly strong Dec. for BetMGM. (Caveats—GGR, sample size, variance, etc.—apply.) pic.twitter.com/tK5SJn6SbN

— Chris Krafcik (@CKrafcik) February 10, 2021
MGM clearly has a product in the sports betting industry that people want and will help the company compete with DraftKings and FanDuel. This makes it's stock valuable compared to the other two sports betting leaders.
With MGM on the same level as FanDuel and closing in on Draftkings, the growth potential is endless.