Super Bowl 55 Odds For Each NFL Team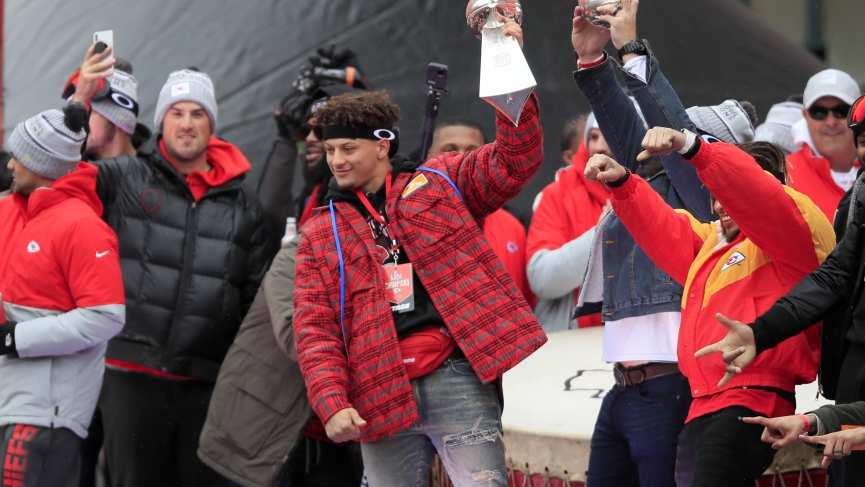 With NFL free agency winding down and teams preparing to see "Injured – COVID-19" next to players' names on the injury list, it's time to look at the Super Bowl odds for all 32 teams. The Kansas City Chiefs and San Francisco 49ers met in last year's Super Bowl finale but spoiler alert: Odds suggest there is another team in the AFC that could crash the Super Bowl party in 2021.
Odds provided by Fanduel Sportsbook and updated May 21, 2020
Kansas City Chiefs 6.5 to 1 (+650)
These guys deserve to be the odds-on favorite to hoist the Lombardi Trophy but keep in mind there has not been a Super Bowl repeat champion in 15 years. I wonder why that is? I also wonder why Patrick Mahomes likes ketchup so much? Let's face it, this guy is doing things we have not seen before. That shine may wear off soon but not in 2020. The Chiefs grabbed the option on RB Damien Williams, which was a good move, and then made sure DT Chris Jones will stick around, which was a great move. If they don't win it, the Super Bowl goes through Kansas City. If you think this season can play out six times and the Chiefs win at least once then you should jump on the early offering of 6.5 to 1 odds.
Baltimore Ravens 7 to 1 (+700)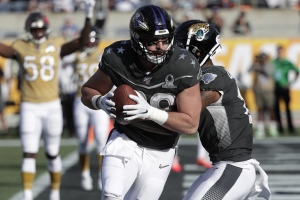 How long will it take the rest of the league to figure out Lamar Jackson? Last year's MVP dazzled, had a week off to think about it, and then immediately faltered against the tyrant-slaying Titans in the playoffs. It's OK that the Ravens have not added any weapons to the offense because Jackson still remains one of the NFL's three biggest weapons. On the other side of the ball, they acquired DEs Calais Campbell and Derek Wolfe and re-signed DT Jihad Ward. The AFC North will be their playground but impending regular-season dominance doesn't always translate into a Super Bowl win. But if the Ravens can escape the AFC, their 7.5 to 1 odds offered at NJ sportsbooks seems very attractive.
San Francisco 49ers 9 to 1 (+900)
The Niners surprised everyone last year when they opened with an impressive 8-game win streak en route to a Super Bowl appearance. But does the natural inclination of linking this team to previous San Fran dynasties make any sense? Cool your jets — it's way too early. They reinvested in their staunch defense by renewing DT Arik Armstead and S Jimmie Ward, which is good news for QB Jimmy Garoppolo. He should be flashing that sly grin into late January. If they can finish atop the heady NFC West, then look out. But booby traps in Seattle and Glendale pose significant threats.
New Orleans Saints 12 to 1 (+1200)
How many tragic playoff exits can one team endure? These guys are due. Drew Brees, who signed a 2-year extension in the offseason, is hoping to finally right the ship and get the Big Easy back to the Super Bowl. The Saints let backup Teddy Bridgewater walk, instead of committing to the versatile Taysom Hill. Poaching WR Emmanuel Sanders away from the 49ers was huge. They also bolstered both sides of the line by signing DT David Onyemata and OG Andrus Peat. New Orleans should roll to their fourth straight NFC South title and anything short of a Super Bowl will be another disappointment.
Philadelphia Eagles 19 to 1 (+1900)
Philly is coming off an NFC East title but no team has repeated in that division since the Eagles held a four-year reign in the early 2000's. So if recent history teaches us anything, Carson Wentz and Co. may have to win this thing as a wild card. A tall order, indeed. CB Darius Slay joins the party and will help to strengthen the Philly secondary after the surprising departure of locker room general Malcolm Jenkins. Still, the Eagles have a long way to go in an uncertain division.
Tampa Bay Buccaneers 15 to 1 (+1500)
Let's call this the Tom Brady and the Gronk effect. As soon as news broke that TB12 was headed down south, the Buccaneers' futures odds shot through the roof. My advice: Don't believe the hype. Sure, they have three great scoring threats in WRs Chris Godwin and Mike Evans along with TE O.J. Howard, but will the O-line be able to protect the 42-year-old future HOFer? Perhaps. There are some questions on defense and I'd be shocked if they could unseat the Saints atop the NFC South. It will be fun to watch this experiment. The Super Bowl will be played in Tampa this year but Brady will not be on field. Even at a payout of 15 to 1, I'd pass on this bet.
New England Patriots 23 to 1 (+2300)
The best quarterback in league history took his talents to the Gulf of Mexico and with that single move, the Patriots' stranglehold on the AFC East is now over. And his replacement? Brian Hoyer! New England has already thrown cold water on any possible Cam Newton or Jameis Winston signings. How long will a 67-year-old Bill Belichick hang around? This is a team trending down. Way down. Sorry New Englanders, but this wicked party is over.
Dallas Cowboys 17 to 1 (+1700)
This is probably one of your best value picks. The NFC East is one of the more lacking divisions in the league so if Dallas can retake it and start the playoff run at home, good things can happen. Dak Prescott is negotiating a long-term deal but the Cowboys also renewed two big targets for him in WR Amari Cooper and TE Blake Jarwin. The addition of Pro Bowler DT Gerald McCoy makes up for several other losses on that side of the ball.
Seattle Seahawks 21 to 1 (+2100)
Another quality pick. Seattle was just two games away from last year's Super Bowl and if the Seahawks can escape a loaded NFC West, they have a great chance of going to the show. No one likes playing in Seattle. Nobody! It's a long flight, the stadium is loud and the weather is always a factor. In order to win the division, the escape artist known as Rusell Wilson will have to build on his connection with Will Dissly as an added set of veteran hands in Greg Olsen also joins the TE ranks. Resigning DT Jarran Reed was another solid move. Betting on these guys will return the biggest bang for your buck.
Green Bay Packers 25 to 1 (+2500)
Under new coach Matt LaFleur, the Pack made significant strides in the right direction during the 2019 season. The clock is obviously ticking for QB Aaron Rodgers who still doesn't have enough weapons around him. TE Jimmy Graham and WR Geronimo Allison have left and the meager addition of WR Devin Funchess will hardly stop the bleeding. They should handle the NFC North, but the buck stops there. Green Bay has been a solid futures bet for the past few years, but I would walk away from this one.
Pittsburgh Steelers 24 to 1 (+2400)
Just don't know what to think about these guys. Big Roethlisberger's health is obviously a major factor. And they always seem to be in the mix. If the NFL playoff expansion to a 14-team postseason format happened in 2010 instead of 2020, then Pittsburgh would have made the playoffs an additional four times this past decade. My point is that they are always within striking distance. Can they get over the hump though? I think there's far too much talent in the AFC. This could be Big Ben's final season and he should be happy just to make the playoffs.
Buffalo Bills 27 to 1 (+2700)
This Josh Allen guy is surging. And the addition of Stephon Diggs will only help things. On the other side of the ball, they signed LB Mario Addison, who averaged close to 10 sacks a season for the past four years in Carolina. CB Josh Norman was also added and if he can rekindle his career, then this defense will be filthy. Speaking of filth, the #BillsMafia are starting to rival Euro soccer hooligans with their pregame antics. If they can keep their buzz going, Buffalo will win the AFC East and make a serious playoff run.
Indianapolis Colts 24 to 1 (+2400)
Philip Rivers coming to Indy wasn't even the team's biggest move this off-season. First of all, watch the 38-year-old Rivers falter early and lose his starting spot to a hungry Jacoby Brissett by mid-season. The trade for DT DeForest Buckner, who was a beast for the 49ers during last year's Super Bowl run, could be the final piece for this defense. A defense that will pick up the slack for an inconsistent offense.
Minnesota Vikings 28 to 1 (+2800)
The Minneapolis Miracle was fun but that was two years ago. Get with the times! The recipient of said miracle, the touchdown-scoring, and helmet-tossing Stefon Diggs, was traded and now the Vikings have an extra first-round pick. Diggs needs to be replaced because Adam Thielen sure can't do it by himself. The defense could be exposed in the middle as run-stopping DT Linval Joseph left for the Chargers. Kirk Cousins needs to have the best year of his career if these guys want to make any noise.
Tennessee Titans 30 to 1 (+3000)
This team was the biggest surprise of last season and the front office thinks they're onto something. That's why they re-signed QB Ryan Tannehill to a $118 million contract and placed the franchise tag on their beast of a running back, Derrick Henry. Expect more big things from Henry this season. The addition of  DE Vic Beasley will give this defense even more reason to rage in the AFC South. They may start out slow again this year but matching their AFC Championship run in 2019 seems very possible.
Chicago Bears 40 to 1 (+4000)
The quarterback drama in Chicago will be fun to watch. The Bears moved up in the 2017 draft to take Mitch Trubisky second overall but apparently, he's not working out. They traded for Nick Foles this off-season and head coach Matt Nagy expects a wide open QB competition. Re-signing LB Danny Trevathan was a significant move, but the Bears find themselves on the outside, looking in on a two-horse race in the NFC North.
Cleveland Browns 34 to 1 (+3400)
All the hype was around the Browns this time last year and oh, how things have changed. There's a big question mark surrounding Odell Beckham Jr. about his commitment to the franchise and his connection with QB Baker Mayfield. The Browns did get some solid production from RB Kareem Hunt late in the season and placed the second-round tender on him for 2020. But the defense lost three players in the secondary and two LBs to free agency, which should set the team back even further.
Los Angeles Rams 28 to 1 (+2800)
I think the odds for our boys in La-La Land are a little too lofty here. As in: Don't make this bet. A lot of the headlines were about running back Todd Gurley leaving but the biggest issue is the defensive exodus of starters Dante Fowler Jr., Cory Littleton, and Michael Brockers. WR Brandin Cooks could be traded and putting all the pressure on QB Jared Goff will never pay off.
Atlanta Falcons 46 to 1 (+4600)
The Falcons are still suffering from their Super Bowl LI hangover and perhaps Todd Gurley will serve as an offensive Ibuprofen. But Gurley's health is also questionable. He won't have to carry the whole load as Brian Hill and Ito Smith could spell him what about Matt Ryan? He still has one of the league's best WRs in Julio Jones. There should be no excuses. OK, their defense. That's a good excuse for their mediocrity. Losing DE Vic Beasley doesn't help things.
Denver Broncos 60 to 1 (+6000)
RB Melvin Gordon joins a crowded backfield that already features Phillip Lindsay and Royce Freeman, which should also take some of the heat off QB Drew Lock. Joe Flacco is gone but he was hardly elite during his brief stint at Mile High. Pro Bowl cornerback Chris Harris leaves town but Denver scored CB A.J. Bouye in a trade with Jacksonville. It doesn't matter because owner John Elway will still be grinding his teeth when his team misses the playoffs yet again.
Arizona Cardinals 50 to 1 (+5000)
The Cardinals are making a big climb up the futures ladder and it all starts with QB Kyler Murray, who had some flashes last season and could have a breakout season in 2020. Aside from taking aim at the ageless Larry Fitzgerald, who signed a one-year swan song contract, he now has WR DeAndre Hopkins at his disposal. RB Kenyan Drake will be their workhorse. Signing DT Jordan Phillips and LB Devon Kennard helps. The Cardinals play in probably the best division in football so if they can miraculously finish atop the NFC West, then a Super Bowl could be in their immediate future.
Houston Texans 46 to 1 (+4600)
The ridiculous move by the Texans to unload DeAndre Hopkins, arguably the league's best wide receiver, for an aging running back in David Johnson probably sealed their fate. The team's SB odds dropped from 30/1 to 80/1 after the trade. And for Bill O'Brien to defend the move as 'in the best interest of the team' leaves plenty of questions. Has he already lost the locker room? I feel bad for Deshaun Watson, and for anyone who bets on this team to win the Super Bowl.
Las Vegas Raiders 60 to 1 (+6000)
Vegas, baby. Vegas! The Raiders have been one of the most active teams in free agency as they even added Jason Whitten. Isn't that cute? Apparently, they're sticking with Derek Carr as their signal-caller but they also brought in Marcus Mariota, which just reeks of a mid-season quarterback controversy. Speaking of Whitten, they also have last year's star Darren Waller and Nick O'Leary among their TE ranks. If the ice hockey team in Vegas can crash a championship party, then maybe the Raiders can get lucky, too.
Los Angeles Chargers 32 to 1 (+3200)
Re-signing RB Austin Ekeler and putting the franchise tag on TE Hunter Henry were great moves but a bigger question looms under center after the expected departure of Philip Rivers. Tyrod Taylor has always been the bride's mate but never a bride. Maybe things change this year with yet another change of scenery? I doubt it. With the addition of Chris Harris, the Bolts now have a nice trio of cornerbacks but these guys are not going to the show. They're still a few years away.
Detroit Lions 66 to 1 (+6600)
These guys haven't even sniffed the playoffs since 1991. But wait, there's more! Detroit is one of four teams in the league to never even play in a Super Bowl. That's just sad. And the tears will continue in 2020. Matthew Stafford is back from a back injury and has spent the offseason denying trade rumors. They are, by far, the worst team in the NFC North.
New York Giants 80 to 1 (+8000)
Ahh, my beloved Giants. What can I say about these bastards? I was born and raised near the filthy swamps that provide the lovely backdrop outside of MetLife Stadium. So I know what I'm talking about. Sort of. Danny Dimes is competent but his best years are ahead of him. I truly think they should redshirt Shaquon Barkley until they shore up the offensive line. But these guys have pulled off surprises before. If they can win the NFC East, which has not had a repeat winner in the past 15 years, then watch out.
New York Jets 70 to 1 (+7000)
Even after Brady leaves the division, the Jets are still dead in the filthy swamp water. Mainly because the Bills and Dolphins have made big moves. However, they have revamped their offensive line with the free-agent signings of OT George Fant and C Connor McGovern. But will it be enough to open things up for an aging Le'Veon Bell, who was a disappointment during his first season with Gang Green.
Carolina Panthers 70 to 1 (+7000)
This is a new team because Cam Newton … he gone! Now the Panthers welcome QB Teddy Bridgewater on a $63 million contract and back-up Kyle Allen for good measure. RB Christain McCafferey is a beast and once again, he will be unleashed. WR Robby Anderson enters the fray and could be a strong target for Bridgewater. If Carolina can survive Luke Kuechly's retirement on defense and at least split its regular-season series with the Saints, then these guys could be a dangerous out.
Miami Dolphins 80 to 1 (+8000)
Things could get very interesting in South Beach if Tua Tagovailoa suits up for the fish. A healthy Tua could become a one-man highlight reel, much like when Robert Griffin III made
jaws drop during his rookie season, and led the Redskins to the playoffs. But we're talking about the odds of winning a Super Bowl here and if Miami does that, then I will shave off one of my eye brows and mail the clippings to you.
Cincinnati Bengals 150 to 1 (+15000)
Joe Burrow to the rescue? Gimme a break. A.J. Green quit on this team last year (or didn't want to play — same thing) and they're bringing him back. Go figure. Too much dysfunction. They play in too tough of a division. I believe this team will finish with the worst record in the league.
Washington Redskins 150 to 1 (+15000)
Everything about this team is suspect. Not even sure why Ron Rivera would take this coaching job. Dwayne Haskins is years away and the defense is littered with holes. I suspect the Redskins will not be favored in a single game this season, and that includes Week 15 when the woeful Bengals visit our nation's capital.
Jacksonville Jaguars 200 to 1 (+20000)
This team could pull out at least three wins based solely on Gardner Minshew's mustache alone. I mean have you seen this guy? He makes Joe Exotic look like Mike Mularkey. Sure, it will be a tough season in DUUUUUUVVVVVAAAAAL County but the worst odds in the league? I'm not buying it.