NFL Betting on Green Bay Packers Super Bowl Odds After The Draft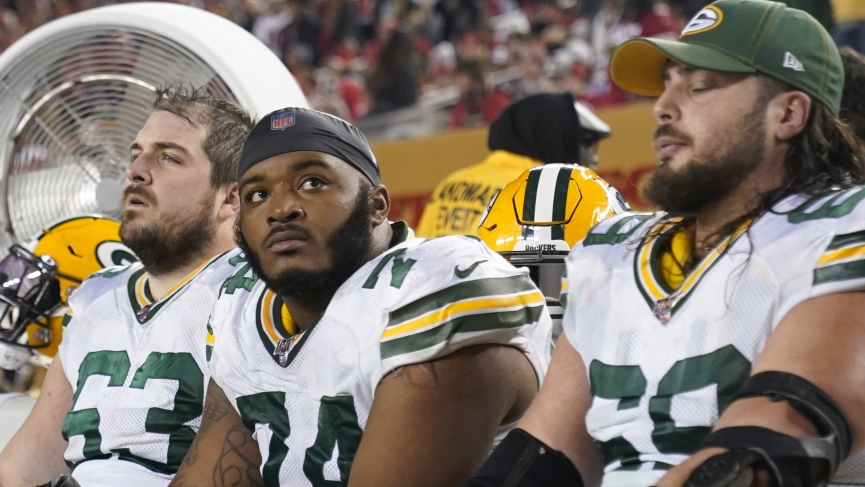 The Green Bay Packers made it all the way to the NFC Championship Game last season, only to get trounced by the San Francisco 49ers. It was a big stepping stone for the Packers to get that far, considering they had a first-year head coach and missed the playoffs in each of the previous two seasons.
Green Bay Packers futures odds – The breakdown
The Packers' recent draft acquisitions could derail everything this team has been building towards. Instead of getting QB Aaron Rodgers some offensive skill-players to help move the ball, Green Bay went ahead and drafted his understudy – Jordan Love out of Utah State – in the first round. Not only did the Packers draft Love, but they traded up a few picks in order to do. If that's not a slap in the face, I don't know what is.
Perhaps, there are some favorable odds at some sportsbooks on the Packers to possibly win the NFC – or even the Super Bowl. This bitterness between Rodgers and the front office/coaching staff could wind up being a motivating factor.
Green Bay Futures Odds at Fanduel Sportsbook
| | |
| --- | --- |
| Super Bowl Odds  | +2500 |
| NFC Conference Title Odds  | +1300 |
| NFC North Division Title Odds  | +175 |
| To Make Playoffs | Yes: -152 | No: +126 |
| Win Total: 9 | Over: even | Under: -120 |
Green Bay Futures Odds at DraftKings Sportsbook
| | |
| --- | --- |
| Super Bowl Odds  | +2800 |
| NFC Conference Title Odds  | +1400 |
| NFC North Division Title Odds  | +175 |
| To Make Playoffs | Yes: -143 | No: +118 |
| Win Total: 8.5 | Over: -118 | Under: -104 |
What Went Right for the Packers Last Season?
The Packers are coming off a strong 13-3 campaign, with a big helping hand coming from the defensive side of the ball. There were plenty of great offseason moves that proved to be more meaningful than thought so that production will still need to be there. The Packers secondary is absolutely loaded with talent – CBs Jaire Alexander, Kevin King, Tramon Williams, and S Adrian Amos – and is probably the best collection we'll see in the league. Luckily, the offenses in the NFC North aren't that great, so Green Bay's secondary will shine.
No, we're not forgetting one of the most dynamic wide receivers in football, Davante Adams. It was fascinating to watch opposing defenses double-team and draw up whacky defensive schemes to challenge him each week – yet, he still found every which way to beat them. Adams finished the year with 83 catches on 127 targets for 997 yards and five TDs despite missing four games. Allen Lazard also proved to be someone finally worthy of having the WR2 role in this offense.
What Went Wrong for the Packers Last Season?
There weren't a ton of negatives in a 13-3 season, but the offense did prove to be somewhat stagnant at times. RB Aaron Jones had a fantastic year with 1,084 yards and 16 TDs on the ground while also notching 49 catches on 68 targets for 474 yards and three TDs through the air.
However, the offense was a little too reliant on Jones more than Rodgers probably would have liked. And it's understandable, playing late-season games in cold weather at home in addition to wherever they are on the road some weeks. Rodgers will turn 37 in early December, so perhaps the Packers are preparing for life without him – hence the draft pick spent on Love.
How Will the Packers Fare at the End of This Season?
This could very well be another NFC North division title for the Packers. Although the Minnesota Vikings are talented, we have seen QB Kirk Cousins falter in plenty of big spots.
In my opinion, the smarts NFL picks to take here would be the Packers to win the NFC title (+1300/+1400) and Super Bowl (+2500/+2800). It's not so much that they are the most likely outcomes to happen, rather they are the most profitable. The NFC isn't as stacked as most people think, and all it could take would be a freak injury to have the Packers in the driver's seat.
Green Bay will certainly need to let Rodgers do what he does best – throw the football – and make some more plays before his time is done as a Cheesehead. As we mentioned, motivation can sometimes be a very powerful fuel. It's time to see that theory put to the test, and Rodgers to shut up the naysayers – even the ones in his own team's building.