Betting Odds For Who Cam Newton Plays For In 2020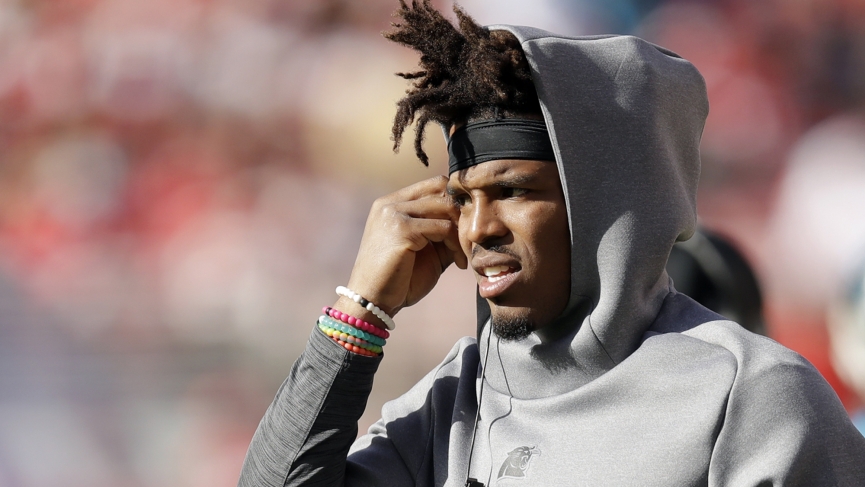 Chargers (+200) are short a QB, can Newton make a difference?
What kind of ROI could Newton give the Jaguars (+350)?
Can acquiring Newton be the right move for the Broncos (+550)?
Patriots (+550) minus Brady equals Newton? Does picking him up make sense?
Does Newton bring enough to the table to strengthen the Steelers (+1500) ?
On Tuesday, the Carolina Panthers officially released quarterback Cam Newton after failing to find any interest for him on the trade market. The 2011 number one overall draft choice had quite a run in Carolina, that peaked in 2015 when he led the Panthers to a 15-1 record, earned a trip to the Super Bowl, and captured the NFL MVP award that same season. But after battling various injuries and undergoing multiple procedures over the last few years, NFL teams have plenty of questions about the durability and play making of the now 30-year-old QB. So just where will Newton be playing when the 2020 season kicks off? Here are some of the potential landing spots with the current odds for each.
 Odds courtesy of FanDuel Sportsbook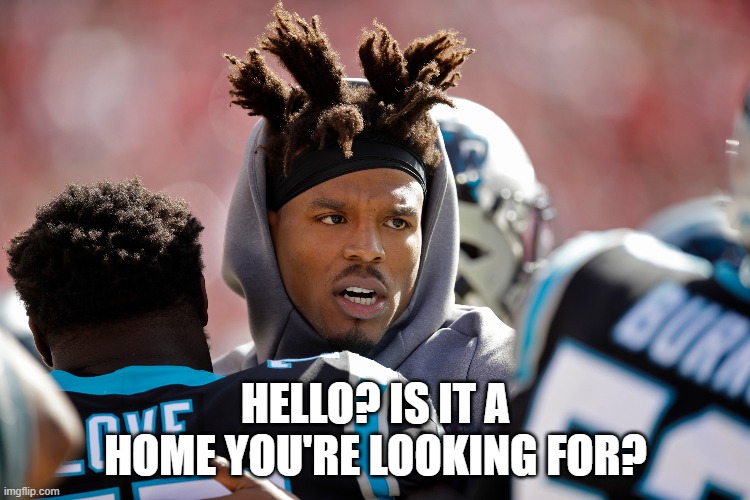 Los Angeles Chargers 3 to 1 (+200)
The Chargers have the second-shortest odds on the board to sign Newton at +300. Going to L.A. would ensure Newton would have a loaded receiving corps, so long as Keenan Allen, Mike Williams, and tight end Hunter Henry are around. The Bolts struggled up front along the offensive line last season, but a lot of that was due to injuries. Overall, the team remains well-positioned, with swaths of talent at every position except quarterback (no disrespect to Tyrod Taylor intended). Even at this stage in his career, Newton is certainly more mobile than ex-Charger Philip Rivers.
 Jacksonville Jaguars (+350)
With the trades of Jalen Ramsey, Calais Campbell and last year's big-money quarterback acquisition Nick Foles, the Jaguars have made it clear that they plan to rebuild sooner than win. While Cam Newton could certainly fill out a contending roster, or even one that's just a few pieces away, it's somewhat difficult to see the Jaguars providing him with a contract when they already have Gardner Minshew on the team. In Foles' absence last season, Minshew more than proved he belongs in the NFL. On top of that, the Jags boast one of the NFL's worst offensive lines, making it somewhat of a surprise that they have the second shortest odds to sign Newton.
The Jacksonville Jaguars @_fournette is lobbying for his team to pick up Cam Newton. They currently sit as the third favorite to sign him at +350.#Duuuval #CamNewton #NFL pic.twitter.com/hUUQ63MrU7

— The Vig (@TheVigBets) April 17, 2020
 Denver Broncos (+550)
The Broncos have been bringing in a veteran quarterbacks to be "there guy" seemingly every offseason since Peyton Manning retired. Even with the array of options on the market this year, John Elway has elected to stand pat (thus far at least) with second-year signal caller Drew Lock, who impressed in a limited sample size down the stretch last season. Denver cut ties with Joe Flacco, and with no clear alternative option in place should Lock sputter, acquiring Newton even as a backup option makes a lot of sense. The biggest question would be whether or not Newton would be willing to accept what would potentially only be a second-string role.
New England Patriots (+550)
With Tom Brady now a Tampa Bay Buccaneer (good luck getting used to that!), the Patriots have a question mark at quarterback for the first time in two decades. The in-house replacement for Brady is second-year man Jarrett Stidham, who like Newton, played his college ball at Auburn. And while Bill Belichick has made a living off of bringing in castaway veterans, there are a few major hurdles standing in the way of a Newton signing. The biggest is the Patriots' lack of cap space. And as for the secondary factor, well, do you really envision Newton and Belichick getting along well enough to be an effective tandem?
Pittsburgh Steelers (+1500)
The Steelers find themselves in a similar boat to the Broncos in lacking a reliable second option to their starting QB. The difference of course is that 38-year-old Ben Roethlisberger is much older than the 23-year-old Lock. If last year proved anything, it's that behind Big Ben, Pittsburgh's QB depth chart is shot. And while he is recovered from his elbow injury, he isn't any younger. Signing Newton would be a strong move given that the Steelers, with a reliable quarterback under center, are firmly in the contender conversation. The question is whether one of the NFL's most buttoned-up franchises will write the check to bring Newton aboard.
Other Teams
FanDuel Sportsbook also lists the Miami Dolphins (+370), Washington Redskins (+750) and Las Vegas Raiders (+1200) as possible destinations among the Cam Newton new team odds. The following reasons suggest why those teams probably aren't likely landing spots.
Dolphins: projected to draft former Alabama QB Tua Tagovailoa
Redskins: signed former Panthers QB Kyle Allen to a deal this week (odds to land Newton were +250 prior to this move)
Raiders: signed former Tennessee Titans' QB Marcus Mariota as backup to Derek Carr