Dallas Cowboys Odds to Win Super Bowl 55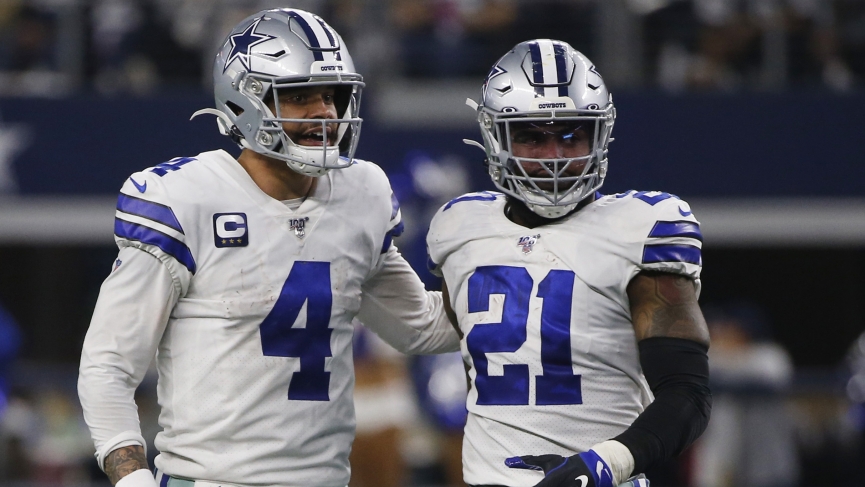 NFL Odds to win Super Bowl: 17 to 1 (+1700)
NFL Odds to win NFC Championship: 17 to 2 (+850)
NFL Odds to win NFC East: +105 *Note that Cowboys are favorites to win the division
(Odds provided by Fanduel Sportsbook)
The Dallas Cowboys and franchise quarterback Dak Prescott still have not reached terms on a long-term contract as that ongoing saga has taken a backseat to the emergence of new coach Mike McCarthy and the expectations that he will usher in a new winning attitude for Big D. The Cowboys have advanced to the playoffs in three of the past six years but they haven't even sniffed an NFC Championship appearance since 1995. So these boys are due.
They play in a soft division and they're coming off another successful draft so anything short of winning the NFC East and hosting a first-round playoff game will be seen as a huge failure. They have the fifth-best NFL odds of winning the Super Bowl (currently set at 17 to 1) as getting to the big show should be a realistic goal. They hit the lottery by landing Prescott and running back Zeke Elliott in the same draft but that window is slowly starting to close. Or is it? Jerry Jones now has to open his checkbook as Elliott signed a monster contract last season and Prescott, currently under the team's franchise tag, could ultimately follow suit. But how many more productive years can they count on from this two-headed monster in Dallas? This team has been built with a 'win now' approach to the 2020 season but are they worth being a part of your NFL picks arsenal?
Cowboys cleaned house after dismal 2019
The Cowboys had big expectations heading into last season and started out on fire by winning their first three games. Prescott put up staggering numbers as they dumped the Redskins and Giants during that span. But things started to unravel as inconsistencies on both offense and defense started to pile up. Dallas limped to the finish line and needed a victory over the hapless Redskins in Week 17 to finish with a .500 record. Oh, and yes, they missed the playoffs.
There were too many questionable in-game decisions made by coach Jason Garrett, who lost his job after an embarrassing campaign as the team went just 1-5 against teams with a winning record. Philly went on to win the division in 2019 but no team has repeated as the NFC East champion in the past 15 years. This bodes well for the Cowboys. Over the past few years, the Eagles and Cowboys have built a gap between them and the rest of the division. So if Dallas beats the teams they are supposed to and can knock off the Eagles, then postseason bliss is in their very near future. It's just that easy.
Solids draft picks and offseason acquisitions
Jerry Jones couldn't help but blush from his $250 million yacht during the 2020 NFL Draft. The Cowboys had several targets in mind in the first round but wide receiver probably wasn't one of them. But when WR CeeDee Lamb (Oklahoma) fell, Dallas had to scoop him up with the No. 17 overall pick. McCarthy now has a welcome problem on his hands with Amari Cooper, Michael Gallup and Lamb to feed on offense. Along with a workhorse salivating for the ball in the backfield, one of these wideouts may be left out in the cold.
The Cowboys ended up looking good by passing on a corner in the first round and then having Trevon Diggs (Alabama) fall to them in the second round. Third-round defensive tackle Neville Gallimore (Oklahoma) is being compared to Falcons interior player Grady Jarrett. He isn't big, but he can push the pocket and he plays with the quickness. Fourth-round cornerback Reggie Robinson (Tulsa) could be a steal.
The biggest move of the offseason was re-signing Cooper, who has posted four 1,000-yard seasons and four Pro Bowl seasons in his first five years. The Cowboys' No. 1 receiving threat needs to have a big year with Prescott if there's going to be any talk of a Super Bowl. Center Travis Frederick retired, but Joe Looney, 2019 third-rounder Connor McGovern, or rookie Tyler Biadasz could fill the position.
The Cowboys also added talent to their defense. They brought in big-time players like Pro Bowler Gerald McCoy, Anthony Brown, and HaHa Clinton-Dix. Dallas allowed cornerback Byron Jones to walk in free agency and then filled the void quickly with Diggs in the draft. They also took a flier on pass rusher Aldon Smith, who has not played since 2015. It was a cheap signing that could have a big return as the Cowboys have never shied away from taking on players with questionable pasts.
Navigating the upcoming season, playoffs
Oddsmakers seem to be limiting the Cowboys based on their forgettable 2019 season. But if you take a closer look, the offensive output was there but it didn't translate into wins. Dallas outscored its opponents last season by a combined 113 points. For context, the Eagles won the division at 9-7, while posting a point differential of just +31. With essentially the same offense intact, betters should expect the same, if not more, when it comes to points on the scoreboard.
Under Mike McCarthy, the Cowboys should put up a lot of points. He comes to Dallas with a 125-77-2 record as a head coach and deserves some credit for molding a young Aaron Rodgers. Prescott could experience significant growth under his new skipper's tutelage. Plus, the Cowboys are built to outscore teams. Cooper, Gallup, Lamb, and Elliott will feast on opponents, maybe just enough to compensate for any lapses on defense.
Lucky for them, they still play in a division currently in the dumps. If everything falls into place, they essentially just have to beat the Eagles to make it back to the playoffs. But it's time to think beyond just making the postseason. William Hill has the Cowboys as the No. 3 team in the NFC behind the 49ers and Saints. For more perspective, San Francisco was listed at 30 to 1 in last year's preseason before they ultimately won the NFC Championship. So why would a Super Bowl run by the Cowboys' be any less shocking?