NFL Betting The Giants to Win Super Bowl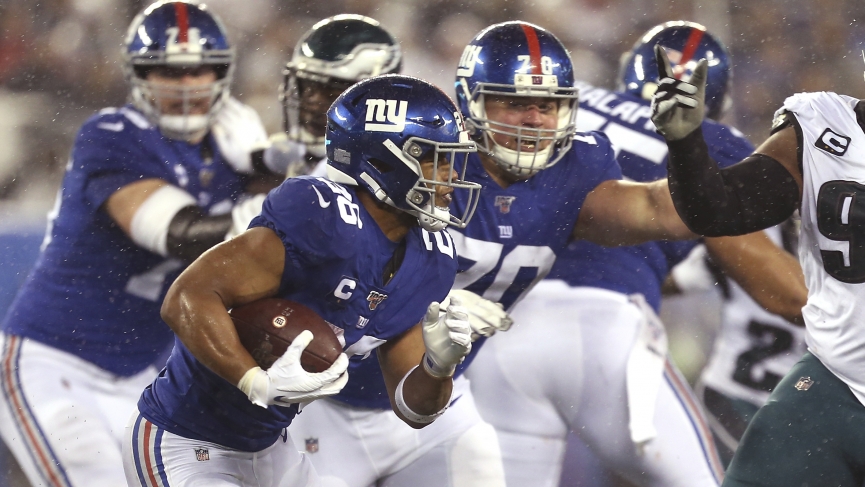 Giants' defensive line is flawed, crack in the foundation, flawed.

Each of their draft picks was either on the defensive side of the football or an offensive lineman

NFL Odds season win totals: over/under 6.5
The New York Giants have been stuck in a rut for years. Since winning their last Super Bowl in 2011, the team has missed the playoffs in 7 of the last 8 seasons. The Tom Coughlin era ended in turmoil. Ben McAdoo's coaching tenure was a disaster and he didn't even last two full seasons as head coach. Pat Shurmur's first two seasons as head coach of the New York Giants have been less than inspiring as the Giants are 9-23 in two years combined under Shurmur. Things clearly can't get much worse for the Giants but now the team can turn the page on the Eli Manning era after his retirement following last season and look to the future. That future is centered around QB Daniel Jones AKA "Danny Dimes" and he will look to help hit the reset button for an organization that has gone downhill for the better part of the last decade.
The New York Giants "Offensive" Line & Defensive Deficiencies
The New York Giants offensive line has lived up to the word "offensive" in the last couple seasons and it has been the primary and biggest flaw of this team during that span. Eli Manning was never a mobile QB, to begin with but he had precious little time in the pocket to find receivers down the field because of a porous offensive line that simply wasn't capable of getting off their blocks and adequately providing pass protection. Even when Daniel Jones became the starting QB early last season, the offensive line play remained a problem in many key sequences which resulted in sacks and also numerous fumbles and turnovers by Jones who had a difficult time hanging on to the football. Saquon Barkley didn't have a great season running the football either thanks to a combo of injuries and that aforementioned brutal O-Line which couldn't consistently open up holes for their talented RB. The defense was equally troubling for the G-Men as they surrendered more than 28 points per game on the season. The secondary was torched all season long and the Giants couldn't get any sort of pressure on opposing QB's and that is not a recipe for being able to get stops.
Offseason Activities – Free Agency & Draft
This is an important offseason for the New York Giants. It's going to be the 2nd year for Daniel Jones at QB and 3rd year for Pat Shurmur as head coach. The Giants needed to upgrade their offensive line and defense in a big way–the two clear needs and areas they have to improve in order to be a playoff team. They signed former Dallas Cowboys offensive tackle Cameron Fleming in a decent move considering he started multiple games at left tackle for Dallas last season in place of an injured Tyron Smith.
They added James Bradberry an experienced CB from Carolina to provide some much-needed help to the secondary and they signed two former members of the Green Bay Packers LB's Kyler Fackrell and Blake Martinez. Fackrell is coming off a disappointing season after a good one-two years ago but Martinez should be an instant upgrade at the position following 299 tackles and 8 sacks in the last two seasons.
The Giants have to be given credit for focusing on their positions of need in the draft as each of their draft picks was either on the defensive side of the football or an offensive lineman which is exactly where New York had to get better. Andrew Thomas offensive tackle was the team's top draft pick 4th overall and one of three offensive linemen taken by the Giants along with Matt Peart from UConn and Shane Lemieux from Oregon. The Giants also drafted four linebackers and three defensive backs including Alabama safety Xavier McKinney with the 36th overall pick and getting great value with him as he unexpectedly slipped out of the first round. New York zeroed in on all of the positions they needed to improve and they can't be faulted for that.
Final Verdict – A "Giant" Leap Forward?
The NFC East is an interesting case study right now. Dallas and Philadelphia are the clear favorites to win the division but both have flaws. The Cowboys offense could be extremely explosive but they are still suspect on paper defensively and really haven't done enough to upgrade that stop unit so far this offseason in my own opinion. Philadelphia has a solid defense and if Carson Wentz stays healthy, he can be a great QB but the Eagles do lack quality depth in terms of their skill position group.
Washington isn't ready yet to compete in the division as they continue to rebuild with a new head coach taking over in Ron Rivera. There could be an open door for the New York Giants to surprise people this season. I like that this team heavily emphasized in the offseason upgrading their offensive line and improving a horrendous defense from last season which they have tried to do. We'll have to see if the roster changes lead to better performance on the field but on paper, the Giants offensive line is stronger and deeper than it was last season and their defense added multiple experienced players to help improve it after a dismal showing on that side of the football last season.
Daniel Jones should be better with a year of experience under his belt at QB and it's reasonable to expect RB Saquon Barkley to be healthier and far more productive carrying the football while having a season that may resemble more what his rookie season looked like than last year. I think the best way to attack the NY Giants from a futures standpoint is to bet Over their modest season win total of 6.5 wins although I wouldn't talk anyone out of placing a small flyer wager on them to win the NFC East.