NFL Picks: With Brees Back, Saints Make One Final Run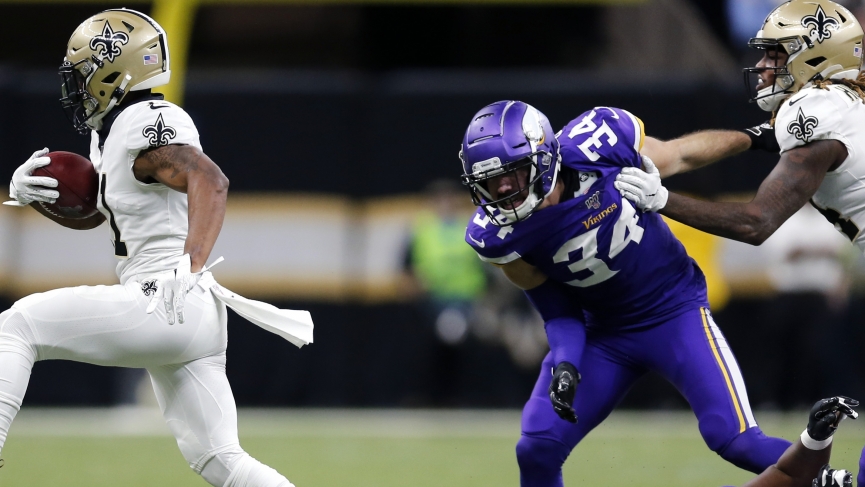 NFL Odds to win Super Bowl: +1200 
NFL Odds to win NFC Championship: +650  *Note that Saints have second shortest odds to win behind 49ers at +460
NFL Odds to win NFC South: Favorites at -110 
(Odds provided by Fanduel Sportsbook)
After a couple of devastating postseason losses, the New Orleans Saints are here to run it back once again. It's subjective, but the feel is that Kyle Rudolph got away with offensive pass interference in the end zone to knock the Saints out of the Wild Card round in overtime. The season prior, the Los Angeles Rams got away with a blatant defensive pass interference that went uncalled down the stretch in a key moment.
Drew Brees is back and hungry for his second Super Bowl win. He's 41 and still performing at a high level. As you already know, considering it's been the talk of the league over the past month, is that Tom Brady is now in the division and the Tampa Bay Buccaneers are coming. How does this affect the Saints' Super Bowl odds(+1200)? The division is far more competitive, but does it matter?
How Great Were The Saints In 2019?
The Saints won the NFC South the past two years, totaling 13 wins last season. Their offense was very difficult to handle, especially with Brees driving them to a league-leading on target rate of 82.8 percent (just 11.1 percent of passes were considered poor throws). Brees racked up the third-best quarterback rating (71.7) behind Patrick Mahomes and Lamar Jackson. On top of that, Brees posted the top DVOA (Defense-adjusted Value Over Average) among signal callers last year. Thank goodness he didn't elect to retire.
The New Orleans defensive line was great at stopping the run. They held opposing rushers to 3.65 yards per carry (third-best) and posted a stuffed rate of 21 percent (rate that a running back is tackled at or behind the line of scrimmage). The line did their part in harassing opposing quarterbacks, tallying an adjusted sack rate of 8.2 percent, good for fifth-best in the NFL.
Let's talk about this offensive line. The Saints kept Brees upright all season, as the line held opposing teams to the third-best adjusted sack rate. They even tallied the best adjusted line yards right after transitioning from Mark Ingram to Latavius Murray. Things were looking great until that blown call in the postseason. No wonder the Saints' Odds to win their division
Offseason Changes And Acquisitions
Despite having a rock-solid offensive line, the Saints made sure they didn't take even a half step back. They re-signed guard Andrus Peat to a hefty five-year, $57.5 million deal. On top of that, they drafted Cesar Ruiz at number 20 overall. Ruiz is expected to compete for the starting center job with the previous season's first-round pick, Erik McCoy. Even if Ruiz doesn't land the starting center job, he should push guard Larry Warford to the bench. This terrific offensive line is here to stay.
The Saints addressed their second wide receiver position by signing veteran Emmanuel Sanders to a two-year, $16 million deal. They swooped the 33-year-old from the San Francisco 49ers after he racked up 66 catches, 869 yards, and five scores between two teams (17 games). Sanders is getting up there in age, but his hands and route running are still great. Brees should love looking his way, as Sanders will draw number-two corners all season. This is a solid upgrade from Ted Ginn Jr. (421 receiving yards) and Tre'Quan Smith (234 receiving yards) and should take some of the burden off of Michael Thomas and Jared Cook.
Another upgrade to mention is that the team moved on from cornerback Eli Apple. They elected to sign safety Malcolm Jenkins. This move helps out the secondary quite a bit, as offenses were targeting Apple almost exclusively. The great Marshon Lattimore and Janoris Jenkins will handle starting cornerback duties. The hole that was once here could be closed up.
Navigating Upcoming Playoffs
The Saints did the best they could to maintain their level of excellence on paper. Now it's time to see it in action. Brandon Marshall recently criticized the Saints and coach Sean Payton, suggesting the team is done for. This felt personal and naive. The reality is that New Orleans is still a powerhouse.
The 49ers didn't appear to get much better in the offseason, as the team lacks weapons on offense. This also goes for the Green Bay Packers, as the team wasted their top pick on a player that won't even play in 2020. The Saints have an offense that's suited to score at will. This unit will be even better with a second year of Cook at tight end (nine touchdowns in 2019) and an upgrade at the second wide receiver spot in Sanders.
Yes, the Tampa Bay Buccaneers have weapons galore, too. The difference here is that the New Orleans offense has been together much longer and the coronavirus isn't benefitting teams like Tampa. This makes growing chemistry that much harder. Willing to admit it or not, this is an advantage for the Saints within their division.
New Orleans doesn't even have to win their division to make this happen. A Super Bowl appearance is absolutely in the cards. Right now, I'm making them my favorites to represent the NFC. With no evidence that Brees is slowing down, why couldn't they? They're mostly being ranked with the fourth-best chances to win it all. Some books have them at fifth-best, paying out as high as +1500.
There's no guarantee this team makes it to the Super Bowl or even beats a Kansas City Chiefs or Baltimore Ravens team, but these odds are way too juicy to pass up on. They're certainly not the favorites, but they should be receiving a little more love. I have no issues with taking a flier on the New Orleans Saints to win a Super Bowl in the upcoming NFL season.