North Dakota Sports Betting Could Be Legal by 2022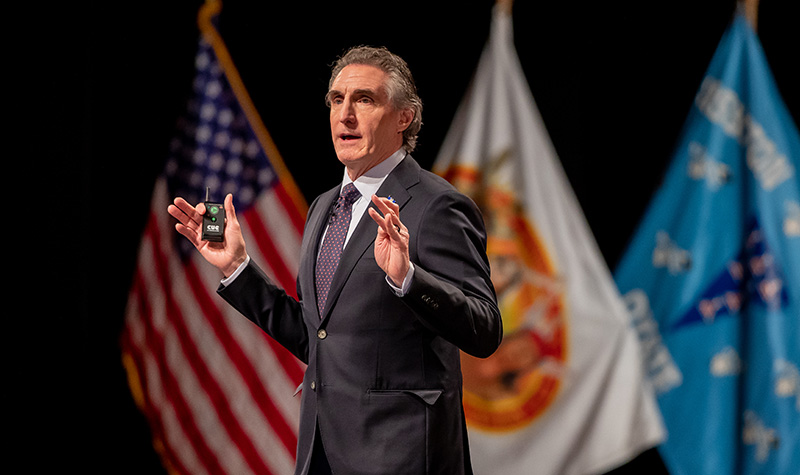 North Dakota Sports Betting is making strong moves towards being legalized as well as internet poker for 2022. The North Dakota Legislative Assembly passed both bills and will move over to the Senate to vote.
If the Senate approves the gaming bills, North Dakota residents will vote on sports betting and internet poker in the 2022 November Election.
In the 2020 election, neighboring South Dakota legalized sports betting, helping out its northern counterpart but is keeping mobile betting out of the legalization process.
Gov. Doug Burgum is on record of saying that if these bills reach his desk, he will not stand in the way people vote on them in 2022. This could be a big deal for the state, especially for Rep. Jim Kasper, who has proposed internet poker bills since 2005.
The coming weeks will decide the fate of gaming expansion in North Dakota.
Can North Dakota Sports Betting Get Legalized With The Help of DraftKings?
Over the last 12 months, there has been a strong push for legalized sports betting in conservative states. Five highly conservative states, according to Gallup, have sports betting operations, along with an additional four states that have either passed a sports betting bill or attempted to pass one.
Add North Dakota to this list.
Rebecca London testified in favor of legalizing sports wagering on behalf of DraftKings. "This would let the people of North Dakota decide," she said. "We believe it is a necessary step." "This would quickly and effectively eradicate the illegal market," she said.
London said that currently, North Dakota sports betting for thousands illegally betting each year are exposed to not having their bets protected, and DraftKings would be able to provide that protection.
Rep. Michael Howe took this a step further when asked what the tax revenue would look like for North Dakota: "Tens of thousands of North Dakotans are sports wagering, albeit illegally," he said. "It is estimated that North Dakota would bring in $7.2 million per biennium in tax revenue from sports wagering."
North Dakota's Sports Betting Bill HCR 3032 and Online Poker Bill HCR 3012
Rep. Michael Howe's   House Concurrent Resolution 3032 bill is what's fueling the push for legalized sports betting in North Dakota. The bill quickly moved through the House by a 70-24 vote.
"The only way to legalize sports wagering in North Dakota is to make a constitutional change," he said. "It is the only way for North Dakota to join 25 other states, and the District of Columbia, to have legal regulated sports wagering."
Not many details are given in the one-page document. The bill did discuss that college sports betting would be prohibited in North Dakota. Further details will be laid out if the bill is passed in the 2022 election.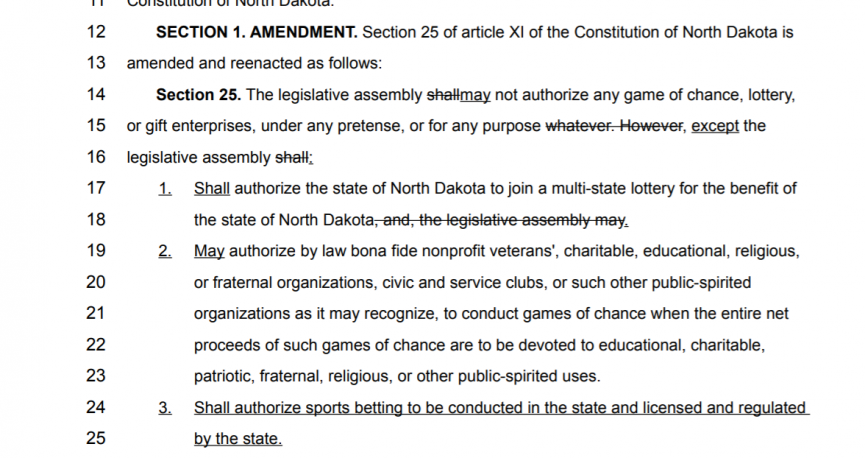 House Concurrent Resolution 3012 would put internet poker up for a vote. "There are thousands of people in the state of North Dakota who are playing online poker. It's not regulated. It's not taxed. We don't know for sure if the machines are fair or not because we don't know anything about it," said Kasper.
Internet poker might be a bit more difficult to legalize with how conservative a state North Dakota is. If voters do pass it, however, the state would become the seventh to legalize internet poker.
This does not mean internet poker is dead in the water, especially with the House already approving it and moving the bill to the Senate. North Dakota has changed its tune towards gambling since the beginning of the century.
In 2002, North Dakota approved a state lottery and expanded to charitable gambling like pull-tab tickets, bingo cards, blackjack, and other games. With the speed at which both bills went through one chamber, North Dakota hopes that gaming expansion is coming.
What's Next for North Dakota Sports Betting?
The revenue generated from expanded gaming will go towards North Dakota charities and problem gambling in the state. Lawmakers are in session until April 28, and North Dakota should know the fate of sports betting and internet poker by then.
As of writing, there are no current dates set by the Senate on when the bills will be discussed. With the results both bills saw in the House, sports betting and internet poker look promising in North Dakota.