New Jersey Sports Betting Handle Tumbles $250 Million in February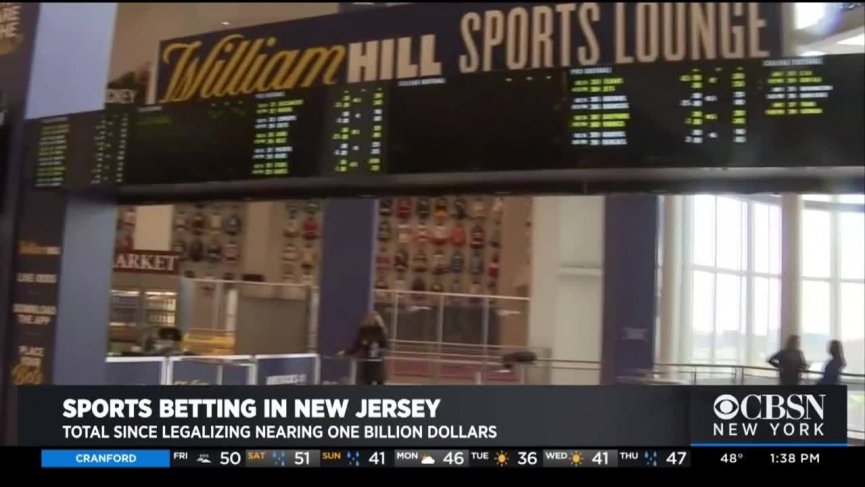 U.S. sports betting continues to be humbled by February, with New Jersey sports betting as its latest culprit. The Garden State saw its betting handle decrease by 25.4% from December's all-time high of $996.3 million to $743 million in February. New Jersey also saw revenue fall 44.1% from $82.6 million to $46.2 million.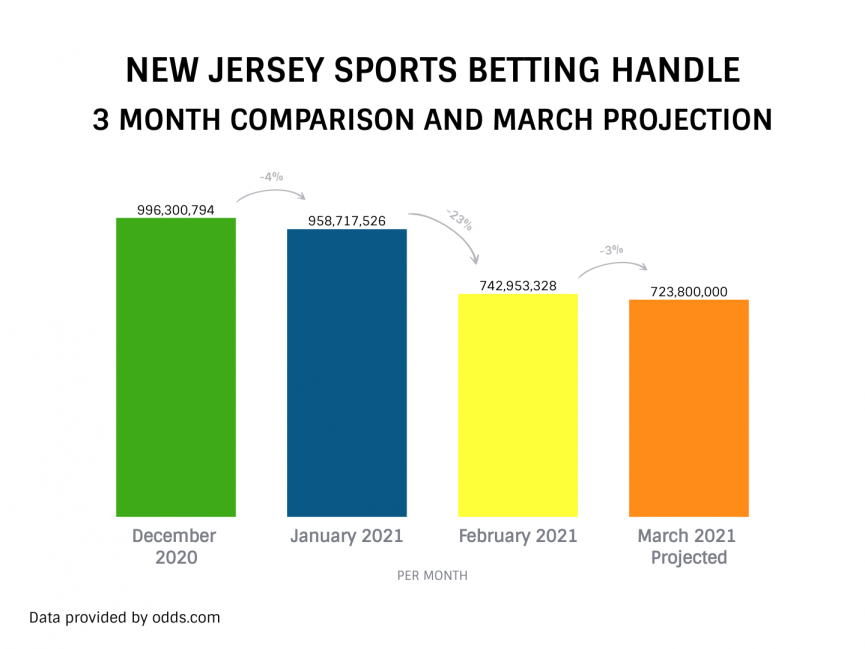 All-around it was a tough month for New Jersey sportsbooks, especially falling just short of a $1 billion betting handle in December. Fortunately, New Jersey did see over a 50% increase from the February 2020 handle, which was $494.8 million.
The February sports betting landscape is dire outside of Super Bowl Sunday. One NFL game for the whole month can only do so much compared to a full month of Sunday NFL regular-season games. Having two to three fewer days on the calendar also plays a factor, but adding two days would not have made up for the $250 million drop in its betting handle.
FanDuel leads the way as New Jersey sports betting jumps 50%

New Jersey's sportsbooks took in $743M in bets in February up 50% from last year's mark

Online betting produced 92.8% or $689.2M of the state's total handle in February$DKNG $PENN $PBTHF pic.twitter.com/5VGloVQumg

— Newsfeed (@StocksDailyNews) March 16, 2021
This is New Jersey's lowest betting handle and revenue since August 2020, when the U.S. saw a full calendar month of major U.S. sports. The Garden State will most likely have to wait until the 2021 NFL football season to hit $1 billion in a single month with the dip in action.
Can March Madness Help the Rebound?
There is a strong chance that March will bring better numbers to New Jersey thanks to the NCAA March Madness tournament. This is the first time the college basketball postseason contest will be held in two years due to the coronavirus shut the event down last March.
New Jersey reports $742.9 million in total sports betting handle during February, a big step back from the $958.7 million in January and state's lowest total in six months. But w March Madness starting this week, the push to be first American state w a $1 billion month continues

— Eric Fisher (@EricFisherSBG) March 16, 2021
Highers demand should help push the betting handle and revenue closer to the state's all-time highs. The American Gaming Association is anticipating at least 30.6 million people to wager on the tournament. Much of the action will be taking place from New Jersey and New York bettors in the Garden State.
Is $1 Billion Obtainable in New Jersey?
March could be the last time New Jersey has a chance to have $1 billion monthly. New York has been making strides towards legalizing online sports betting, which will change the U.S. and New Jersey sports betting landscape.
Roughly 20% of the annual betting handle comes from New York bettors. If New York legalized online sports betting, there would be no incentive for New Yorkers to travel to the Garden State to place bets. They can do it from their New York City apartment.
Both the New York Senate and Assembly added online sports betting into the 2021 Fiscal Budget, set to begin April 1. There are still some steps in the process before it can begin, but if online sports betting is legalized, New Jersey could see a dip in its industry, similar to what Nevada saw when other states legalized sports betting.