UFC Vegas 12 Co-Main Event Best Bet: Mitchell vs Fili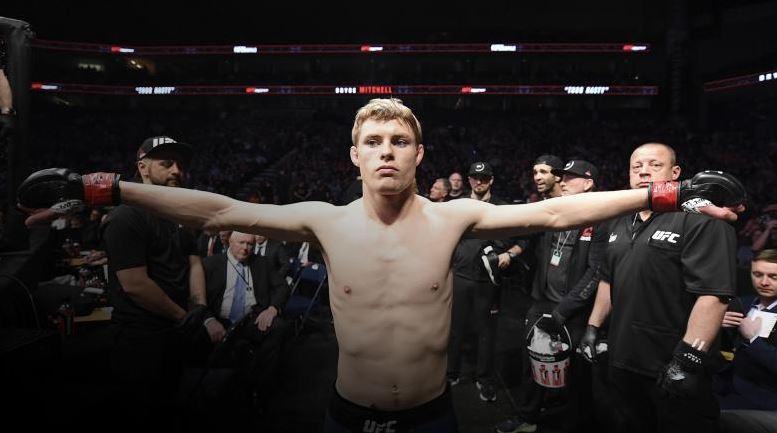 Bryce Mitchell vs Andre Fili Pick – UFC Vegas 12 Co-Main Event: UFC Vegas 12's co-main event might be the most exciting match on the entire card. There are several bounce back and squash matches this week, with the main event being a retirement fight, which doesn't hold much meaning for the division besides the send-off of Anderson Silva, but the co-main is a banger. 
| | | |
| --- | --- | --- |
| UFC Vegas 12 | Bryce Mitchell | Andre Fili |
| Best Odds | -125 | +120 |
| Total Rounds | Over 2.5 (-149) | Under 2.5 (+142) |
| Where/When | Apex Center, Las Vegas | Oct 31st, 8:00 PM |
Bryce "Thug Nasty" Mitchell is the hottest prospect at 145 and has that potential star power, but he is taking a big step up here against Andre Fili, who is an established veteran who can fight with the absolute elite on his best night. This will be fun.
The Fighters:
| | | |
| --- | --- | --- |
| UFC Match Up | Bryce Mitchell | Andre Fili  |
| Age | 26 years old | 30 years old |
| Height | 5'10 | 5'11 |
| Reach | 70' | 74' |
| Wins by Method | 9 by Submission | 9 by T/KO |
| Finish Rate | 69% | 57% |
| Win/Loss | 13-0 | 13-4 |
Bryce Mitchell was a cast member on The Ultimate Fighter Season 27 and was submitted by the season's eventual winner Brad Katona in the semi-finals, but seems to be the living legacy of that season in the UFC today. Thug Nasty hit a nerve with fans and is getting his very own branded camo shorts for Saturday's event, which will spike his popularity more. Thug Nasty is serviceable on the feet, but his real skill is in his ground game. Mitchell is one of 2 UFC fighters who have pulled off the infamous Twister inside the UFC cage, and he is showing every single time out the wild improvements that he is making.
Andre "Touchy" Fili has been in the UFC for a very long time and has fought some of the best the organization has to offer. Even though Fili has a ton of experience and has been fighting professionally for 11 years, he is just now coming into his fighting prime. Coming to us from Team Alpha Male, Fili is a solid fighter who is well rounded and has a great camp and set of coaches backing him. Fili can wrestle and grapple, but he is primarily a striker and likes to play with his opponents on the feet. Fili is on an impressive run recently, with his only losses from Michael Johnson by split decision, Calvin Kattar, and Sodiq Yusuff. It seems that every time Fili steps up into elite territory, he drops the ball and has found himself in somewhat of a gatekeeper role lately. After a win over rising star Charles "Air" Jourdain, Fili will have to face the hottest prospect in the division to prove again that he belongs at the top.
The Matchup:
This is a classic striker vs grappler match and one that I cannot wait for. Mitchell only has 4 UFC fights under his belt, but the 26-year-old is already making waves. The only issue that I have backing him is I am not sure he should be the favorite here. From a sports betting perspective, you never want to side with the mass public, and I can tell you that most casual bettors won't have hardly any idea who Fili is, but they will know Thug Nasty.
Mitchell is wildly out-gunned on the feet in this fight, and we have already seen a fight in 2020 where a young prospect grappler had to step up to fight an experienced striker, and it did not end well. Chase Hooper made the mistake of believing his own hype and found himself in a one-sided beatdown of a lesson from Alex Caceres. We can only hope Thug Nasty won't make the same mistakes.
This is a fight that I personally have not made a wager on because of how much I am struggling with this line. As bettors, we look for value on a line. We need an advantage, and right now, the bookie is offering a line that smells of a trap to me. All the sharp bettors will have already bet Andre Fili in this spot as an underdog. He is far more experienced and has been in the UFC for years without showing many holes in his game and facing championship quality fighters. Max Holloway himself stated that Andre was the hardest fight he ever had. Suppose Fili can keep this fight standing unless Mitchell has made some great improvements in his stand-up game; this will be another one-sided fight, and Mitchell ticket holders will feel stupid for having trusted him. The one thing that jumps off the paper for me, however, is Fili's takedown defense.
Bryce Mitchell vs Andre Fili Pick:
The best price on Bryce Mitchell is at -137 via WilliamHill: Andre Fili has a 69% takedown defense rating in the UFC, and while that isn't awful, it isn't great either. Even though I just talked at length about how great the level of competition Fili is facing is, the fact is there are no grapplers in that line-up. Fili hasn't faced a true grappler his entire UFC run. Mitchell averages 2.13 takedowns per 15 minutes and lands with a solid 41% accuracy. Thug Nasty will test the takedown defense of Fili, and if he can get this fight to the floor, this will be a blowout. As experienced and well-rounded as Fili is, he is nowhere near the level of Mitchell on the mat, and I think Thug Nasty can wrap up a submission or beat on Fili while controlling him on the floor. As I said, I have not bet this one yet, and I don't know if I will actually pull the trigger. Still, if I were going to place a wager, I would be looking to back Bryce Mitchell simply because of his ability to get this fight to the floor and Fili's shaky takedown defense.