Sean O'Malley vs Thomas Almeida Pick: UFC 260 Predictions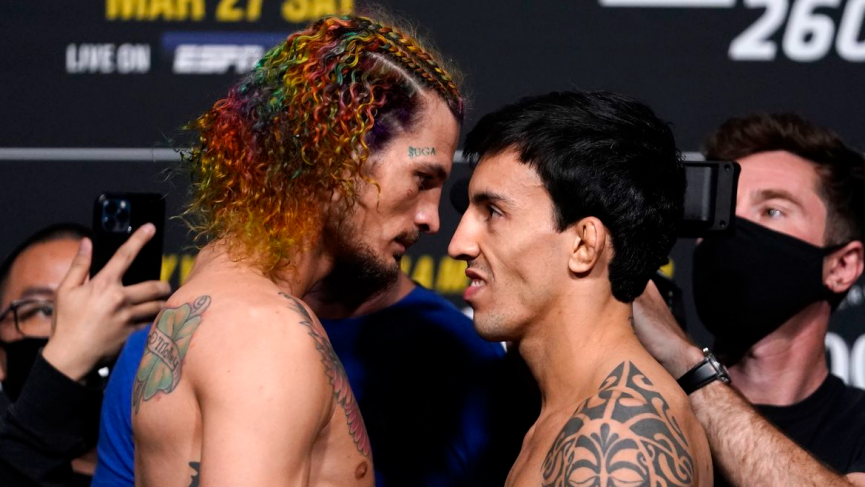 Sean O'Malley vs Thomas Almeida Pick – UFC 260 Predictions: UFC 260 seems to be about redemption. This card is chock-full of fighters who seem to defy their reputations or look to overcome the public perception and prove the haters wrong. Both Sean O'Malley and Thomas Almeida are fighting to prove that they aren't busted prospects and are looking to establish themselves as contenders and not just a flash in the UFC pan. 
Join Clint MacLean as he breaks down the entire UFC 260 card on the DieHardMMA Podcast.
Sean O'Malley vs Thomas Almeida Odds
| UFC 260 Odds | Sean O'Malley | Thomas Almeida |
| --- | --- | --- |
| To Win Outright | -305 | +275 |
| Inside the Distance | -120 | +545 |
| by Decision | +315 | +800 |
| Total Rounds | Over 1.5 (-123) | Under 1.5 (+117) |
| Fight Goes Distance | Yes: +170 | No: -200 |
| Where/When | UFC Apex, Las Vegas | Sat, March 27th, 10:00 PM ET |
The Fighters: O'Malley vs Almeida
| UFC Bantamweights | Sean O'Malley | Thomas Almeida |
| --- | --- | --- |
| Record | 12-1 | 22-4 |
| Finish Rate | 75% (8 Wins by T/KO) | 63% (17 Wins by T/KO) |
| Age | 26 | 29 |
| Height | 5'11 | 5'7 |
| Reach | 72′ | 70′ |
Sean O'Malley was shot out of a cannon. This kid took the UFC scene by storm, and he was being talked about in the tones of Conor McGregor as the next big thing. O'Malley had a rough fight against Andre Soukhamthath where had the now cut Soukhamthath forced O'Malley to stand, he would have won the fight, but the abysmal choice led to Suga Sean escaping with a decision win. Sean quickly erased any concerns we had about his will and durability after a 2-year layoff when he notched not one but two wins by 1st round KO. Then it all came crashing down when O'Malley faced Marlon Vera, and now we are all questioning his durability once again. Some men simply aren't built for war, and Sean will have to prove to us one more time that he belongs in the UFC cage. 
Thomas Almeida similarly broke out as a prospect in the UFC. Undefeated, he made his debut in 2014 and rattled off four straight wins, with 3 of the 4 coming by KO. Thomas was a young stud finisher who was just what the doctor ordered, and he was placed on the fast track to success. The UFC decided to test Almeida with fire, and it has been all downhill since. Thomas was placed in a prospect vs prospect fight when he faced Cody Garbrandt and faced that first taste of loss. Thomas rebounded against Albert Morales with a huge knockout win and put himself right back into the ranks of contenders where he has gone 0-3 since and is possibly facing the chopping block. 
The Match-Up: O'Malley vs Almeida
Thomas Almeida is a fighter who will walk forward and bring the fight to you. Thomas brings an old-school feel to the UFC, where he is willing to force a firefight just to see who falls over first. The UFC has seen this, and even though he just fought Jonathan Martinez in October, they have put him back in action relatively quickly against Sean O'Malley, who is coming off a decent layoff and needs a win badly. 
The UFC knows what they are doing. A fighter like Thomas Almeida is going to walk straight forward into the fire that is Sean O'Malley, and so far, what we have seen is only a fighter like Marlon Vera, who is made of steel, can withstand the offense of Suga Sean. Thomas Almeida definitely does not have a Marlon Vera durability, and the UFC is looking to get Sean a win and back on track. The only issue with this plan is Thomas Almeida himself.

Thomas is not looking to be a stepping stone and has been fighting some of the UFC men's bantamweight division's best names. Sean O'Malley might even be considered a step down in competition compared to who Almeida has faced the past few years in the UFC. Let's also not forget that there is a proven issue with the legs and ankles of Sean O'Malley and one of Thomas's best weapons is the calf kick. While the plan is for Thomas to walk forward and walk into something big from Sean, the exact opposite is on the table, and Thomas might just chip the legs of Sean and leave him sitting on the Octagon canvas yet again. I think that Sean O'Malley will win this fight, but at the same time, I cannot dispute the fact that we have to worry about this kid's body. I remember the last time Sean was a -300 favorite, and I am not rushing to the window to take him here.

Sean O'Malley vs Thomas Almeida Pick:
UFC 260 Feature Bout Best Bet – O'Malley/Almeida Under 2.5 (-150) (UFC Odds via Bet365): The play, in my opinion, is to side with violence. Look, we know what O'Malley brings offensively. This kid's striking is phenomenal, and we cannot expect anything less, but we cannot fully buy-in with those legs. Thomas Almeida is a fighter who is too tough and too young to be left for dead. He is fighting with his back against the wall this weekend since a 4th loss will likely end up with him being cut from the UFC. That brings out an aggression in most fighters that might carry him to victory. One of these fighters is going to have a bad night on Saturday, and I will bet it happens earlier than later.