William Hill Sportsbook Review
William Hill is one of the oldest and most prestigious names in bookmaking. When European bettors think of the licensed, legal sports betting standard, they think of William Hill. Ironically, Will Hill began as an illegal sportsbook taking bets by phone and mail. Back in 1934 when William Hill founded the company, gambling in Britain was illegal. It wasn't until 1966 that William Hill had his first legal betting shop. Today the company operates over 2,300 licensed physical sportsbooks, which, in the UK, are more commonly referred to as betting shops. William Hill also operates physical sportsbooks in Nevada and New Jersey which laid the ground work to have an online presence as soon as PASPA was repealed in 2018.
Some within the US gaming industry believed William Hill's heritage could work against their ability to build a brand in America, saying the brand was not new and hip. A few years ago there was a speaker at London gaming conference who made a 'Your'e momma so old' joke that I can't recall, but Will Hill was in the punch line! Jokes aside, when you think about the sports gambling brands in the US today… Names like Draftkings, Foxbet, Fanduel and bet365 come to mind. They are exciting names meant to make the bettor want to step up to the plate and get in on the action! William Hill on the other hand, is named after a gentleman who hasn't seen any kind of action in almost 50 years.
William Hill to their credit has actually done a wonderful job reinventing the product for the younger generation while maintaining the image of the veteran bookmaker. Do you remember how Buick spent the last ten years showing people confused that "THAT's a Buick?" and using slogan's like "Not your father's Oldsmobile"? Well, William Hill didn't do anything like that. They put a great engine behind one of the biggest names in gaming. The result is one of the best online betting menus, signup bonuses and promotions. Will Hill has a presence in nine US states and the Bahamas.
---
Will Hill Sportsbook Signup Bonus
| | |
| --- | --- |
| Bonus Type: | Cash |
| Bonus Amount: | 100% Cash |
| Bonus Maximum: | Up to $150 |
| How it works: | 100% of deposit added in cash |
Will Hill Sportsbook's first time deposit bonus may be the most valuable pound for pound. In other words, there are sportsbook bonuses with higher limits that will benefit the bigger player. But for the player who is looking to deposit $150, there isn't another sportsbook offering to match that deposit in cash with no strings attached.
In almost all cases the bonus percentages you see advertised by competing bookmakers are representing a free bet, or worse, a match bet. Very rarely do we see 'cash' awarded just for depositing. This is like getting points on the test for signing your name.
The fine print mostly involves expiration dates which is something bettors should understand.
Cash Deposit Bonus Requirement
| Bonus Fine Print | Details |
| --- | --- |
| Amount: | 100% |
| Type: | Cash |
| Maximum: | $150 |
| Based On: | Deposit Amount |
| Play Through: | One Time (1X) |
| Wager Restrictions: | None |
| When do I get it? | After depositing |
| Expiration: | 14 days Days |
What do these Bonus Terms mean?
The play-through, AKA rollover, is one time. In this case the play-through applies to your deposit (up to $150) + bonus (up to $150). Having to bet your funds once really shouldn't even be called a bonus rollover because deposits without a bonus generally must be wagered once anyway. And, of course your free money must be wagered. Otherwise non-bettors would stop by to get the free money and leave.
The most important bonus term in the fine print is that if you don't deposit within 7 days of signup, the bonus will no longer apply! That means if you are an excited bettor who is getting his online bookmakers lined up during preseason but is not yet ready to deposit… come week one of NFL when you do start betting, you get nothing… unless you can sweet talk the nice New Jersey lady in customer service (Those of you who have been to Newark airport can read the sarcasm).
The second thing to know is that if you do deposit, and don't bet for 3 weeks, your bonus could be revoked. The sportsbooks do this because they measure their marketing efforts very carefully and don't want bonuses from last quarter skewing the number for the next season's sports. It could be frustrating if you were sitting on the bonus waiting for your favorite sport to begin. It's best to signup and deposit when you are ready to play.
---
Perks at Will Hill Sportsbook
William Hill is not known for a lot of gimmicky tricks to get bettors betting. They rely on a superior product for that. During the busiest times of year players will see the sportsbook's version of enhanced odds. Sportsbooks like DraftKings and FanDuel will promote "Odds Boosts" where smaller bettors can come pick from inflated payouts. William Hill's version of that is called "Flash Odds" where the book will randomly Flash bets and their boosted odds. Flash odds are seemingly random, often around game time, and are not guaranteed. Will Hill offers it as a fun way to reward bettors for staying engaged. For attentive sports bettors, they can add a few more dollars to their bankroll each week.
Follow Your In-Play Bets
At WH Sportsbook  you can bet in-game as you follow the in-game action. Players get a full picture of the status of the game and actually have enough info to feel they can make a wager.  It's especially nice when you are betting, say… The Korea Baseball Organization during a pandemic. ESPN isn't showing live stats on their scoreboard and without that or watching the game on TV, it's nearly impossible to make in-game bets. William Hill has told us that live betting volume has increased dramatically since adding the feature. It's available on both the website and the mobile apps.
---
William Hill Sportsbook Website Experience
Will Hill is one of our favorite websites. The biggest reason for that is it doesn't try to do too much and there is a very deliberate betting flow.  Bettors don't need to figure out if 3 different buttons for the same league will ultimately show them the same markets. To be blunt, some of the new kids on the block have websites that are over-tuned by their marketing departments. Sure, you may get more UFC bets on day of the fight if you have flashing fight promos everywhere, but at what expense to the overall user experience? This is another way that the nearly century of bookmaking experience shows at WilliamHill.com
What we like:
Each Sport has a quick menu for the pre-match schedule, In-Play and Futures Wagers.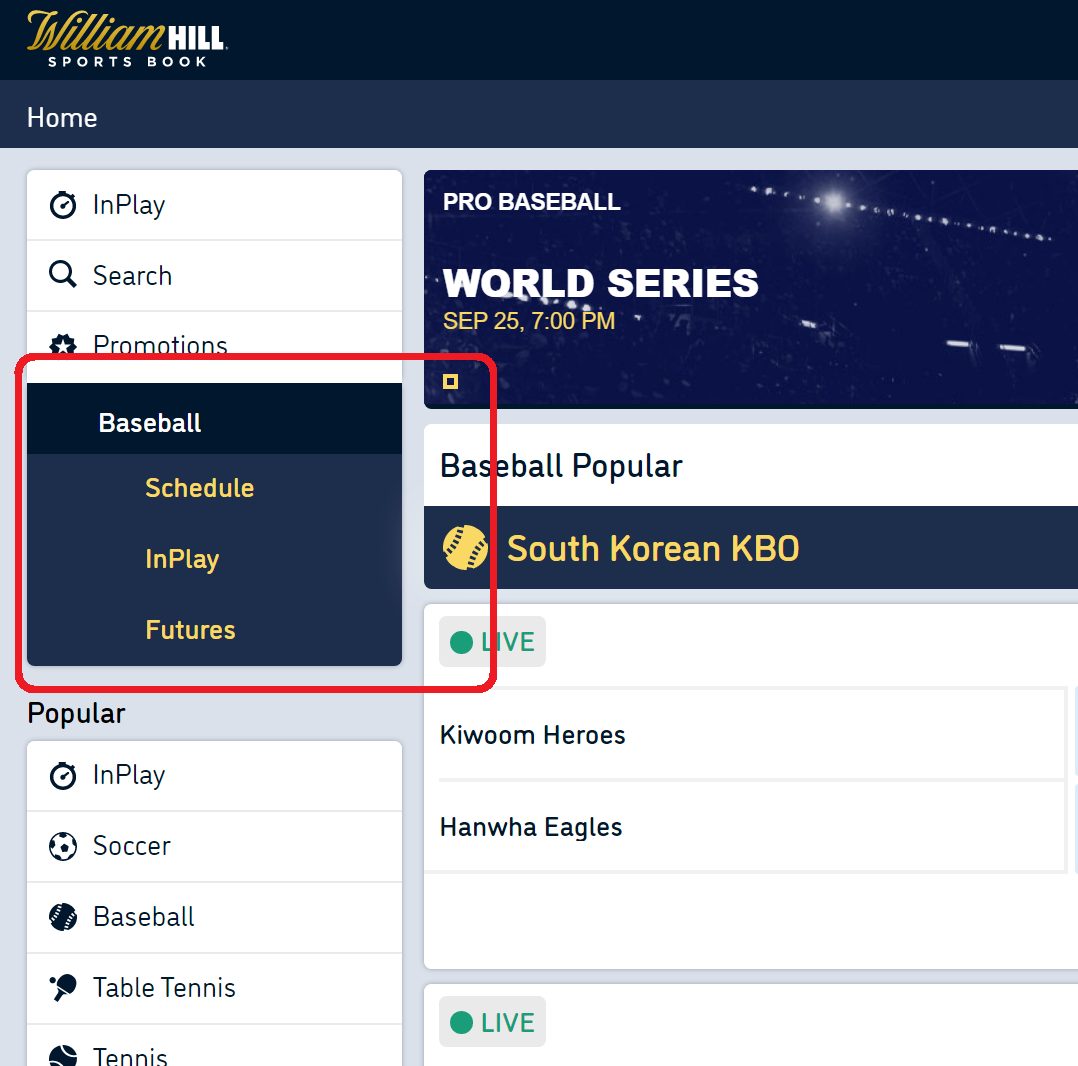 "All Sports" are on the left side. Once the user finds an event of interest, they can see if there are additional bets listed as shown here, "More Bets | 3". They can then dive down one level and see only the markets related to that event.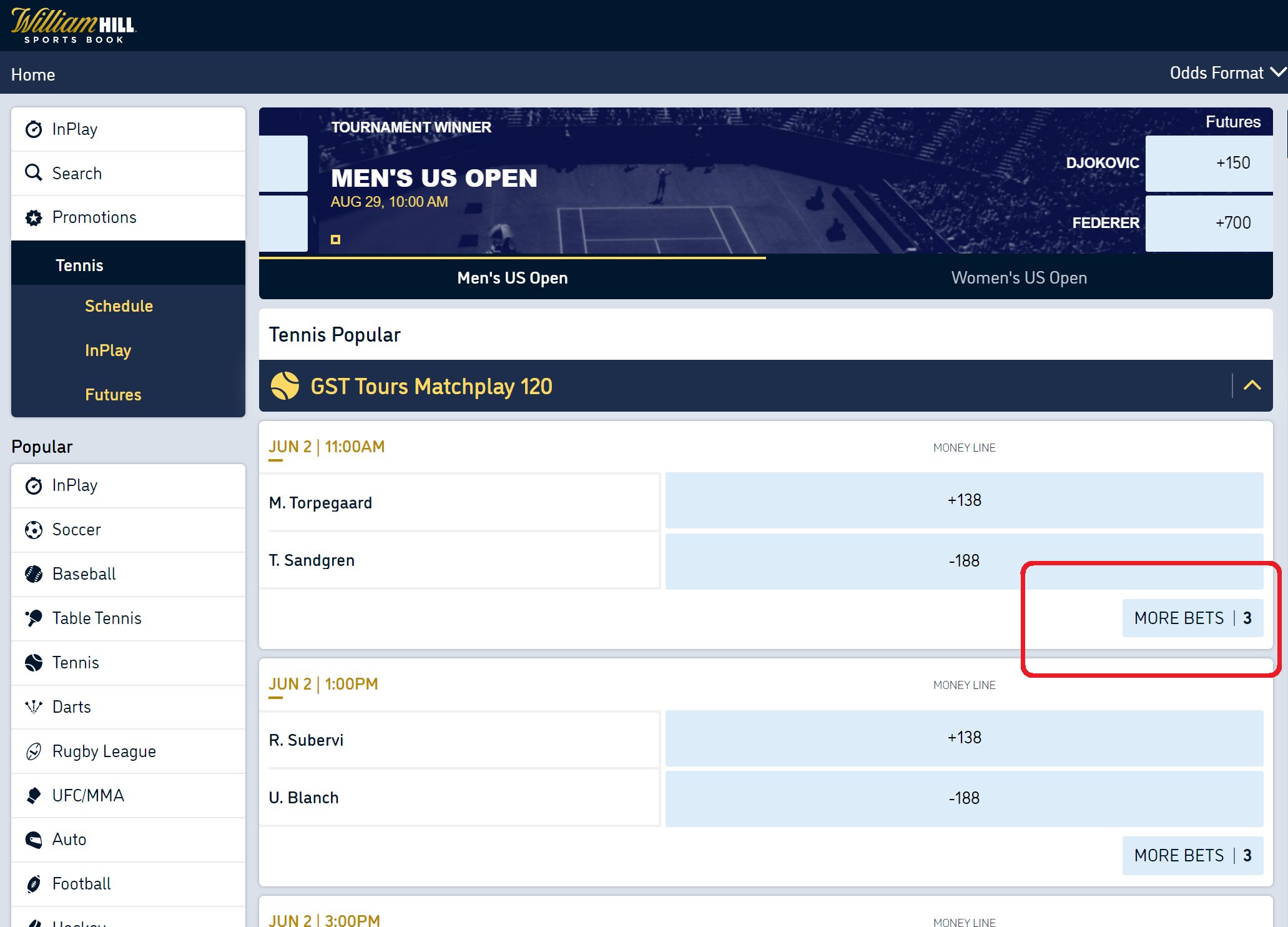 Bets already in your bet cart will not simply be voided if the line changes. They update in your cart in real time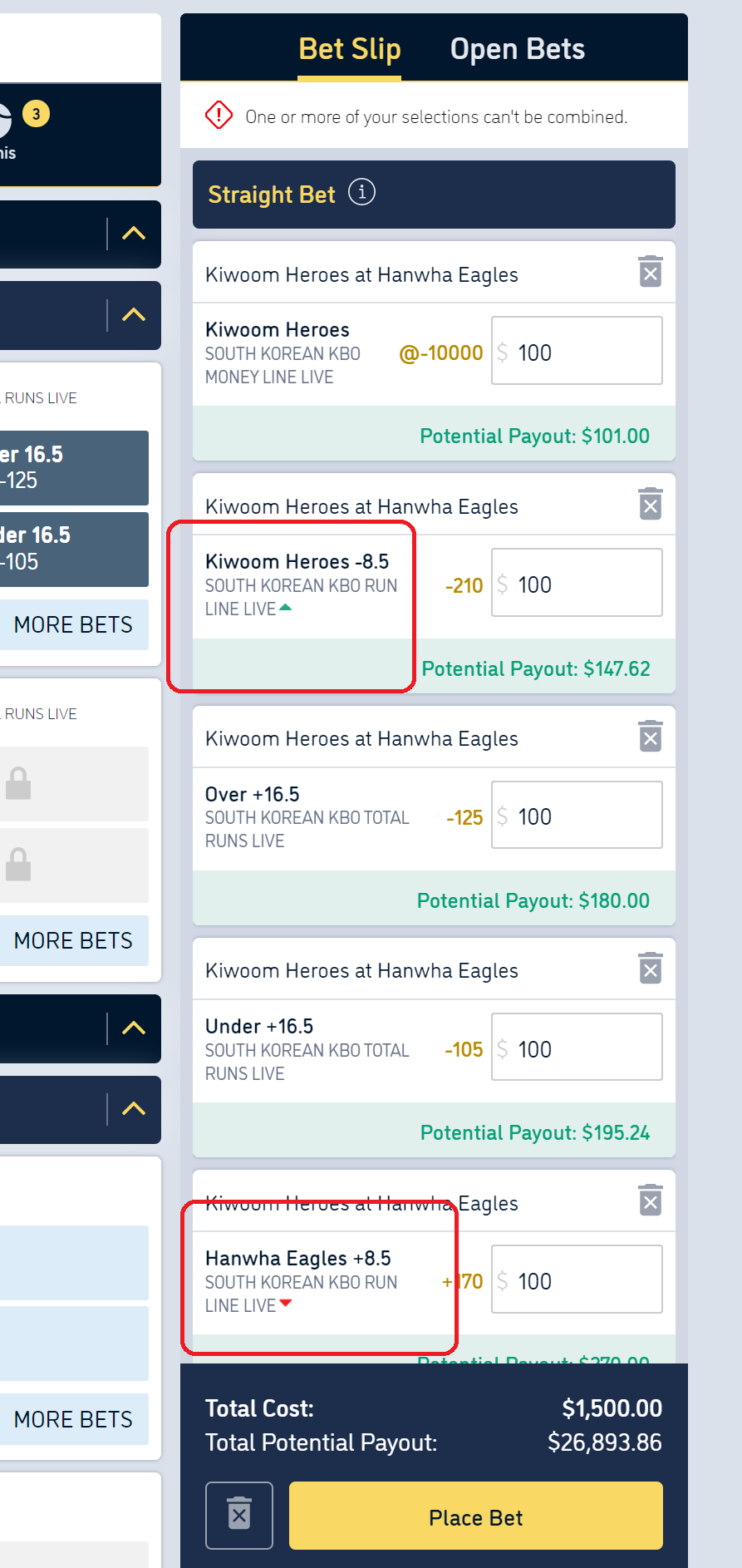 What we don't like:
No website on mobile – This isn't a problem unique to William Hill but it is frustrating for users of this group of sportsbooks that take this short cut. Yes, we all know geo-fencing can be difficult on a website when people are out and about  in their cars and we know an app makes it much easier to manage a users location. But hey, it's 2020 and people are using iPads as desktops… with a mouse! Are sportsbooks really going to make us keep downloading an app in order to fire in a single bet?
Changed odds in your bet slip are the same color! Let's say you love the Red Sox tonight at William Hill's price of -140 and you shop around at two other sportsbooks and realize Will indeed has the best price. You hit submit and realize the line changed to -160! That is a tough one to swallow. While WH does have a brief arrow animation to show when the odds are on the move, we've suggested Will Hill marks the bet or changes it to red, until the user submits or acknowledges it.
---
William Hill Sportsbook App
William Hill has an IOS and Android sportsbook app. Unlike some other sportsbooks, having the app is a necessity unless you plan to be tethered to your desk.  As mentioned, there is no other way to bet on a mobile device. However, the app is outstanding and is consistent with the website while the app's side-scrolling menus allows the user to have an even smoother interaction. You can understand why the sportsbook wants to use an app to make sure this is the standard user experience.
Our single complaint about the app is that there is no way to browse by league. Lets say you want to browse MLB betting markets… You first must choose "Baseball" and then scroll past Korean and Chinese leagues before viewing the Major League Baseball Futures. It's a bit strange because Will Hill also has a "Popular" grouping yet it is only a repeat of many of the sports also listed A-Z.
---
William Hill Deposit Methods
William Hill Prepaid Card
Credit Card
Mastercard
PaySafeCard
Online Banking (PayWithMyBank)
Skrill eWallet
At CVS or 7-Eleven
Deposit In Person (Casino)
William Hill Withdrawal Methods
| Withdrawal Options: | Minimum: | Wait Time: |
| --- | --- | --- |
| William Hill Prepaid Card | $10 | 24 hours |
| Skrill eWallet | $10 |  24 hours |
| Online Banking | $10 | 1-5 Days |
| eCheck | $10 | 1-5 Days |
| At walk-up casino | $10 | instant |
"Online banking" will be the most convenient method for the majority of bettors. That applies to both deposits and withdrawals. Depositing is instant and as easy as signing in to your bank through the secure pop up window as shown below.  If you have a credit card that earns some type of points, we suggest you use that for deposits!
Will Hill Online Banking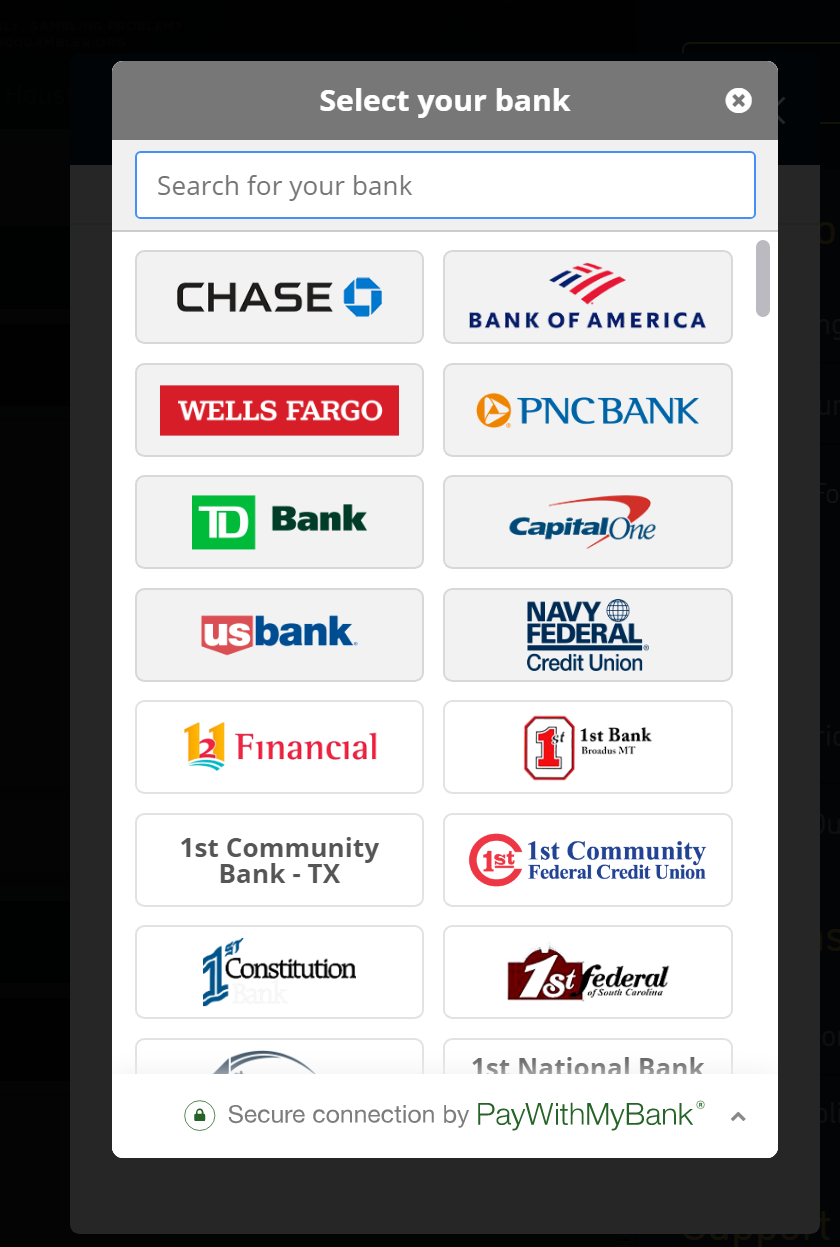 What is the maximum I can withdraw at Will Hill?
Players can withdraw a maximum of $25,000 per payout. However, players who make a big score will be accommodated by request through William Hill customer service.
How much are payout fees at William Hill Sportsbook?
William Hill payout methods are free.
---
Sportsbook FAQ
What Software Does Will Hill Use?
William Hill uses Playtech Betting Software. Playtech has been a leader in Europe for over 20 years.
Is Will Hill Sportsbook Safe?
Yes. William Hill Sportsbook is a licensed online sportsbook in the state of NJ, Iowa and Nevada with many physical walk-up sportsbooks globally. It has been operating with a UK license for nearly 80 years.
ODDS.com is not aware of any outstanding wagering or payout complaints.
Does Will Hill Sportsbook Accept Players from my State?
William Hill Accepts players in:
New Jersey
Nevada
Iowa
UK & most of Europe
William Hill is in the process of opening up their sportsbook to residents in Pennsylvania & Colorado.
---
William Hill Sportsbook Pros & Cons
Pros:
One of the cleanest and best combination of website and app.
Huge betting markets for major events.
A legitimate cash bonus offering.
Cons:
Will Hill has come a long way from being the Buick in the Tesla parking lot. Despite having cutting edge technology, it still has more room to improve.
No League-specific menu. Scrolling can be too much during the peak times of year.
Players who are trading prices like the stock market, rather than betting on their own handicapping, will be limited or asked to leave. WH does not welcome professional day traders.