Amanda Nunes vs Megan Anderson Pick: UFC 259 Predictions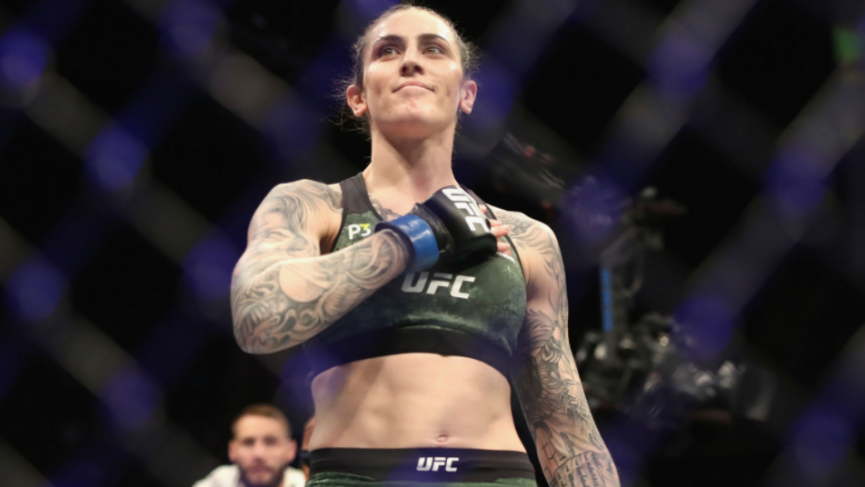 Amanda Nunes vs Megan Anderson Pick – UFC 259 Predictions: The UFC has its hands full with the women's divisions. Women's MMA has come so far in such a short amount of time, and when we once heard complaints about how uncompetitive WMMA was now, we hear nothing but praise for champions like Amanda Nunes, Joanna, and Zhang. The women have taken over, and they aren't backing down. Nunes has become such a draw that she is slotted in the co-main event over Petr Yan and Aljo Sterling at UFC 259, and that says something. 
〉More UFC 259 Predictions: DieHardMMA Podcast
Amanda Nunes vs Megan Anderson Odds
| UFC 259 Odds | Amanda Nunes | Megan Anderson |
| --- | --- | --- |
| To Win Outright | -795 | +810 |
| Inside the Distance | -340 | +1100 |
| by Decision | +450 | +1800 |
| Total Rounds | Over 1.5 (-115) | Under 1.5 (+100) |
| Fight Goes Distance | Yes: +400 | No: -490 |
| Where/When | UFC Apex, Las Vegas | Sat, March 6th, 10:00 PM ET |
The Fighters: Nunes vs Anderson
| UFC Women's Featherweights | Amanda Nunes | Megan Anderson |
| --- | --- | --- |
| Record | 20-4 | 11-4 |
| Finish Rate | 80% (13 Wins by T/KO) | 82% (6 Wins by T/KO) |
| Age | 32 | 31 |
| Height | 5'8 | 6'0 |
| Reach | 69′ | 72′ |
Amanda Nunes is the women's GOAT. She has been unstoppable, and nobody seems to be able to hold a candle to her. The UFC had a hard time finding opponents for Cris Cyborg at 145 until Amanda decided to step up and take a crack at becoming the first-ever women's champ-champ,' and now she is the queen of two divisions with no equal. Speed, precision, power, and a BJJ black belt to back it up makes for a tall order. Nunes has shown incredible fight IQ and has embraced the fighting style of George St Pierre. Nunes has started to look for any hole in her foe's game and will expose that weakness on her way to victory.
Megan Anderson is raw power. This woman is maybe the first true talent the UFC has had for the women's 145-pound division since Cris Cyborg. Anderson was thrown into the deep end of the women's 145 division because, realistically, there wasn't much else besides the deep end. After getting her feet wet and having tasted defeat at the highest level, Anderson has gone back to work and is riding high off of not 1 but 2 quick knockout wins.
The Match-Up: Nunes vs Anderson
There isn't much left for us to say about Amanda Nunes. She has shown to be nothing but an incredible fighter with few weaknesses. Let's call a spade a spade and recognize that Megan Anderson is a step down in competition from what Nunes has been facing recently. But what we also have to recognize is that Nunes hasn't really been fighting at 145. Holly Holm, Germaine de Randamie, and Felicia Spencer are the names on Nunes' resume since she took the strap at 145. Felicia Spencer might be a problem in the future and could be a true 145er, but she was criminally under-experienced and was shown the ropes by Nunes. Nunes is holding two belts, with one of them coming at a weight class without any real talent.
Nunes is a colossal favorite on the UFC odds board and with just cause. The only way I can see Megan Anderson winning this fight is if she uses that size of hers. Nunes has been known to have breathing problems and gas tank issues in the past. If Nunes isn't able to connect early and put Anderson away, then I can see this fight getting interesting. Holly Holm was able to use her veteran savvy and physical strength to out-grapple a young Megan a few years ago. Still, Megan's current version is far more experienced and dangerous than that younger and more inexperienced version of herself. Megan has serious power in her hands and is much taller and longer than the champ champ Nunes. Believe it or not, Nunes is human, and if anybody is going to dethrone her, it is going to be somebody like Megan who truly belongs at 145 and can bully the champion like nobody before has been able to.
Amanda Nunes vs Megan Anderson Pick:
UFC 259 Co-Main Event Best Bet – Megan Anderson (Inside the Distance) (+1100 via Bet365): Now let's talk betting. How do we make money on this fight? Are we really going to lay the -1150 on Amanda Nunes because she is free money? No, I don't think so. Are we going to take a shot at fading the greatest women's fighter of all time? I honestly don't think that's the worst shot you can take. What I have done is taken a small shot on a big score. More often than not, when a fighter dethrones the champion, they do so in a devastating fashion. Chris Weidman knocked Silva out cold. Israel Adesanya destroyed Robert Whittaker in 2 rounds. Daniel Cormier moved up in weight and flatlined Stipe Miocic. It's very rare that a fighter takes on the champion and simply out-classes the current champion in a 5 round decision. If you are rolling with me, take whatever your normal bet size is, cut it in half, plug your nose, and pray for something crazy! I am taking a shot on Megan Anderson Inside the Distance at +1100. If Megan gets on top of Nunes or if she can land the right shot, Anderson can finish this fight, and getting over 10-1 is just insanity for a woman the size of Anderson. It's insane, but I am going for it.