UFC 254 Best Bet: Volkov vs Harris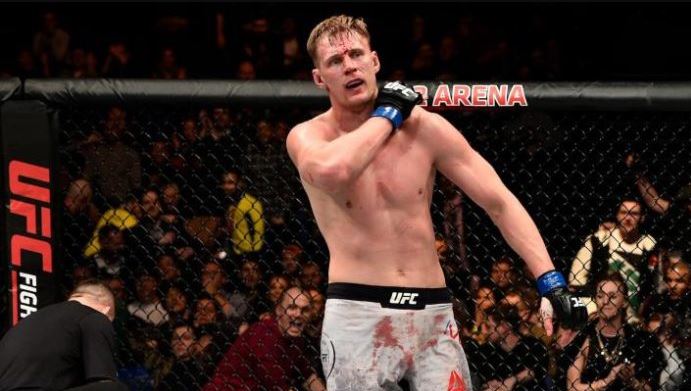 Odds.com's Alexander Volkov vs Walt Harris Pick is this week's Best Bet for UFC 254
| | | |
| --- | --- | --- |
| UFC 254 | Best Bet | Best Odds |
| Alexander Volkov vs Walt Harris | Alexander Volkov | -175 (via Bet365) |
The best bet parlays have been clutch on Fight Island, but we're changing it up again. This week's best bet is one that we have to put our big boy pants on. Sometimes we parlay and sometimes we take dogs, but rarely do I like to just lay chalk. This is one of those special weeks.
The Fighters
| | | |
| --- | --- | --- |
| UFC Match Up | Alexander Volkov | Walt Harris |
| Best Current Odds | -175 | +150 |
| Age | 31 years old | 37 years old |
| Height | 6'7 | 6'5 |
| Reach | 80' | 77′ |
| Wins by Stoppage | 20 Wins by T/KO | 13 Wins by T/KO |
| Finish Rate | 75% | 100% |
| Win/Loss | 31-8 | 13-8 |
Alexander Volkov is a very strange heavyweight in the UFC. We just don't quite know where to put him. Fast and technical Volkov plays the range game and picks his opponents apart. Volkov has put together an impressive run in the UFC with KO wins over former champion Fabricio Werdum and recent schooling of Greg Hardy, but he is just 1-2 in his last 3 with losses to Derrick Lewis and Curtis Blaydes. Both of those losses need to be taken with a grain of salt, however. Volkov essentially destroyed The Black Beast for a full 15 minutes and dropped his guard with 10 seconds left on the clock and paid dearly for it. Volkov put on a clinic that night, outlanding Derrick Lewis 121 – 39 in significant strikes. Recently Volkov lost to Curtis Blaydes in a 5 round main event where he took everything Blaydes had to offer and nearly turned the tables in the final round of the fight where he was the much fresher fighter. Even in his 2 losses, you can find where Volkov actually impressed.
The Big Ticket is a middle of the road heavyweight at best. Harris is a fun guy with a great personality and touching story, but unfortunately, he has a ceiling as an MMA fighter. Walt Harris is not the most technical fighter, but he is athletic and fast and he relies on that. Harris has an impressive 100% knockout rate and he is the definition of knockout or bust. If Walk doesn't knock his opponents out he is either losing a decision due to being out-classed or he is getting knocked out himself because he gets tired. After his last run-in with Allistair Overeem, Harris seems to be taking his strength and conditioning more seriously so that he doesn't get gassed and finished again.
Alexander Volkov vs Walt Harris Pick
The Pick: Alexander Volkov (-175) via Bet365: Volkov averages 4.65 significant strikes per minute but only absorbs 2.53 meaning that he outlands his UFC opposition by over 2 full significant strikes per minute. That is an impressive feat at any weight class and it's practically underheard of at heavyweight. Walt Harris on the other hand averages 2.97 significant strikes per minute and absorbs 3.18 showing that he is being outlanded more often than not by his foes. Even though Harris has been in the UFC quite some time he has not exactly faced an upper tier of competition, so the fact that he has mostly faced mid to low tier heavyweights and is still being outlanded is concerning.
In this fight, even more so than his others, Harris is KO or bust and I think the defensive prowess of Volkov will be enough to keep him safe. Volkov has a 3-inch reach advantage and is a master of the stick and move. He should be able to play the outside and avoid the big shots of Harris until Walt slows down a little bit. Another area where Volkov will have the advantage is the floor and when Walt gets tired his 72% takedown defense isn't what it seems. Volkov is a BJJ brown belt and will have Harris very outclassed on the mat. Simply put Harris has to land a bomb to win this fight. Volkov can win by Ko, Submission, or by decision. I'll lay the price to have the better of the two fighters as my best bet.