Overeem vs Harris Odds – UFC Fight Night 172 Main Event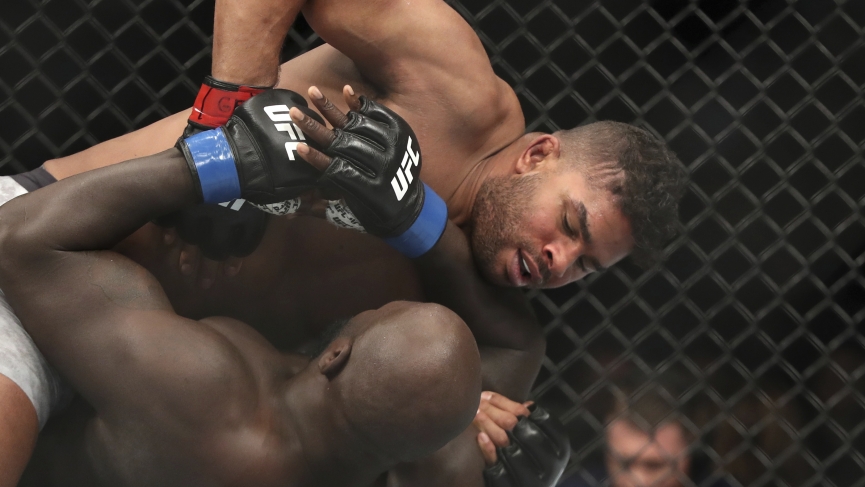 The Main Event of UFC Fight Night 172 is a heavyweight banger between two heavy-handed beasts who clock in near or at the 265-pound heavyweight limit. This fight comes loaded with some extra weight due to the horrifying circumstances that Walt Harris had to go through just months ago with the loss of his daughter.
While Walt is attempting to get his life back on track after a tragedy that I can't even begin to imagine, his opponent Overeem is coming off of a winning streak snapping knockout loss and is looking to right the ship himself. This fight has title implications, emotion, and both men are risking a lot. Sportsbooks have priced Overeem as the underdog which could be the play with the most value for the matchup.
Alistair Overeem vs. Walt Harris: The basics
This fight was scheduled for December 2019 and again in early 2020 but has had to be rescheduled both times. Walt Harris pulled out of the initial fight due to the ongoing investigation attempting to locate his daughter.
The fight was rescheduled and then COVID-19 struck and put everything on hold. These men have been eyeing each other through the cage for quite some time and have been in and out of camp for the better part of 6 months. There are so many questions surrounding this fight that it makes for a very interesting handicap, but the variance of what could happen is off the charts. 
Alistair Overeem odds +130
| | |
| --- | --- |
| Age | 39 years old |
| Height | 6'4 |
| Reach | 80' |
| Wins by KO/TKO | 23 |
| Win/Loss | 45-18 |
| Finish Rate | 89% |
"The Reem" is a fighter every fight fan is VERY familiar with. He is the most decorated heavyweight striker of all time! This man has fought in every major kickboxing and MMA organization and he has belts from most of them, but the one that eludes him is the UFC Heavyweight strap.
Overeem has been VERY close to the title multiple times but seems to fall short here towards the end of his career. Overeem faced future heavyweight king Francis Ngannou in 2017 and the decapitation he suffered on live TV had me thinking he was going to hang it up.
After being demolished by Curtis Blaydes and finished again by the next generation I was certain that it was over for Alistair. To the delight of fight fans everywhere he returned to action in 2018 and put together back to back KO wins in the very first round over Sergei Pavlovich and Alexey Oleynik showing he is still more than relevant.
Overeem failed in the last seconds of his fight against Jairzinho and paid dearly for it, once again tasting defeat via KO. This leaves The Reem in a very interesting spot as we know he won't touch UFC gold with those 3 monsters ahead of him in the rankings, but he is far from done. Can he defeat a middle of the road heavyweight like Walt and play Gate-Keeper? 
Walt Harris odds -161
| | |
| --- | --- |
| Age | 38 years old |
| Height | 6'5 |
| Reach | 77' |
| Wins by KO/TKO | 13 |
| Win/Loss | 13-7 |
| Finish Rate | 100% |
Walt Harris has been a .500 heavyweight in the UFC and had a rather disappointing run up until 2018. Walt is a physical beast of a man with athleticism that you would not expect from that frame. He is currently riding a 3 fight win streak with all 3 coming by KO.
It's actually a 4 fight winning streak if you count the No Contest from his KO of Andrei Arlovski in 2018 where he was popped for performance-enhancing drugs. Walt is damn near impossible to take to the mat and when he is, he is a skilled wrestler and so strong it is difficult to keep him there.
On the feet he gives about as good as he gets, but his athleticism and power are usually the difference. Walt has an INSANE 100% knockout rate. He has never won a fight that went to the judge's cards and can be out finessed if his opponent can keep their wits about them. 
Overeem vs. Alistair odds to win the matchup: 
Alistair Overeem proved that he still has world-class striking and he is fully aware that he cannot brawl anymore. While his chin has degraded he can still take a punch, just not THE BIG ONE. Alistair is far and away the better striker in this fight. Over the course of his long storied career Alistair has outlanded his foes by more than a significant strike per minute and I cannot underestimate how impressive that is considering the competition he has faced.
Alistair will have a 3-inch reach advantage in this fight and if he can use the same game plan he attempted against Jairzinho he can most definitely win this fight. Alistair mixes in well-timed takedowns and has a solid offensive grappling game to go with his world-class striking and that will keep Walt on his toes, but I have a hard time seeing Overeem getting
Walt down in the early rounds when he is explosive and fresh. This fight is almost identical to the last one he had where Overeem is a SMASH bet if this is 3 rounds, but because it is 5 rounds and he is facing a younger fighter with insane power there is always that chance he slips up and gets caught just like last time.
I personally rate Walt a decent bit lower than fighters like Ngannou, Blaydes, and Jairzinho but that freak athleticism cannot be ignored here. There is value on Overeem because he is the better fighter everywhere except pure wrestling, but we are betting on a man who was just knocked out against a man who just lost his daughter. There is the question of if Walt's tragedy will hamper him, his motivation, and his training to consider as well. All things taken into account I believe this is a dog or pass spot and you just have to hold your nose and pray Overeem can avoid the big bomb. Don't forget to shop around for the best odds for this fight. Fanduel Sportsbook, Bet365, and Foxbet all have competitive odds for this bout. 
UFC Pick: Overeem +130