New Hampshire Betting Handle Sees Record Betting Numbers in January
New Hampshire Betting handle for January was reported on Tuesday, and the state saw a 15.9% increase in its betting handle compared to December. $59.8 million was wagered in January, making it the largest handle in a single month since its sports betting inception in December 2019.
Despite the record handle in January, New Hampshire saw a 6.7% decrease in revenue, down from $4.5 million in December to $4.2 million in January. This is also a 12.5% decrease from November when the state hit an all-time revenue mark of $4.8 million.
The state is still collecting a solid chunk of taxes. This month, New Hampshire pulled in $1.89 million from revenue, thanks to a tax rate of 50%.
New Hampshire's Sports Betting Lottery System
Although New Hampshire only has one online sportsbook operating through its Lottery, the state picked a good one in DraftKings, which has helped drive profits. Other states that use a single-operator sportsbook have struggled. Still, New Hampshire, using the marker-leader DraftKings, has helped it consistently see growth in its betting handle throughout the fall.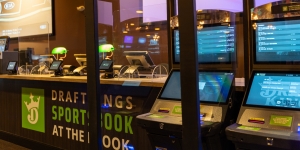 Among the 12 states that have reported sports betting revenue numbers for January, New Hampshire ranks eighth in that category. The state also ranks eighth in betting handle out of 11 (New York does not report betting handle).
With January in the books, New Hampshire has now seen $352.7 million wagered all-time and generated $27.9 million in revenue.
February should be another good month for the state. The New Hampshire Lottery reported over $7.1 million was wagered on the Super Bowl alone, up from $2.3 million wagered on last year's game. If New Hampshire reports another record month of growth for February, 10 of the state's last 12 months will see an increase in its betting handle.
Knowing over $7 million was wagered on the Super Bowl is a solid start.