Vicente Luque vs Tyron Woodley Pick: UFC 260 Predictions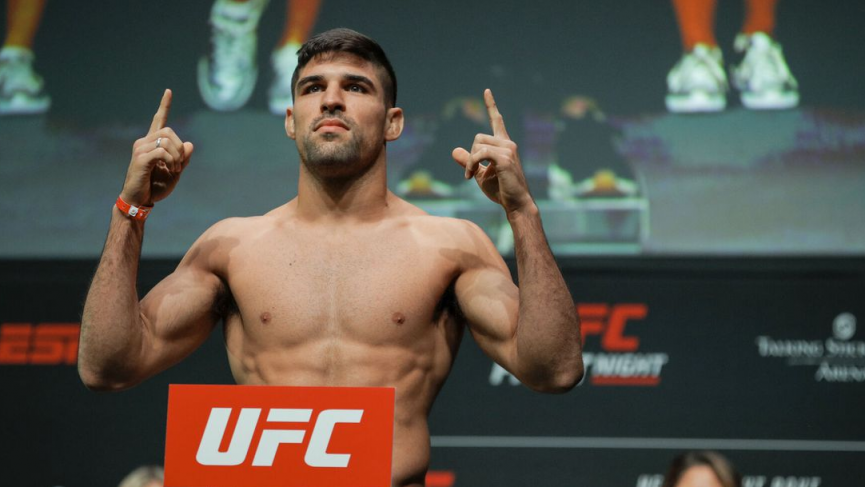 Vicente Luque vs Tyron Woodley Pick – UFC 260 Predictions: The co-main event of UFC 260 is an opportunity for Vicente Luque to finally step into the octagon as a genuine contender when he faces former 170 champion, Tyron Woodley. On the other hand, Woodley is in a must-win situation facing a young, hungry lion who is looking to take his place in the division. 
Join Clint MacLean as he breaks down the entire UFC 260 card on the DieHardMMA Podcast.
Vicente Luque vs Tyron Woodley Odds
| UFC 260 Odds | Vicente Luque | Tyron Woodley |
| --- | --- | --- |
| To Win Outright | -245 | +221 |
| Inside the Distance | +150 | +600 |
| by Decision | +155 | +325 |
| Total Rounds | Over 2.5 (-165) | Under 2.5 (+150) |
| Fight Goes Distance | Yes: -140 | No: +120 |
| Where/When | UFC Apex, Las Vegas | Sat, March 27th, 10:00 PM ET |
The Fighters: Luque vs Woodley
| UFC Welterweights | Vicente Luque | Tyron Woodley |
| --- | --- | --- |
| Record | 19-7 | 19-6 |
| Finish Rate | 90% (11 Wins by T/KO) | 63% (7 Wins by T/KO) |
| Age | 29 | 38 |
| Height | 5'11 | 5'9 |
| Reach | 75′ | 74′ |
Vicente "The Silent Assassin" Luque is an absolute warrior. This man hasn't been in a boring fight in his entire career. Luque walks his opponents down and averages 5.72 significant strikes per minute, simply breaking the man who stands in front of him. Since 2015 only two men have defeated Vicente Luque, and that was Leon Edwards and Stephen "Wonderboy" Thompson. Luque has been knocking on the door of contenders, and recent run knocking out both Nico Price and Randy Brown, has left the UFC with no choice but to give him a big fight.
"The Chosen One" Tyron Woodley has gloriously fallen from his mountain. There was a time not so long ago that Tryon Woodley was talking about becoming the GOAT of 170 and dethroning George St Pierre as the all-time king of the UFC welterweight division. The betting world never respected Tyron Woodley, and he put a run of 6 wins and one draw together, being one of the best underdogs to ride for four straight years. Since Tyron has lost his title to Usman, he seems to have spiraled and is on a three-fight losing streak, and has less offensive output than ever before. Tyron needs to do something now, and he needs to do it now if he hopes to have any future in the UFC.
The Match-Up: Luque vs Woodley
The problem with this fight for me is that Tyron Woodley, just 2-3 years ago, would be a smash bet in this spot. Vicente Luque has just a 64% takedown defense rating, and a big explosive wrestler like Tyron would have a field day with that. Vicente Luque is a take one to give one fighter, and Tyron Woodley's explosive power is something you cannot go 1 for 1 with.  In fact, when you look at what these men do and what they are good at, Tyron Woodley is a pretty bad match-up for Vicente Luque. I just cannot trust him.
Tyron has talked a big game for the last three years, and granted, he has been fighting three younger versions of himself that have a more modern MMA game and the top 3 contenders in the division, but there is no excusing the level of activity from Tyrone. It is apparent that Tyron is no longer the man that he was, and he doesn't seem interested in getting hit these days. As much as I feel Vicente could walk right into a bomb on Saturday, if Tyron doesn't put him away in a single shot, then Luque is going to simply overwhelm him, and I can actually see Tyron shelling up and being finished.
Vicente Luque vs Tyron Woodley Pick:
UFC 260 Co-Main Event Best Bet – Vicente Luque -250 (UFC Odds via Bet365): As much as I think this is a spot where Tyron is stepping down in competition, he faces a fighter who is nine years younger than himself and a fighter who is made out of iron. Woodley can knock anybody out IF he can find that trigger, but I have no faith that he will suddenly flip a switch this weekend and do what we haven't seen him do in years. I'm not too fond of it, but I have to take Luque here, and I honestly could see Tyron throwing in the towel after the first round and getting finished after he hits Luque with everything he has left and the young Brazilian keeps coming.