UFC 250 Best Bets with Jay Paglia
On Saturday night, the sport of mixed martial arts will again have the American sports stage to themselves. While the country is still dealing with the global pandemic, there is one organization that continues to come up smelling like roses. The Ultimate Fighting Championship. UFC President Dana White continues to plow through every obstacle to ensure that sports fans in this country have some type of salvation through this proverbial shit storm that is life.
Enter UFC 250. UFC matchmaker Mick Maynard has put together a phenomenal fight card for the fans this weekend. It's packed with what should be entertaining fights, and opportunities to banks a few units. So, let's take a closer look at a few angles that could provide profitability come Saturday night.
Amanda Nunes (19-4) vs Felicia Spencer (8-1)
People often blow things completely out of proportion, It's human nature. We live in the biggest and best culture since the advent of social media. In the world of mixed martial arts, there is something that can't be overstated. The greatest female mixed martial artist of all-time is Amanda Nunes. It's something that is not up for debate. It isn't opinion, it's a fact. When you see her fight, it's something to appreciate. People that watched Mike Tyson in his prime viewed the fight with perspective. The cultural significance of what they were watching. Amanda Nunes deserves the same perspective.
I have heard people complain about the price tag of this fight. Nunes opened up as a (-360) favorite. That line has moved substantially. In part because it deserved to move. The other reason is people have nothing else to bet on and know who she is. The lines have ballooned up to (-600). Would I tell you to bet a (-600) line? No, I will not. However, I do believe there are ways to back Nunes on Saturday.
Is Felicia Spencer Live?
Let's start here, who wins the fight? The real question is does Felicia Spencer have a chance? The answer is no, not really. Felicia Spencer is an excellent grappler with absolutely no striking skills. Zero striking offense, and zero striking defense. She has 9 professional fights under her belt, and she is fighting the GOAT.
The argument I am hearing from Spencer supporters is, "Well, she went the distance with Cris Cyborg." Yes, she did. Cyborg is on the top 5 list of best female fighters ever. However, getting your ass kicked from one side of the cage to the other for 15 minutes and surviving the fight means what? Congratulations, you know how to take a beating. That is the best argument you have for me? If that's it, your investment in Spencer is in trouble. Amanda Nunes fought Cyborg and knocked her out in 1 minute.
The bottom line is this: If Felicia Spencer can't get her hands on Nunes to take her down, she has a 0% chance of winning. Even if she can get her to the ground, Nunes is a black belt in Brazilian Jiu-Jitsu. The best thing Spencer does, Nunes is better at. So, no… Spencer isn't live.
Will Amanda Nunes Finish Her?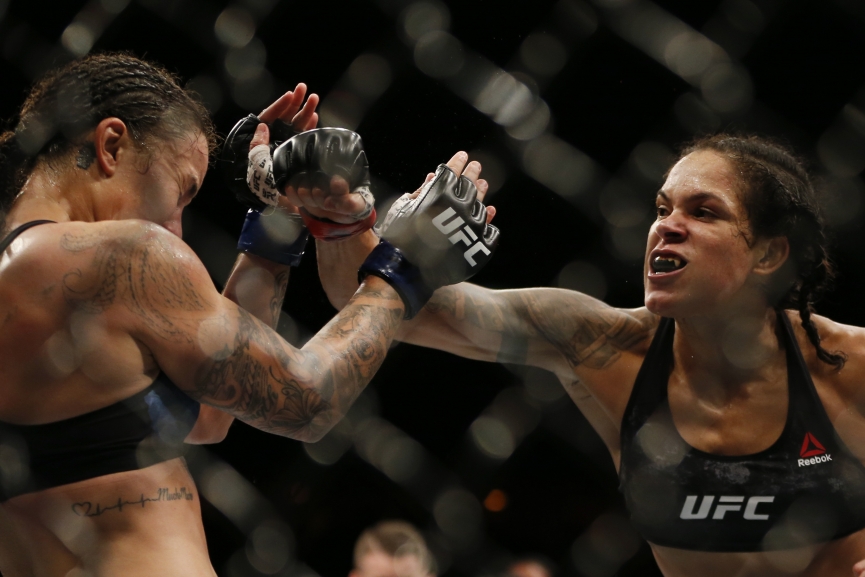 I would be shocked if she didn't. In Nunes' last fight she went the distance with de Randamie. The reason that happened was she respected her striking game. She knew the safest route was to take de Randamie down and grind her out for 5 rounds. She did exactly that and won a dominating decision.
This fight is very different. The game plan for Nunes on Saturday will be stand and bang. She knows Spencer can't strike or defend striking. Nunes will stay at mid-range, just out of Spencer's distance, and club her until she falls. Cyborg had a dominant striking game for a decade. She was feared by everyone. Nunes walked through it and dropped her in a minute. The same happens on Saturday.
The Edge
So, how do we bet this fight? Forget the money line. If you didn't grab it at the opener, it's gone. There are two ways you can approach this fight, and I'm fine with both of them. You either take Nunes by KO/TKO/Submission @ (-175), or you take her to win in round 1 @ (+220) and round 2 @ (+375). Either way, I think you are ok. The reason why taking the plus money in round 1 & 2 is an option here, is because I would be shocked if Spencer lasts more than 10 minutes against Nunes. I just can't see it. If you lay the (-175) it basically equates to Nunes inside the distance. That means you are getting all 5 rounds for Nunes to end the fight. You are basically paying the extra juice on the 3rd, 4th, and 5th rounds. That is the safer play. However, I feel good about either. The choice is up to you. I will be heavily invested in Nunes by KO/TKO/Submission @ (-175).
Cody Garbrandt (11-3) vs Raphael Assuncao (27-7)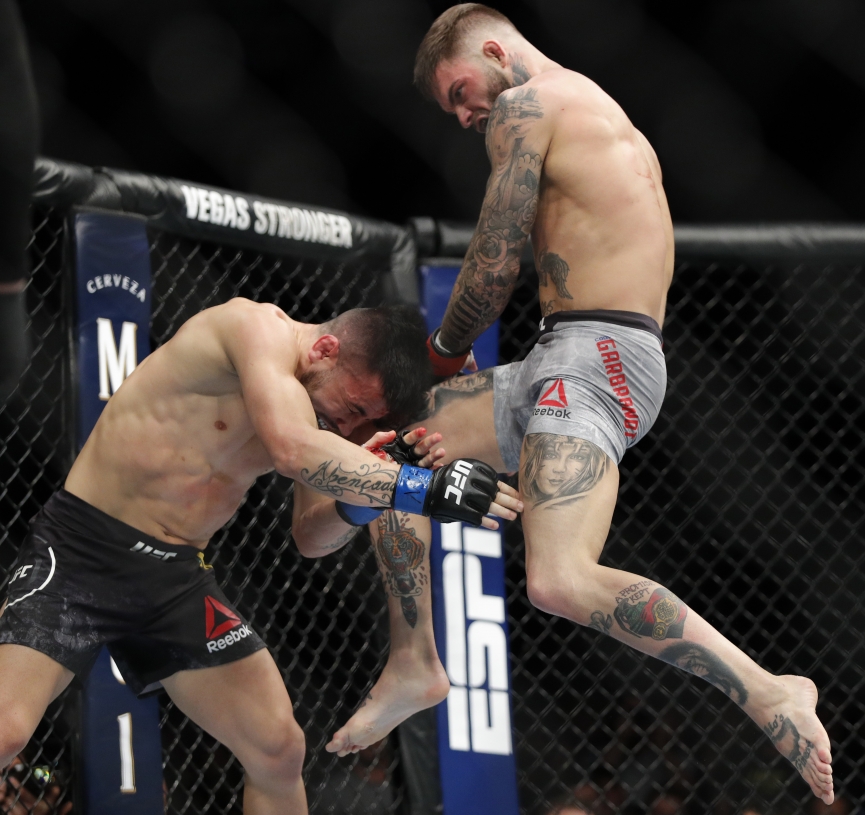 I was long-winded on the main event breakdown, but this will be shorter. This fight means everything to Cody Garbrandt. His UFC career can literally hang in the balance. It's absurd that I even typed that when you consider where Garbrandt was on New Year's Eve 2016. He had just won the UFC bantamweight championship against Dominick Cruz. Dom owned the division for years, and Cody made him look like a child. Garbrandt's power, speed, and striking accuracy looked unbeatable.
Fast forward 3.5 years, and Cody "No Love" is fighting for his survival. He has been knocked out three consecutive fights. His chin looks like it's made of glass. I want to know, has Cody Garbrandt been humbled? If he walks into the cage this weekend and has learned nothing, he is in trouble. Raphael Assuncao has been a top 5 staple in the bantamweight division for close to a decade. His striking is underrated, and his ground game is excellent. You have to think Assuncao doesn't have many UFC fights left before retirement.
The Edge
Personally, Garbrandt hasn't burned me. I bet against him in both Dillashaw fights, and his last time in the cage versus Pedro Munhoz. I've had the pulse of Cody, but I have to back him here. I don't view Assuncao's striking as a big enough threat to scare me off Garbrandt's weak chin. If Assuncao wins the fight, I think it's the ground game that would do Garbrandt in. I feel good about Cody's sprawl, and I think he has an excellent chance of hitting the button and dropping the UFC veteran. Cody throws enough volume to win a decision, and he has the power to stop the fight. I feel you grit your teeth and back Cody here. If the chin gets in the way again, it's the last time you ever think about him again. Give me Cody "No Love" @ (-148).
Jussier Formiga (23-7) vs Alex Perez (23-5)
Can we all agree on the fact that it's disrespectful to Formiga that he's on the early prelims card? C'mon man, we are talking about a guy that beat the #1 contender in the division a year ago. That's the guy we are putting on the Fight Pass prelims? Stop it. Alex Perez is a solid fighter and I'm not trying to take anything from him. However, the fighters he has beaten are not on the same level as Jussier Formiga. De La Rosa, Torres, and Shelton are at the very least 2 levels below Jussier Formiga. Perez has a solid wrestling game, he scrambles well, and he has power. His leg kicks are solid but his striking game seems unnatural to me.
Jussier Formiga has accomplished more in that cage, and he is not finished. We know that Formiga is a better grappler than most, including Perez. We also know that through the years he has built a functional striking game with some pop. This line is wrong in my opinion. The wrong fighter is favored. If you didn't grab Formiga at the line of (+120), you can still grab him at (+114) now. There is still value in that line, and I should be on him come Saturday night.