UFC 250 Odds: Nunes vs Spencer Picks & Predictions
There are very few fighters who can truly claim to be the GOAT. Saturday night at UFC 250 we have the honor of watching the undisputed greatest female fighter of all time. Amanda Nunes is a current two-division champion and is looking to defend the 145-pound title against a very different kind of threat. Relative UFC newcomer Felicia Spencer is a phenomenal grappler and a true 145-pound fighter who is coming to dethrone the queen of women's MMA as a HUGE underdog.
Amanda Nunes: The Basics
What you need to know is Amanda Nunes is the most dangerous woman on the planet. She is a phenomenal striker with deadly power and fast hands. She is a solid wrestler and once it hits the mat she is a BJJ black belt. There is no place a fight can go where she isn't a threat. Spencer is definitely less experienced than Nunes, but her fight against Cyborg showed that she is composed even at a high level. She went a full 15 minutes with the former champion, taking the best Cris had to offer. Spencer's iron will and durability is her key to victory in this fight. If she is able to do what few before have done and withstand the offense of Amanda Nunes, Spencer might be able to put her size advantage to work and wear the champion down late.
| | |
| --- | --- |
| UFC Fighter | Amanda Nunes   |
| Odds | (-625) |
| Age | 32 years old  |
| Height | 5'8 |
| Reach | 69' |
| Wins by KO/TKO  | 13 |
| Win/Loss | 19-4 |
| Finish Rate | 89% |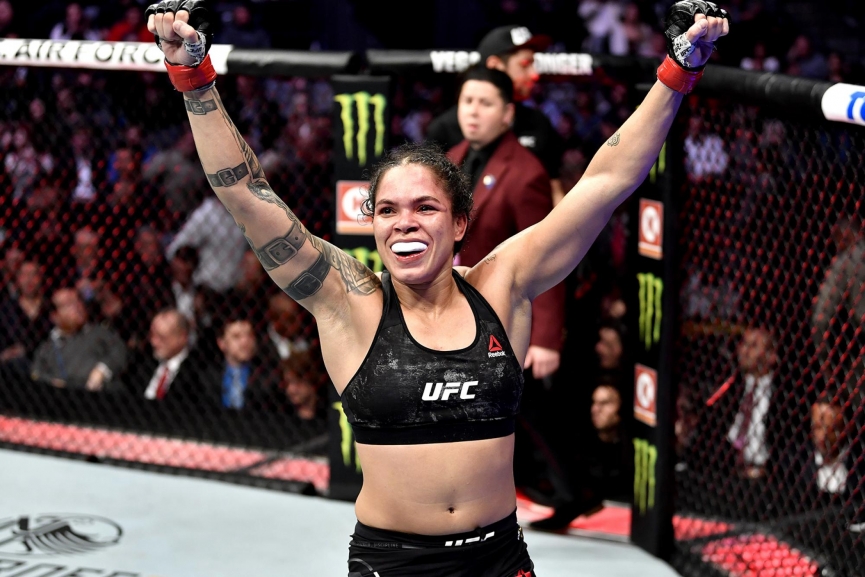 I have discussed how good Amanda Nunes is everywhere in this article, and there isn't much else to say. Not only is she defeating the best of the best, but she is also doing it in style with an 84% finish rate. Women can't even survive her, and that's why 13 of her 19 wins have come via KO/TKO. Nunes has the kind of power that can end any fighter's night, and in women's MMA that is a rare gift. Nunes is skilled on the mat, although she prefers to strike. She's also skilled in avoiding the mat, with an 80% takedown defense to fall back on.
You definitely don't want to be standing with the champion, but it's easier said than done to get her on the mat. Amanda Nunes hasn't been taken down her last 3 fights. The last fighter who was able to take Nunes down was Raquel Pennington, and she did it once. Before that, it was Valentina Shevchenko, who is the only woman who can claim to be on Nunes' level. The last time someone was able to beat Amanda Nunes was 2014. Cat Zingano was the last woman to beat her. Nunes lost the fight by TKO in the 3rd round. Women's MMA can thank Zingano for creating Nunes 2.0. Amanda reinvented herself after the loss and came out the other side as the greatest female combat sports athlete of all time.
Felicia Spencer: The Basics
| | |
| --- | --- |
| UFC Fighter | Felicia Spencer   |
| Odds | (+460) |
| Age | 29 years old  |
| Height | 5'8 |
| Reach | 69' |
| Wins by Submission  | 4 |
| Win/Loss | 8-1 |
| Finish Rate | 74% |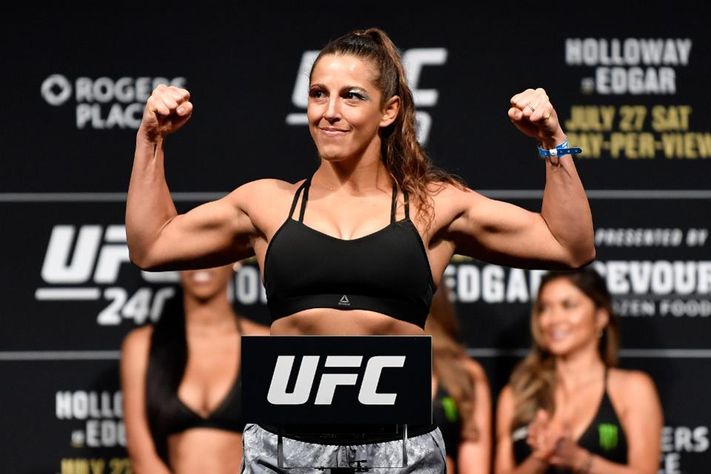 Felicia the "Feenom" Spencer brings excellent grappling, a great chin, and a big heart every time she steps into the cage. Felicia has absolutely handled the lower level fighters she has faced in her career. She has finished most of them both by TKO and submission, proving she belongs at the top of the pecking order. The only issue is the 145 division is a shallow one. Because of that, there is a drastic jump in the level of competition once you become a contender.
Spencer was thrown into a high profile fight with Cris Cyborg in her 2nd UFC fight and she did not disappoint. Felicia may not have won her fight with Cyborg, but she earned the respect of fans everywhere. She was able to out-muscle the former champion in grappling exchanges. She also cut her early in the fight, and even though she was outclassed on the feet she took everything Cris threw at her and kept coming. Spencer's gas tank seems to be on point and even though Nunes will have a slight height and reach advantage, Spencer is a thicker woman and should have a strength advantage.
Nunes vs Spencer: The Matchup
First things first, MMA math is total bulls**t. Spencer faced Cris Cyborg and lost. Cyborg lost to Nunes, so that must mean that Nunes will steamroll Spencer. While we have to respect everything the champion has done, I feel that simply disregarding Spencer in this fight is being disrespectful of her capabilities. This is the first time in a long time that Amanda Nunes will face a fighter who is better than her on the mat. In Nunes' last fight against former champion Germaine de Randamie, it was clear that Nunes respected the striking ability of GDR.
Nunes was levels ahead of her on the mat and easily took GDR down and kept her on the mat for 25 minutes. Most of Amanda's fights have given her a path to victory because she is so well rounded, but this fight, the mat is not the path. The last thing you want to do in MMA is go to the ground with a more skilled fighter than you, ESPECIALLY when that fighter is bigger and heavier than you. Spencer will test Nunes' 80% takedown defense. Even if she can't get the champion on her back, Spencer will try to keep this fight close and push Nunes against the cage where she can nullify that striking offense. Spencer is still relatively inexperienced. She attempted 8 takedowns versus Cyborg and landed none of them.
That doesn't exactly inspire confidence that she will have better luck against Nunes. We also need to account for the size difference. Cris Cyborg is big for 145 lbs. and has a stunning 94% takedown defense percentage. In fact, she has only been taken down twice in her UFC career. Nunes is a natural 135 lbs. fighter who stepped up for a super fight opportunity against Cyborg. She doesn't truly belong at that weight class considering she doesn't cut a lot of weight to make 135. There is a chance that Spencer will have more success bullying Nunes against the fence and draining that gas tank since it's a championship fight. If Spencer is able to find success by landing takedowns, this fight could get VERY interesting.
After looking at this fight through the lens of Felicia Spencer, we need to address the elephant in the room. Nunes might flatline Spencer in the very first round. Spencer may be improved on the feet since she had moments against Cyborg, but she is still miles behind Nunes. We are so used to Nunes demolishing durable fighters, but she has a sneaky habit of going to decisions against better competition. Nunes fought tooth and nail with Valentina Shevchenko twice, and while I cannot compare the skills of Spencer to those of Shevchenko it speaks to Nunes not being able to KO EVERYBODY.
Most recently Nunes went 25 minutes with GDR by playing it safe because of her opponent's potential edge on the feet, and we could see something like that here. Nunes will not want to overextend and give Spencer the opportunity to land takedowns. We see fighters offenses muted in situations where they are aware of the takedown threat. If Spencer can deal with Nunes' power like she did against Cyborg, she can make this a fight. We have to find a way to spot value in this fight, and I dare say at the current line it's a dog or pass situation.
I am not a fan of laying big chalk, to begin with, but the fact that Spencer has a path to victory on the mat, it's enough to stay away from the huge price tag on Nunes. That being said… I don't really want to stand in front of a train and get run over either. We are going to watch closely when the props and totals come out, but I'm going to rely on the durability of Spencer and take a sneaky over. Overs in women's MMA are usually juiced to all hell because there are almost no finishes. In the few cases where we have violent finishers like Nunes, Cyborg, and Shevchenko the bookies over-correct and assume the chalk will finish early.
I think Spencer is capable of surviving the early onslaught of Nunes. Amanda may even be reserved in her attack to make sure she doesn't get taken down. If Spencer can grind the clock away against the fence, and eat shots the way she did against Cyborg, I think this fight can see the 4th round. Currently, the fight to go the distance is +265, so the bookmakers expect a finish. I think the total should be o/u 2.5 rounds. My guess is that it will be roughly even money or juiced to the under in anticipation of a Nunes knockout, but I will hope for a slight + line and count on the chin of Spencer.
The Pick: Over 2.5 rounds – Line Pending