Formiga vs Perez & Magny vs Rocco Martin are UFC 250 Best Bets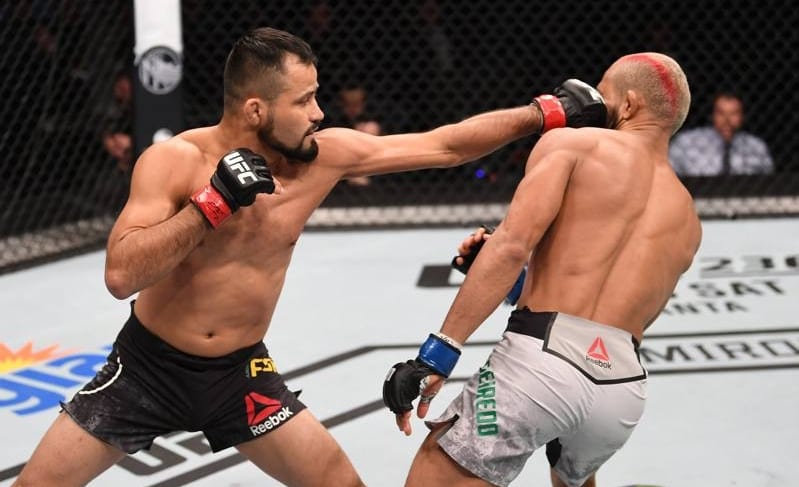 We have been combing through UFC 250 all week, looking for spots we can make some cash. So, what are the best spots? There are several really solid betting opportunities this weekend, but I've narrowed it down to two. Let's make some cash! 
Jussier Formiga vs Alex Perez: The Basics 
Fighting is a young man's game. It is harder to stay at the top of the division when you're an aging veteran fighting off the division's new blood that's coming for your head. It happens more at the lower weight classes, where speed is the most important thing. Once your speed falls off, you are a sitting duck. Alex Perez is a hot rising star with 1 loss in his UFC run. Now Perez takes on Formiga who is a veteran and former #1 contender riding a 2 fight losing streak. The question is will Formiga be able to turn back the clock and regain his foothold atop the division? Or will Perez change the guard and establish himself as a new contender at 125? 
Jussier Formiga vs Alex Perez: The Fighters 
| | |
| --- | --- |
| UFC Fighter | Jussier Formiga   |
| Odds | +110 |
| Age | 35 years old |
| Height | 5'5 |
| Reach | 67' |
| Wins by Decision  | 13 |
| Win/Loss | 23 – 7 |
| Finish Rate | 43% |
Let's rewind 1 calendar year when Jussier Formiga was knocking on the door of his long-awaited title shot. He had put together a 3 fight win streak and was facing the 125-pound boogeyman in Deiveson Figueiredo. Most people had counted him out because of Figueiredo's power. Formiga used his incredible ability to chain takedowns and use his BJJ top game which outclassed Figuiredo on the mat. He pulled the upset, finally being named the #1 contender. Since then, Formiga was TKO'd by Joseph Benavidez and lost a very competitive fight versus Brandon Moreno. I think we forgot what this man is capable of. 
| | |
| --- | --- |
| UFC Fighter |  Alex Perez  |
| Odds | -139 |
| Age | 28 years old |
| Height | 5'6 |
| Reach | 65' |
| Wins by Decision  | 12 |
| Win/Loss | 23 – 5 |
| Finish Rate | 47% |
Alex Perez is an exciting contender who is making waves on his way up the rankings at 125. Perez is a hard nosed wrestler who has been able to grind his foes in the cage until they give up a choke, or simply overwhelm them with pressure. That strategy tends to win decisions. Perez averages 3.27 takedowns per 15 minutes and has a 50% accuracy which is extremely impressive. He averages 4.48 significant strikes per minute while only absorbing 2.99. 
Jussier Formiga vs Alex Perez: The Matchup
The key to this fight is how good Formiga is on the mat. The ability to scramble, sweep, and take his opponents back is going to play a huge role in this fight. Perez wants his fights on the ground and that plays straight into Formiga's greatest strength. I simply don't think  Perez will be able to stuff and hold Formiga down for 15 minutes. When we consider all fights start on the feet, Formiga is a far more technical fighter than Perez. Perez has the youth, piss, and vinegar on his side, but Formiga is a veteran that has fought the very best at 125.
The only time that Perez stepped up he was mauled and TKO'd twice in the same fight by Joseph Benavidez. That's not a joke. The referee stepped in to stop the fight and then changed his mind allowing it to continue. Joe didn't get flustered he remained calm and beat Perez until the referee was forced to stop the fight a second time. Formiga's only losses are to the elite of the division, and he holds a win over the uncrowned champion in Figueiredo. It's worth noting Figueiredo knocked out Joseph Benavidez in their fight for the vacant title.
Simply put… I believe the wrong fighter is favored in this fight! Perez is a talent but he has defeated less than top talent. Now he is taking a HUGE step up. If you follow me on Twitter (@DieHardMMAPod) I gave this line out at +125 earlier in the week. I will give it here again! That dog money is drying up and you should get on it before its gone. 
The Pick: Jussier Formiga +110
Neil Magny vs Anthony Rocco Martin: The Basics 
When you take 2 would-be contenders who are scraping for the opportunity to break through and challenge the elite, you end up with a fantastic fight. This will be a battle of wills, and a fight that decides who the new contender at 170 is. Rocco is a former lightweight, much like Gilbert Burns who was simply too big for the division and needed to move up. Since he has moved up, Rocco has found success going 5-1. Magny is a long time bridesmaid who has fallen every time he is granted that big step up in competition, but he seems to have turned a corner. This one will be good! 
Neil Magny vs Anthony Rocco Martin: The Fighters
| | |
| --- | --- |
| UFC Fighter | Neil Magny   |
| Odds | -152 |
| Age | 32 years old |
| Height | 6'3 |
| Reach | 80' |
| Wins by Decision  | 12 |
| Win/Loss | 22 – 7 |
| Finish Rate | 46% |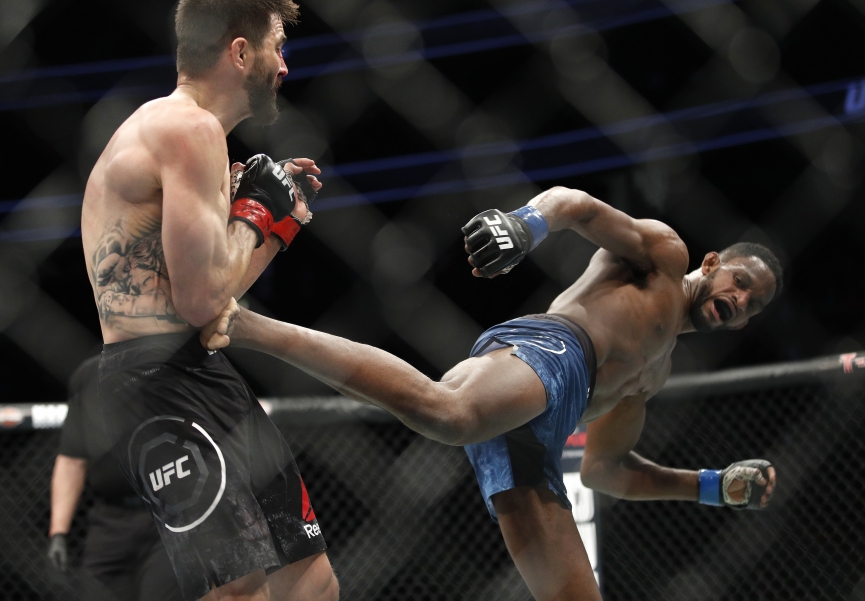 Neil Many has alternated wins and losses in the UFC, however, those losses have come to fighters who are top talents and have been able to get over on him as he has grown. Neil has insane physical gifts that make him the larger fighter in nearly every fight. Magny averages 3.93 significant strikes per minute and absorbs only 2.15 which is backed up by his 2.7 takedowns per 15 minutes.
Magny is able to strike his opponents where they can't hit back due to his reach and he uses his grappling to either smash them against the cage or put them on their backs where it is hard to hit back. Recently Neil took a year and a half break from competing and many people, including myself, completely counted him out against The Leech Jinliang Li. He shut everybody up with a dominating performance over 15 minutes. 
| | |
| --- | --- |
| UFC Fighter |  Anthony Martin  |
| Odds | +125 |
| Age | 30 years old |
| Height | 5'6 |
| Reach | 65' |
| Wins by Submission  | 9 |
| Win/Loss | 17-5 |
| Finish Rate | 59% |
Since moving to 170 Rocco has made his presence known. Rocco is 5-1 in his last 6 with his only loss coming to the ever-present Demian Maia in 2019. Rocco is aggressive on the feet and uses good leg kicks to crowd and damage his opponents. Once the fight hits the mat. Rocco has an underrated ground game and is always hunting for a submission. Rocco averages 2.7 significant strikes per minute but absorbs 2.45. That means he takes almost as much as he dishes out.
Even though he is excellent on the mat, Rocco doesn't have much ability to get a fight there. A 25% takedown accuracy rating isn't the best at stopping his opponents either. Especially with a 64% takedown defense rating. Rocco is a dangerous fight for anybody but I'm personally not convinced that he belongs in the top tier of the welterweight division. 
Neil Magny vs Anthony Rocco Martin: The Matchup
Magny may drop the big fights when he gets a named opponent that will break him into the top 5 like Raphael dos Anjos or Santiago Ponzinibbio. However, this isn't that kind of fight. After facing 'The Leech' you could argue that this is a step down in competition for Magny. He has never looked better than he did in his last fight.
On Saturday, Magny is going to enjoy a ridiculous 7-inch reach advantage which should nullify the striking game of Rocco. Considering Magny's efficiency for putting his opponents against the cage and taking them down, I believe he will be able to control the smaller Rocco wherever the fight takes place. I do not want to down-play the skills of Martin, there is always the chance that he can land a submission, but I do believe that it's his only path to victory here. If I point to the loss to Ponzinibbio for this argument, then I need to remind you that Anthony Rocco Martin is NOT Santiago Ponzinibbio. It took Ponz until round 4 to finally land the kill shot on Magny where this fight is only 3 rounds.
The leg kicks of Martin have been a hot topic among UFC bettors recently. I want to remind you that Magny trains at Elevation Fight Team where he has partners like Drew Dober and the king of leg kicks Justin Gaethje. I believe that we will bear witness to Magny 2.0 this weekend and I expect him to outclass Rocco for 15 minutes. 
The Pick: Neil Magny -152