Tecia Torres vs Brianna Van Buren Picks: UFC Fight Night Live Underdogs
Let's dive deep into the Tecia Torres vs Brianna Van Buren matchup, and see if we can't get some of that cash. The dogs are barking again! We have been on a bit of a chalky run lately with UFC sports betting. Only a few dogs have cashed, but this week we have so many closely lined competitive fights that you know some of these short dogs are going to show up. We barely missed out on our big dog "Air" Jourdain cashing last week. He dropped Andre Fili in round one and all credit to Fili, he was able to dig deep and fought his way back into the fight, but that + money we got was insane value and we almost edged a split decision without the KO.
To learn how I find my underdogs in more detail check out the full article here:
Tecia Torres vs Brianna Van Buren: The Basics
This is a potential changing of the guard fight on Saturday. The UFC is matching up a struggling vet against a young gun. Van Buren is in her 2nd UFC fight where Torres has been fighting top competition since her UFC career began over 6 years ago.
Torres vs Van Buren: The Fighters
| | |
| --- | --- |
| Fighter | Tecia Torres |
| Odds | +162 |
| Age | 30 years old |
| Height | 5'1 |
| Reach | 60' |
| Wins by Decision | 9 |
| Win/Loss | 10-5 |
| Finish Rate | 10% |
"The Tiny Tornado" has been in the UFC since 2014 and for the last 5 years has fought the absolute elite of the women's 115-pound division. Because she has swum consistently in the deep end, Torres has run headfirst into some monsters. She may be fighting for her job on Saturday when she takes on UFC newcomer Brianna Van Buren.
| | |
| --- | --- |
| Fighter | Brianna Van Buren |
| Odds | -189 |
| Age | 26 years old |
| Height | 5'0 |
| Reach | 62' |
| Wins by Decision | 4 |
| Win/Loss | 9-2 |
| Finish Rate | 55% |
Van Buren stood out in the all-female Invicta FC before she got the call to the UFC. She is riding a 6 fight win streak including her UFC debut back in July 2019 and has some steam behind her. Van Buren is offensive and looks to bully her opponents. Once "Tha Bull" puts her opponents on the mat, she unloads with ground and pound to open up submissions or entice the referee to stop the fight by TKO. She is small for the division, but she makes up for it with tenacity and honestly reminds me of a young Tecia.
Torres vs Van Buren: The Criteria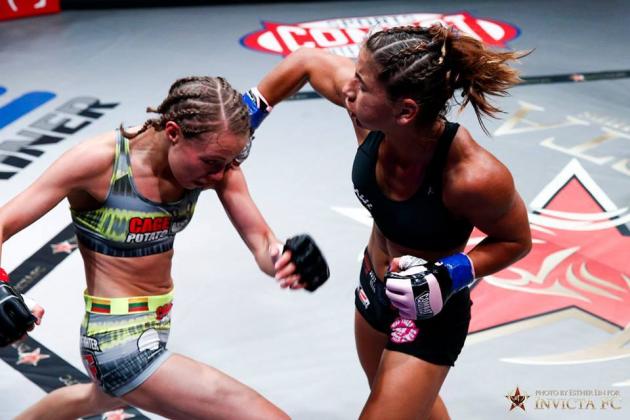 Fight IQ
Tecia Torres sticks to the game plan. She is generally the smaller fighter, but she is built like a brick shithouse and can out-muscle her foes even at a disadvantage. Torres looks to press you against the cage and rip into you once you have nowhere to go. On the mat, she has a strong top game and some serious ground and pound. Perhaps to a fault, Tecia will stick to the gameplan and continue to make openings for her game to work.
Chin
In 15 professional fights, Tecia has never been finished. Having a good chin is not simply the threat of the KO, but also you need to consider submission defense. Tecia gets 5 gold stars across the board fighting former champions and top contenders for the last 5 years without ever giving up a choke or a KO.
No Quit
Similarly to the chin, Torres has never given up. She has found herself locked in the cage with the long reigning queen of 115 Joanna Jedrzejczyk, the powerhouse of the division Jessica Andrade, and the newly crowned champion Weili Zhang. She fought tooth and nail for a full 15 minutes with all 3. The Tiny Tornado is the kind of fighter who knows it isn't over until that final bell rings!!
Power
If there is a piece of the criteria that we may have to overlook, it's her power. We define power as fight ending ability whether it be KO power or being a submission threat. Tecia Torres packs a punch, has heavy hands, and big counter punches. I am honestly surprised that she doesn't have a KO on her record. Tecia is well suited for MMA and can absolutely ground and pound her opposition, but I credit her lack of finishes to the strength of her schedule.
Torres vs Van Buren: The Edge
Scoring 3 out of 4 on the dog betting criteria is a passing grade. Its not an absolute home run, but it means we should at least look at this dog as potentially being live. The main key we need to review that pushes Tecia from being a pass to being a bet is the level of her competition. We have mentioned several times the murderer's row that Torres has fought in her UFC career, and I have another angle that can fill the shoes of the missing "power". I like to fade fighters taking steps up in competition.
Van Buren looks like a little monster, but she is the first fighter that Torres will fight in 5+ years that will be her size, and 4 out of Tecia's last 5 fights have been champions and/or contenders. Van Buren is about to step into the deep waters for the first time. Will she sink or swim? At worst I believe this fight should be a coin flip. At this price, we are getting pure value on the Tiny Tornado.
The Pick: Tecia Torres (+162)